Low Testosterone in Men
Are you experiencing low energy, decreased libido and muscle loss? If so, you are not alone, and testosterone therapy may be just what the doctor ordered to put you back on a path to peak performance!
If you are a man over 35, most likely you have heard about low testosterone, or "Low-T" and have wondered about the benefits of testosterone therapy. Well, read below to find out more about the benefits, how it works and more!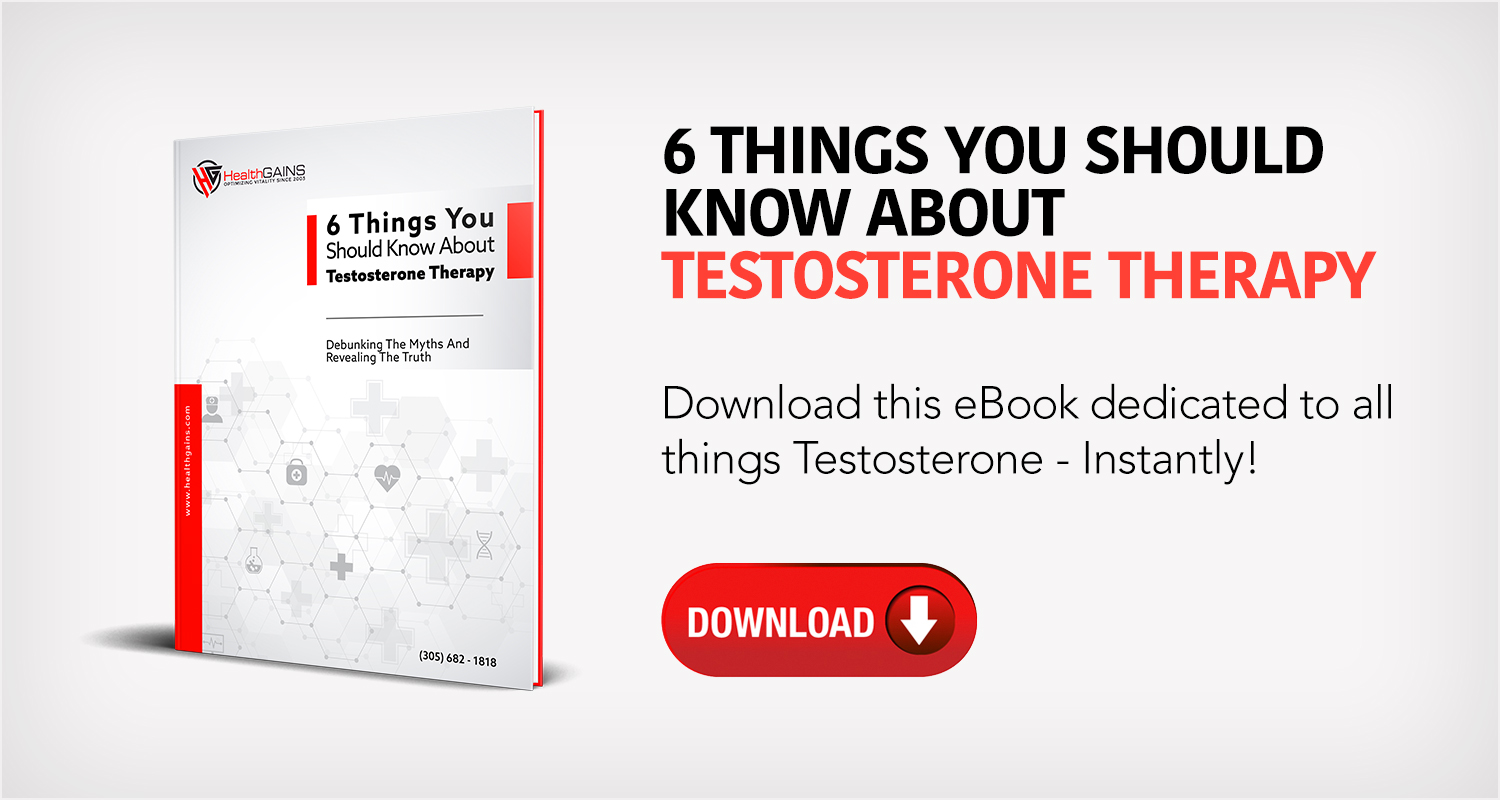 Low Testosterone Therapy
Our medical director, Dr. Alvaro Ocampo, is an expert in the use of testosterone replacement therapy. He has been treating men with low-T for more than 25 years!  Dr. Ocampo understands his patients and knows what it feels like to have low testosterone.
That's why he has developed testosterone therapy programs that have helped thousands of men over 35 regain their strength, energy, and vitality, so they can have the confidence to continue to do the things that they love!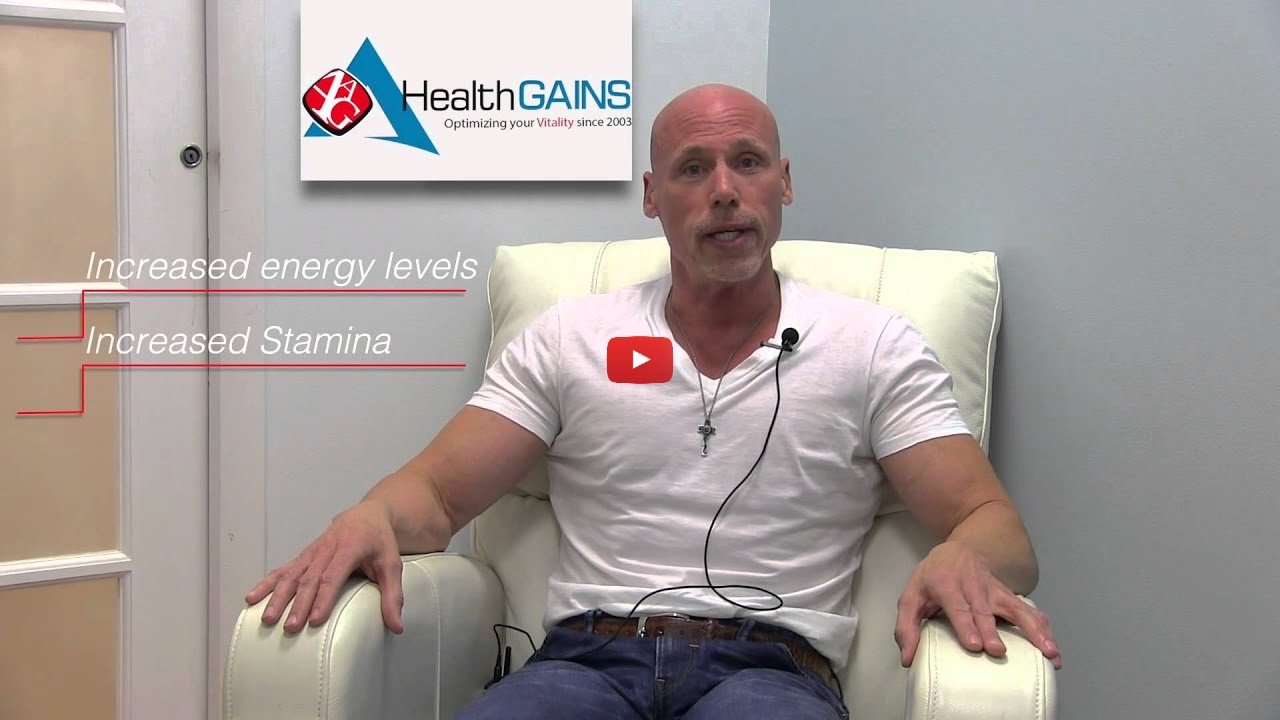 What is Testosterone?
Testosterone is one of the most critical hormones for men. As you may probably know, testosterone is the "male sex hormone." It is mainly responsible for all of the characteristics we usually associate with being a guy – deeper voice, facial hair, bigger muscles, etc. Testosterone also plays a major role in sexual maturity, fertility and sexual performance.
Testosterone is vital. In fact testosterone production begins in the womb in male babies!
When it comes to the production of testosterone, your level peaks in your late teens. Your testosterone level will stay around the same throughout your 20s. Once you hit 30, that all start to change. The steady decline begins, and will continue at a rate of about a 2% loss every year through your 40s and 50s. By the time you are in your 70s, if you do nothing to control or reverse the loss, you can expect your testosterone level to be half of what it was at your peak.
For many men, as they hit their 50s, 60s and older, they may actually start to feel the impact of the reduced level, experiencing low testosterone or "Low-T." Symptoms of Low-T include reduction of libido or sex drive, a feeling of reduced virility or vitality, changes in mood, erectile dysfunction, decreased energy, reduced muscle and bone mass, and memory issues.
What is Testosterone Therapy?
In a nutshell, testosterone therapy is a safe and effective way to "turn back the clock," and return your testosterone levels to what they were when you were younger. Will that literally make you 20 again? No, but testosterone therapy has many positive benefits for men over 40.
Although testosterone therapy is generally safe for most men, there remains many misunderstandings about testosterone therapy. Most of these misconceptions surround a mistaken belief that testosterone therapy is risky, even deadly!
Nothing could be further from the truth. A lot of the confusion comes from the illegal use of steroids by body builders and other athletes. Doctor-prescribed testosterone therapy is nothing at all like that.
Beyond that, there have been reports that even proper medical use of testosterone therapy increases your risk of heart attacks or cancer.
However, in the last 2 years there have been several major studies in respected and peer reviewed medical journals that have found neither of these is true. Men undergoing testosterone therapy have no greater risk of getting prostate cancer than the general population.
And, a recent study found that testosterone therapy does not increase the risk of heart disease. In fact, that study concluded that long term testosterone therapy could even prevent heart attacks!
Testosterone therapy is a safe and effective way to regain your vitality and get more out of life.
The Benefits of Testosterone Therapy in Men
If you have low testosterone levels, also known as Low-T, andropause, or "male menopause," you will feel its effects in four aspects of your life. Low testosterone impacts your physical wellbeing, your ability to perform sexually, your cognitive abilities and your emotional states. If you have low testosterone you may be experiencing:
Weight gain and muscle loss
Sexual issues including loss of libido and/or sexual dysfunction
Fatigue, tiredness and a general sense of weakness
Disturbed sleep, memory loss, and/or other cognitive difficulties
If you are feeling any or all of the above, testosterone replacement therapy my help return you to the man you once were.
But don't just take our word for it. Hear what this 56 year old HealthGAINS patient has to say.
You can keep going along like you are, feeling old, tired and used up. Or you can be like our hundreds of satisfied clients and regain your ability to enjoy life and do great things!
You Do Not Have to Suffer with Low Testosterone!
You can keep going on like you are now, feeling down, depressed, putting on weight  having trouble in bed, and just feeling like your best days are behind you, or, you can contact us today, and start living again!
Testosterone Therapy FAQs
Does Testosterone Therapy Make My Body Produce More Testosterone?
No. Testosterone therapy is designed to replace, or make up for, the testosterone your body is no longer making. It does not stimulate the production of more testosterone. However, as part of your program you will be introduced to diet, fitness, behavioral, and lifestyle changes that can help keep your testosterone levels above normal.
Testosterone therapy is the safest, and most effective way to increase your testosterone levels. However, we will also show you how you can boost your natural hormone production through proper sleep and by supporting your body with the right foods and vitamins.
Exercise, particularly High Intensity Interval Training, or HIIT has been shown in clinical studies to increase your production of testosterone and growth hormone.
Are there any side-effects to testosterone therapy?
As with the administration of any drug, there could be side effects to testosterone therapy. However, such side-effects have been largely exaggerated. Your doctor will make you aware of any possible side-effects. Our experts have the experience to keep any potential side-effects to your testosterone therapy to a minimum.
We provide testosterone therapy as part of a medically supervised overall health and wellness program. You will be constantly monitored during your testosterone therapy, and your testosterone prescription will be adjusted as necessary throughout the course of your testosterone therapy program.
Of course, as with any medical procedure, your individual results may vary depending on your age, gender, and general medical condition. However, you should expect a generally safe, and positive experience from your testosterone therapy.
How Long Will I Need to Receive Testosterone Therapy?
Since all of our testosterone treatment programs are customized to your individual needs and lifestyle, the amount of time you need to be on testosterone replacement therapy varies. Most men start to feel the results of testosterone therapy in the first few weeks of treatment. Again, how long you remain on testosterone therapy, depends on your age and symptoms, but you can expect your initial program to last from six months to a year.
How Does Testosterone Therapy Work?
Testosterone therapy works by returning your testosterone levels to what they were when you were younger, stronger and more vital. Therefore, testosterone therapy returns all of those bodily functions that "run" on testosterone, back to their "peak performance." That results in stronger muscles and bones, less fatigue, more energy, more efficient burning of fat, and improvement of sexual function.