Low testosterone levels, also called "low-T," can cause dangerous medical issues, like decreased bone density or osteoporosis, that can increase your risk of fractures. Medical research shows a connection between testosterone and the heart as well as respiratory disease and a 33 percent greater risk of death than men with more testosterone. Also, some conditions that can accompany low testosterone, like erectile dysfunction, can be warning signs of life-threatening medical issues, like heart attacks.
The symptoms of low-T can have causes other than low testosterone. This fact is one of several reasons why you should not ignore the signs of low-T. For example, you might feel as if you have low testosterone levels when you actually have another health issue, like:
A problem with the thyroid or pituitary
An injury to or malignancy in the testicles
A side effect from a medication you take for another reason
We perform diagnostic testing on our patients to measure their hormone levels and determine whether they have low testosterone. Our hormone replacement treatments involve ongoing medical supervision from start to finish. The possible danger of having low testosterone levels will depend on how low your levels are. For most people whose bodies still make some, but not enough, testosterone, the low levels can make them feel old and tired. If you have a medical condition that results in extremely low testosterone levels, the situation could become dangerous.
Symptoms of Low Testosterone Levels
If you are a man over the age of 35, your body is likely producing less testosterone than it used to. When you hit 40, your body makes about two percent less testosterone every year than the year before. Over time, your testosterone levels can slip to about half of what they were in your late teens and early twenties. You might feel as if your "manliness" is slipping away.
You might have low-T if you have any of these signs:
You have decreased sex drive or experience difficulty achieving or maintaining an erection.
Your moods change, and you experience depression, sadness, irritability, and low self-esteem.
You have developed enlarged breast tissue or have hot flashes.
Your body fat increases as your body becomes less efficient at burning fats and carbs. It becomes more of a challenge to maintain a healthy weight through exercise and diet.
You start to lose some facial and body hair.
You have less energy and motivation.
It becomes difficult to concentrate, which can impact your performance at work.
You have a hard time falling or staying asleep. In the morning, you do not feel well-rested. This problem can worsen your lack of energy and concentration.
Everyone is unique. Your body might react in a different way to your decreasing supply of testosterone. If you generally feel tired and older, you might want to get your testosterone levels checked.
For a free consultation, call (305) 682-1818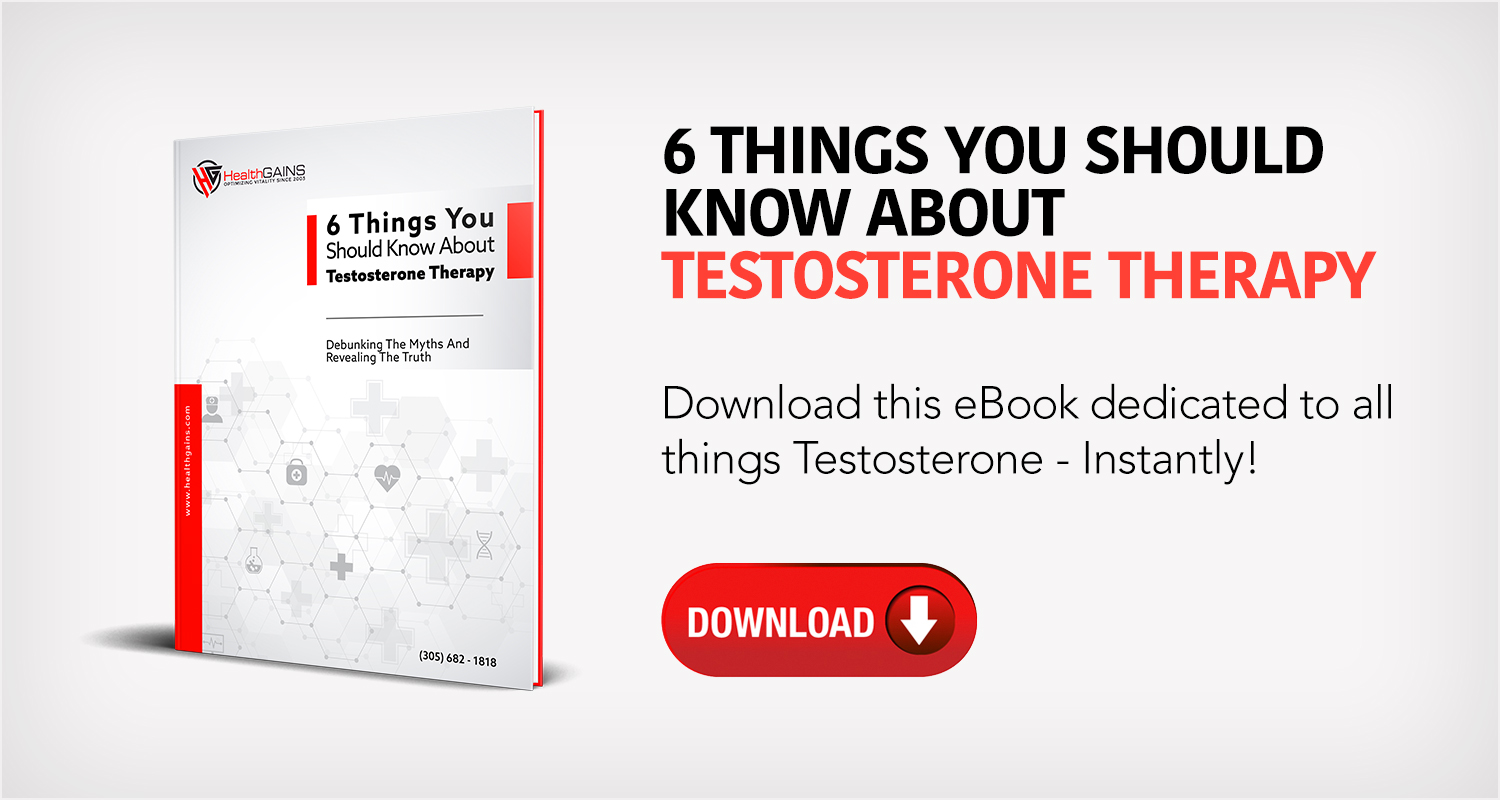 How to Treat Low Testosterone
Testosterone therapy cannot make your body start to make higher levels of testosterone, but the treatment can replace what is missing. The individual program we tailor to each patient includes testosterone replacement combined with fitness, lifestyle, nutrition, and behavioral modifications. Making these changes can help your body to maintain its levels of testosterone.
The initial course of testosterone therapy typically lasts for somewhere between six months and a year. The length of your treatment will depend on things like your age and the extent and severity of your symptoms.
What Happens When You Undergo Testosterone Replacement Therapy
Nothing can turn back the hands of time, but if you are tired of feeling old and not looking the way that you want to, testosterone therapy could be the answer. People all over the United States now enjoy improved health and well-being, thanks to restored levels of testosterone.
People who undergo treatment for low testosterone report these exciting results:
They feel stronger and have more endurance.
Their libido returns and they experience improved performance in the bedroom.
They can once again build muscle mass as they used to when they were younger.
They do not feel exhausted.
Their memory and concentration improve, along with additional cognitive abilities that had begun to wane.
They bounce back more quickly from workouts and see better results from their time in the gym.
It is easier to burn fat and maintain their desired weight because their metabolism improves.
People often begin to notice results within a few weeks of starting the testosterone treatments.
Click to contact our specialist today
How to Get Help for Your Low Testosterone
We have been treating low-T for more than two decades at HealthGAINS. Our medical director is an innovator who has created multiple testosterone treatment programs. Thousands of men now have the energy and confidence to continue living the good life thanks to our therapy programs.
You can get started with a telephone call. We are happy to provide a free consultation with one of our advisors. Call us today at (305) 912-8828. There is no obligation. You can start to feel like yourself again.
Call or text (305) 682-1818 or complete a Free Consultation Form