When someone is contemplating treatment for any kind of illness or condition, they must be willing to question the possible effects of all treatment options. They would be derelict in their responsibilities towards themselves to not do so.
Keeping that in mind, you should question the effects of testosterone replacement therapy if that's what your doctor prescribes. Furthermore, you should always have concerns about the effects of a prescribed treatment on your blood pressure and other cardiovascular issues.
If you are a man, you need to understand there is a very good chance your testosterone levels will drop as part of the aging process. It's normal and nothing that you should panic about. However, low testosterone levels can create a myriad of health issues.
In the sections below, the discussion is going to focus on the specific effects of low testosterone (low T) on males and the effects of testosterone replacement therapy on a male's blood pressure.
The Effects of Low T on Males
Before going into details on this topic, it's important to establish that high blood pressure and hypertension are very serious medical issues. Experts often refer to high blood pressure as the "silent killer" because it's difficult to detect. If you have possible issues with high blood pressure or hypertension, we encourage you to seek medical advice as soon as possible.
There is a lot of evidence that indicates there is a negative correlation between low levels of testosterone and high blood pressure in males. This is especially true as it relates to age-related low testosterone production. It would be a travesty for us to not mention there are other male health issues related to low testosterone levels, including (but not limited to):
Obesity
Low sex drive
Mood swings
Shrinkage of the genitals
Loss of bone and muscle mass
Mental health issues like dementia
Back to the blood pressure issue, a lot of studies indicate low T levels can cause high blood pressure. When there is a direct correlation, the blood pressure issue is difficult to manage unless the individual is also willing to deal with their testosterone levels. To do that, they should consider testosterone replacement therapy or TRT.
For a free consultation, call (305) 682-1818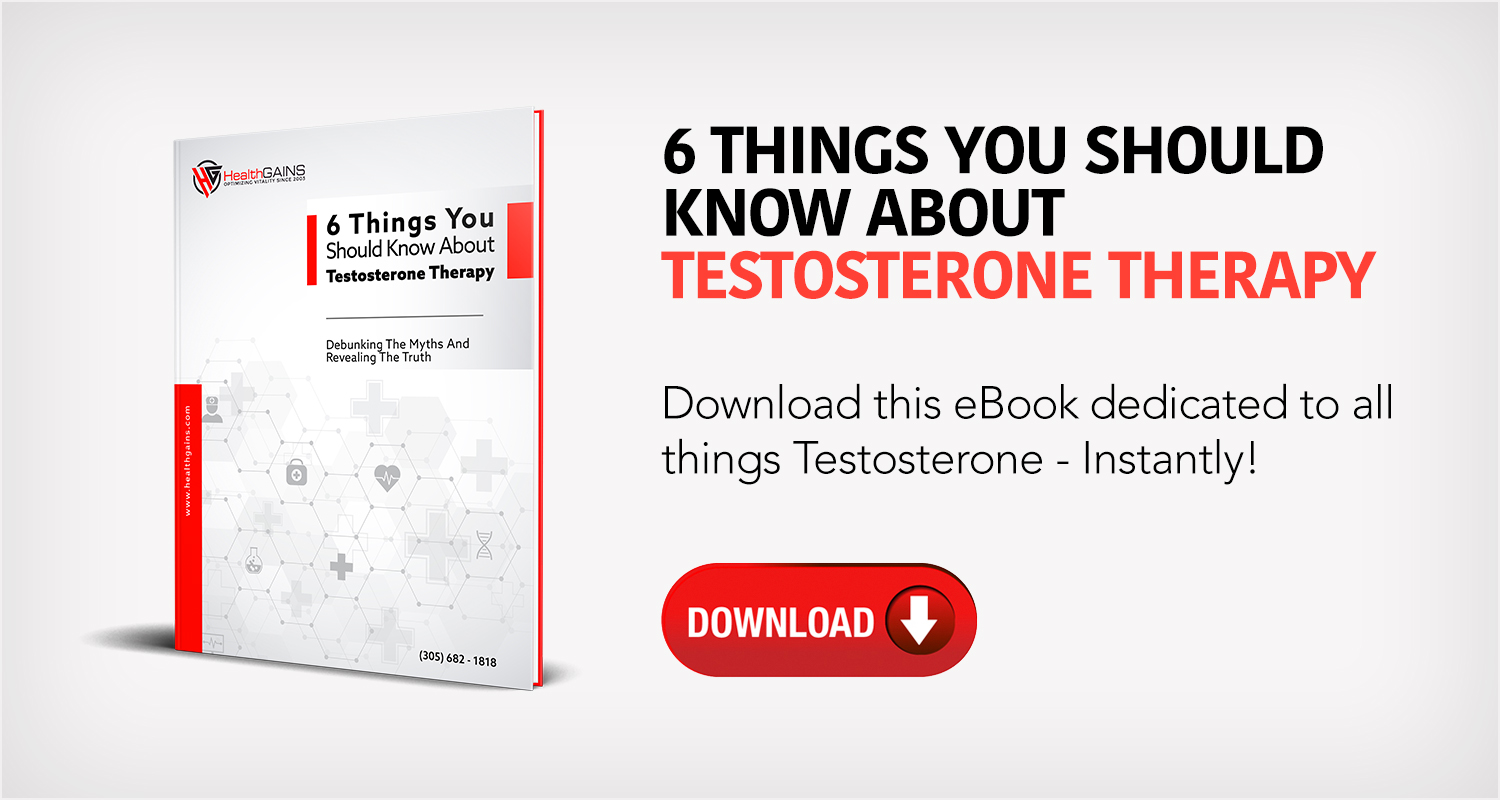 About Testosterone Therapy
Without getting too technical, low levels of testosterone are usually attributable to the testicles not producing proper amounts of the male hormone. We see this a lot with age related low testosterone production as the aging male's body slows down the secretion of testosterone. Fortunately, there are therapies medical professionals can employ to reverse the problem.
Testosterone replacement therapy involves a medical professional artificially increasing the patient's levels of testosterone through one of four methods. These methods are:
Topical creams
Intramuscular injections
Patches
Oral medications
Because TRT is essentially modifying the chemistry of your body, unsupervised or underqualified administration can cause a whole host of issues for a patient including causing respiratory distress, cardiovascular events and other, sometimes irreversible conditions.
It's because your health is so paramount that these treatments are so rigorously vetted and should only be prescribed as part of a comprehensive Wellness Plan that has been created by a doctor just for you.
Preparing for TRT
Not everyone is automatically a good candidate for Testosterone Replacement Therapy. Although undertaking TRT will certainly improve a person's general health, it is important to discuss issues like blood pressure, chronic disease or any other concerns that you believe may interfere with your therapy.
Typically, it's never a bad idea to take steps to lower your blood pressure before starting treatment. Small corrections like adjusting your diet, starting an exercise regimen, and getting more sleep can offer impactful health benefit that extend beyond the improvements TRT will be able to offer.
Click to contact our specialist today
Will Testosterone Replacement Therapy Affect My Blood Pressure?
Although it is far from clear, there have been some studies that seem to show that blood pressure can spike for a small percentage of patients at the beginning of their prescribed testosterone treatment.
From a technical perspective, testosterone acts in conjunction with your kidneys. High levels of testosterone can cause the retention of water and sodium in your body cells. As water and sodium increases in your body cells, your heart has to work a little harder to pump blood. That puts stress on your veins and blood vessels. Yes, that could lead to strokes or heart attacks.
As part of a medically supervised therapy, TRT should not increase your blood pressure. Although the risk for most is very remote, it can occur which is why working with your doctor can  help catch any complications and mitigate any risks fairly early on.
The purpose of Testosterone Replacement Therapy is to create an environment within your body that will help you to create a healthier body. At HealthGAINS we use TRT as an instrument of healing, with your optimal health our goal. For more information about TRT or any of our other services, please call (305) 682-1818.
Call or text (305) 682-1818 or complete a Free Consultation Form