Testosterone plays a very important role in the human body. It's not just a male hormone – women also need it. Low testosterone happens gradually as you age and leads to a number of issues. When the levels dip below normal, it can cause everything from muscle loss to depression in men and women. Low-T can begin to happen in your 30s, so it's important to watch out for the symptoms before they lead to bigger problems down the road.
Symptoms of Age Related Low Testosterone
The signs of low-T aren't the same for everyone. While some men may experience a decrease in libido, women may have symptoms of fatigue or sluggishness. The symptoms are different for everybody but can show up long before you realize the cause.
Some of the most common problems associated with low-T in men include:
A loss in muscle mass
Hot flashes and increased breast size (andropause)
Low libido and impotence
An increased risk of bone fracture
Mood swings
Low-T also affects women, causing similar symptoms such as:
Fatigue and a lack of motivation
A loss of strength
Depression
Anxiety
If you have low-T, it could be caused by an underlying issue like an autoimmune condition or taking certain medications. It's also important to remember that these symptoms don't necessarily indicate lower testosterone levels. That's why it's important to have your test levels checked if the symptoms worsen or linger.
For a free consultation, call (305) 682-1818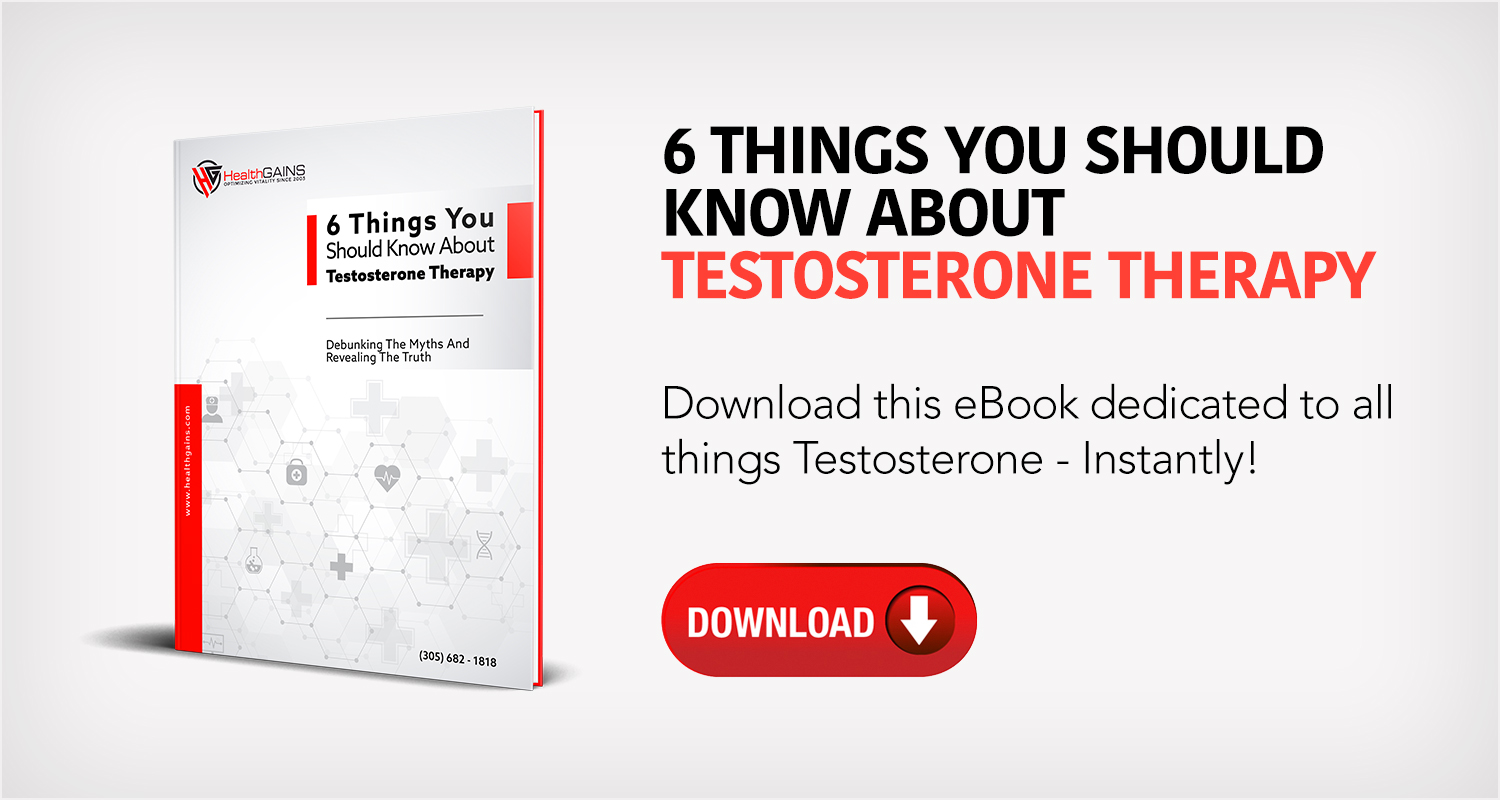 What Can Be Done About Low-T?
So many advertisements online and on television tout the life-changing effects of testosterone-boosting products. These boosters are typically natural supplements that are supposed to increase your test levels. According to Health Grades, the U.S. Food and Drug Administration doesn't regulate these products. Therefore, you don't know what's really in them.
The National Institutes of Health calls them "testosterone imposters." In fact, their studies have shown an overall decrease in men that report experiencing any benefits from taking these over-the-counter boosters.
Effective marketing and positive online reviews mislead the general public who are looking for real ways to increase their testosterone levels. T-Boosters aren't regulated, may contain unlisted ingredients and won't naturally raise your testosterone.
If you have low-T and want to raise your levels to a normal range, health care professionals recommend testosterone replacement therapy (TRT) as a highly effective solution.
Testosterone Therapy and How It Helps
Testosterone therapy is used to treat people who have low-T caused by age or a medical condition. However, as Healthline reports, it's also being used for non-medical reasons such as:
Increasing your energy levels
Boosting sexual performance
Building muscle mass when strength training
Your body naturally produces testosterone even before you're born. In men, the testosterone comes from the gonads. In women, the ovaries produce it.
Safe testosterone therapy can balance unusual test levels, which are often caused by autoimmune conditions, radiation therapy, steroids and genetic disorders.
Having low-T means you have a hormonal imbalance. When test levels are low while cortisol levels are high, it can affect your state of mind and cause irritability, depression, anger and anxiety. Because TRT balances your hormone levels, you will see a positive change in your overall well-being.
Click to contact our specialist today
The Benefits of Safe Testosterone Therapy
The NIH has conducted studies on testosterone replacement therapy and finds that testosterone replacement therapy can reverse the negative effects of low-T. If you want to achieve optimal health, you need to have your hormones in balance.
Testosterone replacement therapy provides many benefits to men and women who are focused on health, wellness and longevity. It can also benefit those who suffer from an overall lack of motivation and drive.
Some of the major benefits of having testosterone replacement therapy include:
Increased muscle mass
Higher energy levels throughout the day
More confidence and motivation
Enhanced libido and performance
Stronger bones and less risk of fracture
Complete a Free Consultation form now
How to Get Started
Aging is inevitable, but it doesn't have to rob you of the things you enjoy doing. Low-T can happen in your 30s and will decrease as you age. You might dismiss the symptoms early on, but they will only get worse if you don't correct the problem.
Low-T can cause everything from decreased energy to a lack of drive. Maybe you need more time to recover after working out, or perhaps you just don't feel like doing much anymore. If you want to feel like you used to, testosterone therapy can help to balance your state of mind and body.
Call HealthGAINS today at (305) 682-1818 for a free consultation and to learn more information about how testosterone replacement therapy can improve your overall well-being.
Call or text (305) 682-1818 or complete a Free Consultation Form