Men who feel that their energy and libido are fading might wonder which foods increase testosterone the most. There is no scientific evidence that a person can increase their testosterone levels by eating certain foods.
Yes, there are some claims that eating red meat, oysters, or other foods can increase testosterone and libido, but these allegations are not backed by evidence. Rather than trying to increase testosterone through food, one should consider scientifically-backed medical treatments.
Food That Might Decrease Testosterone Levels
Healthline notes that some dietary patterns might lead to the development of hypogonadism, or testosterone deficiency.
There is a high correlation between hypogonadism and people who:
Consume large amounts of dairy products, desserts, pastries, and bread; and
Rarely eat home-cooked meals and dark green vegetables.
These individuals also tend to have higher levels of total body fat mass and less muscle mass.
Mayo Clinic says that a healthy lifestyle can improve general health, but it does not boost testosterone levels. One scientifically proven way to raise testosterone levels is by taking testosterone via intramuscular injection.
For a free consultation, call (305) 682-1818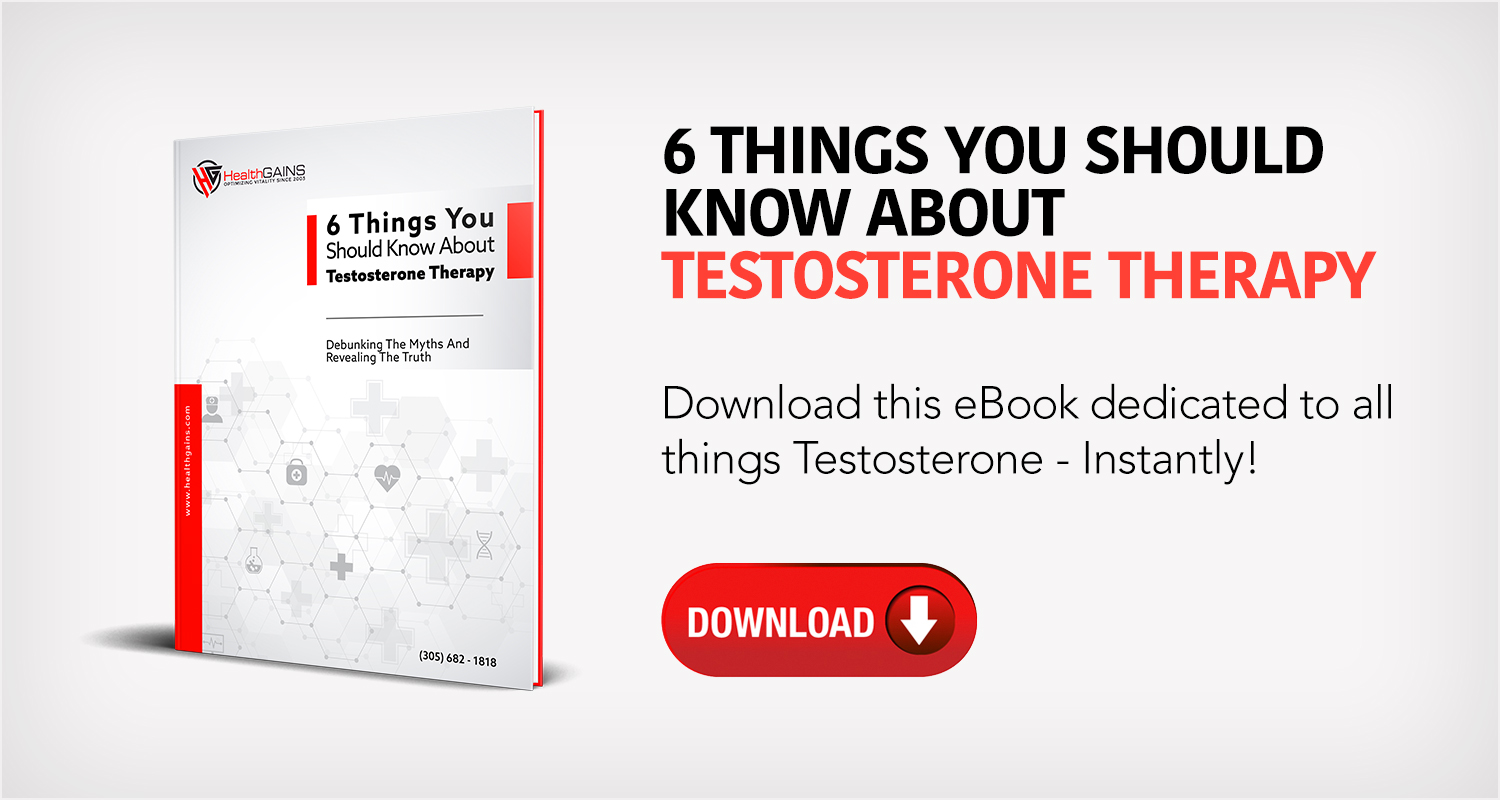 Experts Agree on Testosterone Treatment
There has been a great deal of misinformation about testosterone deficiency (hypogonadism) and the treatment for it. Mayo Clinic reported on an international conference of medical experts who debated various concepts about low testosterone levels in men and testosterone treatment.
These medical experts reached these conclusions unanimously:
Testosterone deficiency is an actual and significant medical condition.
Hypogonadism can have adverse effects on a man's quality of life, overall state of health, reproduction, and libido.
It is not necessary for a doctor to identify the cause of a man's low testosterone levels for the patient to benefit from treatment.
Testosterone deficiency is a public health concern around the world.
Testosterone treatment is "effective, rational, and evidence-based."
There is no evidence that supports the allegation that testosterone deficiency therapy increases a man's risk of cardiovascular problems or prostate cancer.
Mayo Clinic's experts also stated that it is not possible to reliably predict how well a man will respond to testosterone deficiency treatment. Additionally, they stated that a man's age should not preclude him from testosterone deficiency therapy.
The Dangers of Non-Prescription Testosterone Products
The only legal way to obtain testosterone treatments in the United States is with a prescription. There is no proof that over-the-counter pills, powders, or shakes are effective. The only effective way to administer testosterone treatment is by injection.
Although many products on the market make big promises about boosting a man's testosterone levels, those products cannot legally contain any testosterone. These supplements either contain illicit substances or are not safe for human consumption. Just because a product is on today's market does not mean that it is safe.
It is also not safe to buy testosterone online or through the "underground" market. These supply chains often sell counterfeit or expired testosterone, which can be dangerous. Just as with any other drug, illegal suppliers frequently "cut" the product with harmful chemicals that can dilute the testosterone or harm the user.
Click to contact our specialist today
How To Handle a Hormonal Imbalance
The safest way to obtain testosterone is by prescription under the care of a doctor. Before writing the prescription, the physician will evaluate whether the patient has testosterone deficiency. The doctor will also explore whether the patient has any health conditions that interfere with the body's ability to produce its own testosterone. If a man's body cannot make appropriate amounts of testosterone, he may have hypogonadism.
According to Mayo Clinic, these things can cause low testosterone levels or similar symptoms:
Thyroid dysfunction
Certain medications
Obstructive sleep apnea
Excessive alcohol consumption
Depression
Treating these underlying conditions can improve an affected man's quality of life. A man's doctor may first try to address these conditions before prescribing testosterone injections.
Complete a Free Consultation form now
Getting Started with HealthGAINS
HealthGAINS helps men with testosterone deficiencies lead productive lives. Their medical professionals perform assessments to evaluate a man's needs. By taking a detailed medical history, performing a physical examination, and conducting lab tests, the team at HealthGAINS can determine whether a man has testosterone deficiency.
When HealthGAINS diagnoses a patient with testosterone deficiency, they craft a customized treatment plan tailored to an individual's needs and goals. They do not resort to "one-size-fits-all" treatments. Every patient receives treatment that is suited to their individual needs.
HealthGAINS only uses testosterone in the injectable form because this is one of the most effective ways to treat testosterone deficiency. Their clients receive prescriptions to obtain legal testosterone under the supervision of a doctor.
Those interested in more information about evaluating and treating testosterone deficiency can call HealthGAINS at (305) 682-1818. A trained advisor can provide an initial consultation and give more insight into which foods increase testosterone the most. There is no charge and no obligation.
Call or text (305) 682-1818 or complete a Free Consultation Form