Figuring out the best treatment for low testosterone is complex and can require additional information from each individual who seeks treatment for low testosterone. Treatment options can be based on patient history and specific combinations of symptoms. Any man who wants to combat the effects of low testosterone should review his symptoms and discuss his lifestyle with his wellness professional, who can help determine what the best treatment is based on these factors.
Know What Counts As Low Testosterone
Normal levels of testosterone will range from 300 to 1,000 nanograms per deciliter in most healthy males, according to MedlinePlus. Testosterone is produced in the testicles, typically reaches its highest levels in adulthood, and begins to decrease at a rate of up to 2% per year at approximately 40 years of age.
A lack of testosterone can have effects on both a man's physical appearance and his sexual health and ability. Signs of low testosterone at any age should be reported to a HealthGAINS wellness professional.
Symptoms That Indicate Low Testosterone Levels
Sexual impotence, sluggishness, and weight gain can create mental confusion and anxiety, all of which are symptoms of low testosterone levels. Harvard Medical School also points to these additional symptoms as a sign of low testosterone:
Decreased sexual desire
Lack of energy
Loss of muscle mass
Hot flashes
Low blood count
Decreased bone density
Reduced body hair
Increase in breast tissue
Irritability or depression
Any of these symptoms alone or in combination should be reported to a HealthGAINS wellness professional.
Low testosterone is a diagnosable and treatable condition that makes recording and reporting symptoms crucial to receiving appropriate care and treatment.
Candidates for Low Testosterone Treatments
While treatment for low testosterone can have many restorative benefits, it is not necessarily advisable for all men who struggle with low testosterone. Men with testosterone levels lower than 300 nanograms per deciliter and have more than one symptom, according to recommendations from Harvard Medical School.
A HealthGAINS wellness professional will take every factor into consideration when making a diagnosis of low testosterone, using repeated blood tests and a physical examination. A patient will undergo several blood tests throughout the diagnostic process because the results can fluctuate from day to day. Once a HeatlhGAINS professional has reached a conclusive diagnosis, he or she can discuss and evaluate treatment options.
For a free consultation, call (305) 682-1818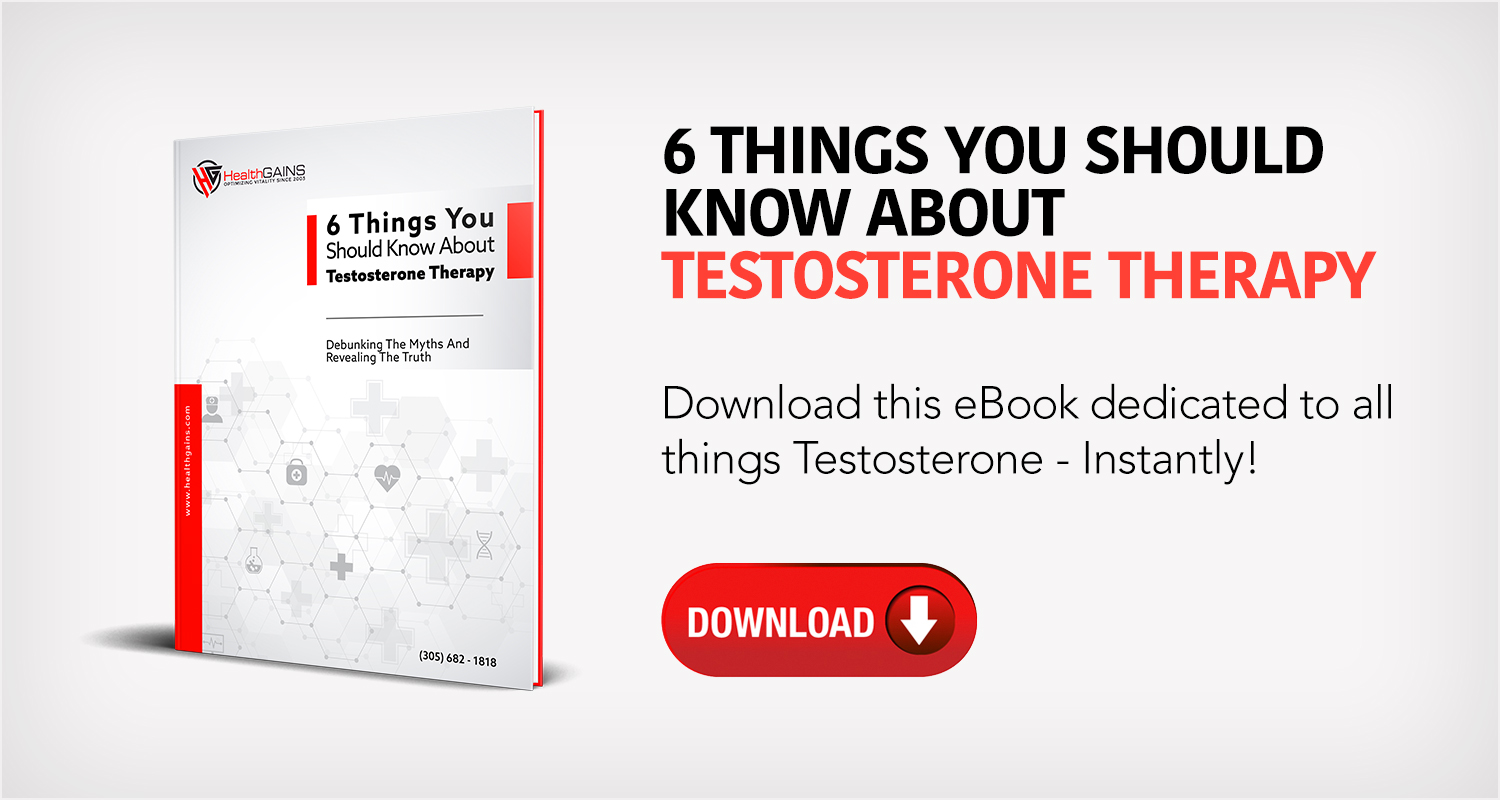 Treatment Options for Low Testosterone
Just as no two men are exactly alike, each individual who experiences low testosterone will have his own unique combination of symptoms and his own desired outcome. Each man will also have a choice of treatments for low testosterone. The Mayo Clinic lists the following treatment options for low testosterone:
Gels that can be applied to either the arms and shoulders or to the thighs and is absorbed through the skin
Injections applied directly into a muscle, which can have varying times between doses
Patches, which are applied to either the thigh or the torso and are absorbed through the skin
Nasal treatments that are pumped into and absorbed through the nose and require application twice a day
Implantable pellets that require surgical insertion under the skin every three to six months
A HealthGAINS wellness professional can explain the advantages and disadvantages of each treatment option and guide patients toward the right choice for them. Lifestyle, effectiveness, and insurance company payment options can also play a role in choosing the best treatment option.
Follow-Up Care Is an Important Part of Low Testosterone Treatment
Patients often discontinue medical treatments as soon as they feel better. Patients being treated for low testosterone levels should fully comply with treatment schedules and avoid missing scheduled appointments. Merck Manuals recommends follow-up care after low testosterone treatment that includes:
Regular check-ups
Blood-count monitoring
Monitoring for prostate cancer
Regular testing and monitoring can detect certain cancers early and can also ensure low testosterone treatments and therapies are working as they should.
Find the Best Treatment for Low Testosterone
Men who struggle with the symptoms and effects of low testosterone will appreciate the relief that can come with treatment. A health care professional can help determine the best treatment for each individual and help lead them to renewed energy levels and the potential to achieve more out of life at any age.
To learn more about how low testosterone treatment can help improve your life, to determine the best treatment for low testosterone, and to start receiving treatment, contact HealthGAINS by calling (305) 682-1818 today.
Call or text (305) 682-1818 or complete a Free Consultation Form