When evaluating treatment options for low testosterone levels, many people ask, "What is the most effective testosterone replacement therapy?" Many people find injection treatment effective, but patients should consult their doctors to evaluate which treatment may be best for them, based on their medical records.
According to Harvard Health Publishing, testosterone replacement therapy (TRT) using injections can quickly raise testosterone levels without risking harm. TRT gel applications can cause acne or hair growth where the gel gets applied, especially for women. Also, gels have to be applied daily, whereas injections tend to be administered once every two weeks.
Testosterone Replacement Therapy Can Help Men Reduce Symptoms of Low Testosterone
According to the Mayo Clinic, about 10 to 25 percent of older men have low testosterone levels. Harvard Health Publishing says TRT can help reduce symptoms of low testosterone, such as:
Infertility
Small testicles
Reduced sex drive (libido)
Erectile dysfunction
Low sperm count
Loss of body and facial hair
Reduced muscle mass
Increased growth of breast tissue
Depression, lack of focus, and irritability
Decreased bone density
Even though the male body tends to make less testosterone hormone as a man gets older, it should continue to make enough testosterone to prevent those symptoms. When a man experiences testosterone deficiency, testosterone replacement therapy can be an option.
For a free consultation, call (305) 682-1818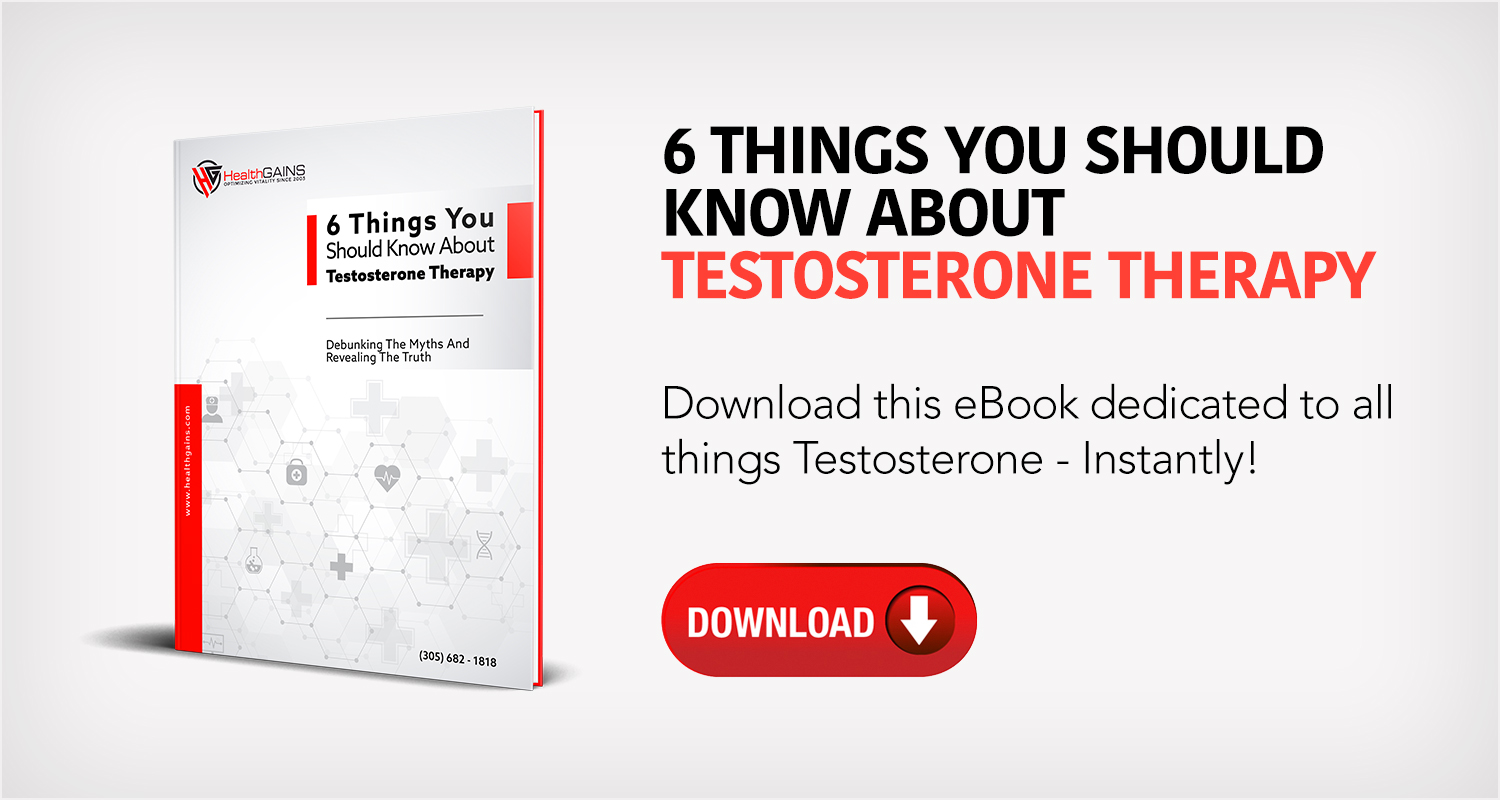 There Are Other Causes of Low Testosterone Levels Besides Aging
By itself, aging usually does not cause testosterone deficiency. Clinically low testosterone levels tend to have a medical origin, although it can be challenging to discover the cause. Problems with the pituitary, hypothalamus gland, or testes can affect the amount of testosterone hormone the body can produce.
Some infections and autoimmune disorders can decrease the amount of testosterone. Certain prescription drugs can cause a drop in testosterone levels, such as morphine and other opiate drugs or tranquilizers like haloperidol. Steroids can lead to low testosterone levels as well.
Tumors or cancer of the testes, pituitary, or hypothalamus glands can interrupt the body's testosterone production. Chemotherapy, radiation treatment, and injury to the testes can also cause testosterone deficiency.
Medical conditions like HIV/AIDS, Klinefelter syndrome, and hemochromatosis can lead to decreased testosterone levels. Also, when a man gains weight, his testosterone levels can go down. The difference between a 30 and 35 on the body mass index scale can be equivalent to an additional 10 years' worth of testosterone reduction.
A patient should get a professional medical evaluation if they suspect they might have low testosterone levels. Significant medical conditions could go undiagnosed without proper medical care.
What Testosterone Does for the Male Body
In men, testosterone creates the characteristics that many people associate with being male. Testosterone makes it possible for men to grow facial hair, build muscles, and have deep voices. Hair loss is an early symptom of falling testosterone levels. The hormone also helps the body produce red blood cells and have strong, dense bones.
Testosterone helps a man have energy, large muscles, sexual desire, and healthy blood. Testosterone makes it easier for men to lose weight than women. When a man's testosterone levels become deficient, he is more likely to gain weight and have a harder time losing it.
Testosterone can help a man's metabolism work correctly. With low testosterone levels, a man's metabolism can become sluggish and make it more challenging to maintain a desired weight through exercise and a healthy diet. The hormone can also burn off body fat, which can improve a variety of medical conditions.
Click to contact our specialist today
The Testosterone Production Process Mainly Occurs in the Pituitary Gland
The body has to go through several steps to produce testosterone. A problem at any of these stages can lead to decreased testosterone production. The hypothalamus gland, located in the brain, tells the pituitary gland that the body needs to make more testosterone to maintain adequate hormone levels.
The pituitary then sends a signal to the testes that it is time for them to make testosterone. A small portion of a man's testosterone hormone gets produced in the adrenal glands.
Complete a Free Consultation form now
Outcomes for Testosterone Deficiency
Testosterone replacement therapy (TRT) could be the answer for a man who wants to feel the way he used to when his body did not have testosterone deficiency. People with untreated low testosterone levels tend to feel worse as time goes by because their levels continue to decrease. They continue to gain excess weight, have low energy, low sex drive, brittle bones, facial and body hair loss, and less muscle mass every year.
A person who responds well to TRT could experience improvement in those symptoms. Successful testosterone replacement therapy can help a man to feel more virile, strong, and confident. Depression, anxiety, and lack of focus can diminish as well.
We can help answer the individual's questions about what is the most effective testosterone replacement therapy and create a customized plan to fit a person's needs and goals. Interested persons can contact HealthGAINS at (305) 682-1818 for more information.
Call or text (305) 682-1818 or complete a Free Consultation Form