Testosterone performs many essential functions necessary for the male body systems to work correctly. According to Harvard, without this significant sex hormone, a male would not go through puberty, get a deeper voice, grow facial and pubic hair, or experience the development of the penis and testes.
What Testosterone Does for the Male Body
Adult men need appropriate levels of testosterone throughout their lives. Some of the benefits of testosterone include the ability to build and maintain muscle mass and strength, produce sperm, have a sex drive (libido), and grow sturdy bones that resist fractures. The brain tells the pituitary gland that it needs more testosterone. The pituitary relays the signal to the testes to manufacture this essential hormone.
For a free consultation, call (305) 682-1818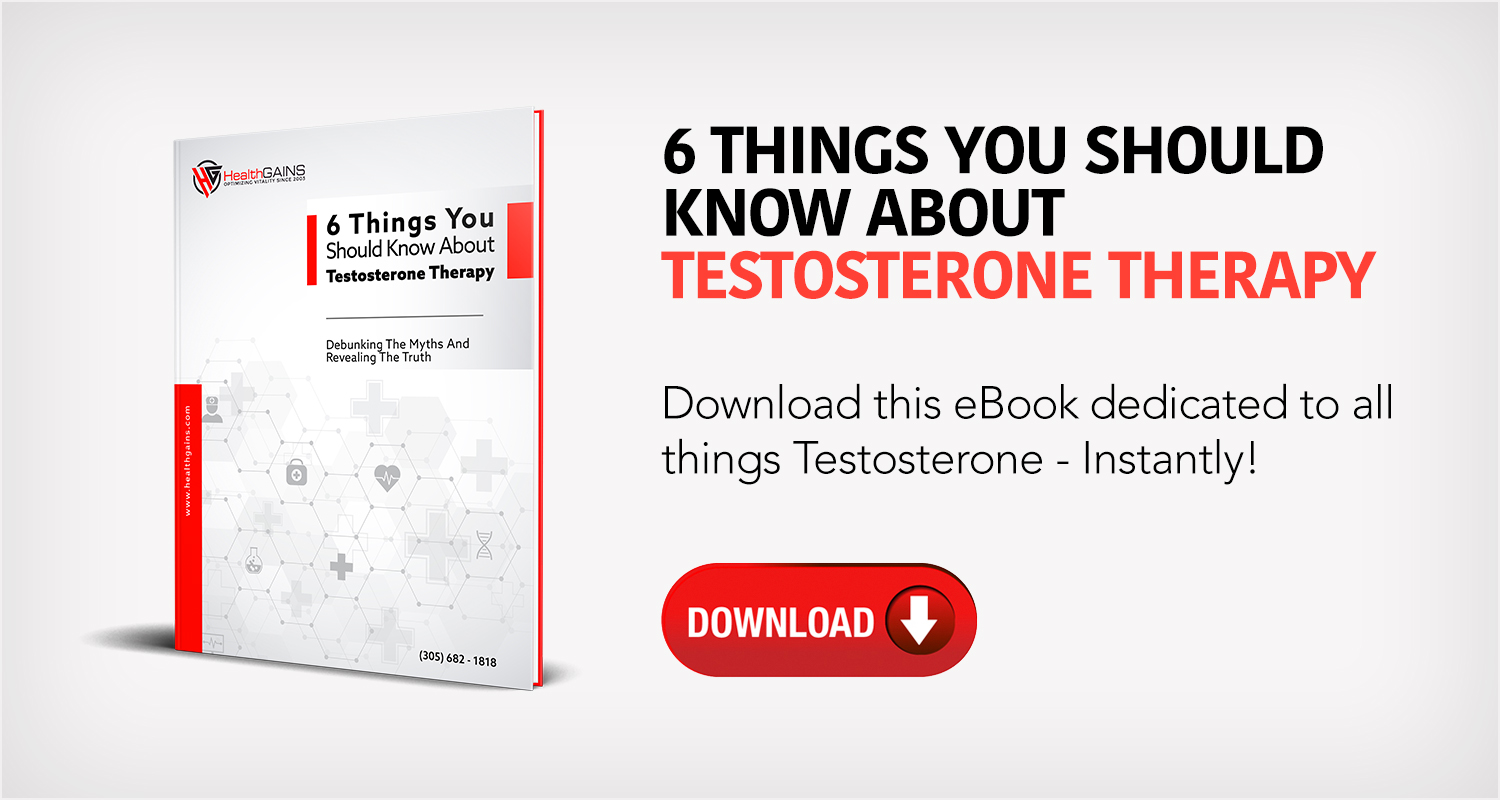 How Testosterone Therapy Can Improve the Impacts of Low Testosterone
When a man has a testosterone deficiency, it can affect many aspects of his life that cause him to feel good about himself. Testosterone therapy can increase this individual's testosterone levels and improve his symptoms of low testosterone.
In addition to treating men with low production of testosterone because of a problem with the pituitary, hypothalamus, or testes, Harvard says that testosterone treatment also could improve these symptoms in men with markedly low levels of active (free) testosterone:
Sexual dysfunction
Lack of energy
Cognitive issues
Overall weakness
Mood disorders, like depression
Disabling frailty
Symptoms vary widely among men with low testosterone levels and testosterone deficiency. Some men experience significant quality of life issues, while men with much lower testosterone levels do not feel the effects of the deficiency as markedly.
Also, as with any other medical treatment, every person responds differently to testosterone therapy. Some men experience the benefits of testosterone early in treatment, while others might need more time to notice the difference.
Indications That a Man Might Have Low Testosterone Levels
A study in the Journal of Clinical Endocrinology & Metabolism (JCEM) explains that low testosterone levels can cause these symptoms:
Increased accumulation of fat, particularly around the midsection of the body
Lack of energy
Decreased bone density
Less muscle mass
Impaired cognitive function
Decreased sexual function
Physical dysfunction
The study also says that low testosterone levels can increase one's risk of:
Type II diabetes
Depression
Alzheimer's disease
Hip fracture
Falls
Anemia
As a result of these multiple consequences, low testosterone levels can have a negative impact on a man's quality of life.
Click to contact our specialist today
Quality of Life Issues Associated with Testosterone
It is one thing to read a list of symptoms and yet another to dig deeper into understanding how low testosterone levels can decrease a person's enjoyment of life. Let us take a look at how these symptoms can impact daily life:
Weight Management May Be an Issue
Low energy levels can make it difficult to get enough exercise to maintain an optimal body weight. One might not have the energy to play tennis or golf or engage in other activities. Social isolation can also happen when people avoid previously enjoyed activities.
Mental Health and Self-Confidence May Be Affected
With the structural changes that can accompany low testosterone levels—like decreased muscle mass and increased fat accumulation at the waist—a person's self-esteem can plummet. He might not have the confidence to approach a potential romantic partner or take on a business challenge.
Depression frequently accompanies testosterone deficiency. Around the time that testosterone levels start to decrease significantly in men, they might begin to believe that their best days are behind them. They want to recapture aspects of youth, like energy, libido, and excitement about life. If a man has testosterone deficiency but mistakenly interprets it as inevitable signs of aging, he might feel as if there is nothing he can do about his situation.
Bones Can Become More Brittle
Bones can become less dense because of low testosterone levels. When bones become thin and brittle, also called osteoporosis, a man faces an increased risk of fractures. Breaking a hip or leg bone from a fall is a primary cause of a loss of mobility in older adults. Also, as we get older, our ability to heal from a fracture diminishes.
Muscle Mass Can Decrease
Men who used to enjoy going to the gym and working out strenuously can find themselves frustrated by their body's failure to respond to exercise. Low testosterone levels can prevent a man from maintaining his muscle mass or building more lean muscle. This medical condition can also slow the metabolism, making it more difficult to control one's weight through exercise and a sound nutritional plan.
It Can Be Harder to Pay Attention
Men who experience cognitive changes from low testosterone levels can find it harder to maintain attention and concentration. They might not be able to access all the information they need on the job through memory. A man might have to write lists and "cheat sheets" to accomplish tasks that used to be routine. It can be challenging to feel on top of one's game in this situation.
Men who suspect that they might have testosterone deficiency can get help. At HealthGAINS, our medical professionals perform thorough evaluations, like taking a medical history, conducting examinations, and ordering laboratory testing. We tailor a treatment plan to an individual's needs and goals.
Call us today at (305) 912-8828—to find out how we can help.
Call or text (305) 682-1818 or complete a Free Consultation Form