What Happens When Testosterone Levels Increase?
Testosterone is one of the most critical hormones, and deficiencies can cause a wide range of symptoms which may improve when a person's levels increase. Testosterone is the "male sex hormone," and is responsible for stereotypically male characteristics, such as deeper voice, facial hair, and bigger muscles—as well as playing a major role in sexual maturity, fertility, and sexual performance.
It plays a role in female sexuality, ovarian function, and bone strength as well. Testosterone may also help maintain a stabilized mood. When testosterone levels increase, these characteristics can strengthen—and symptoms of low-T can reduce or disappear.
Symptoms of insufficient testosterone, or "Low-T," include:
Reduction of libido, virility, and sex drive; erectile dysfunction
Reduced vitality, low energy levels, sense of weakness
Reduced muscle and bone mass
Sleep, cognitive, and memory issues
Fortunately, there is help available for individuals suffering from low testosterone. Testosterone therapy can increase the level of the hormone to the point where low-T symptoms start to disappear.
For a free consultation, call (305) 682-1818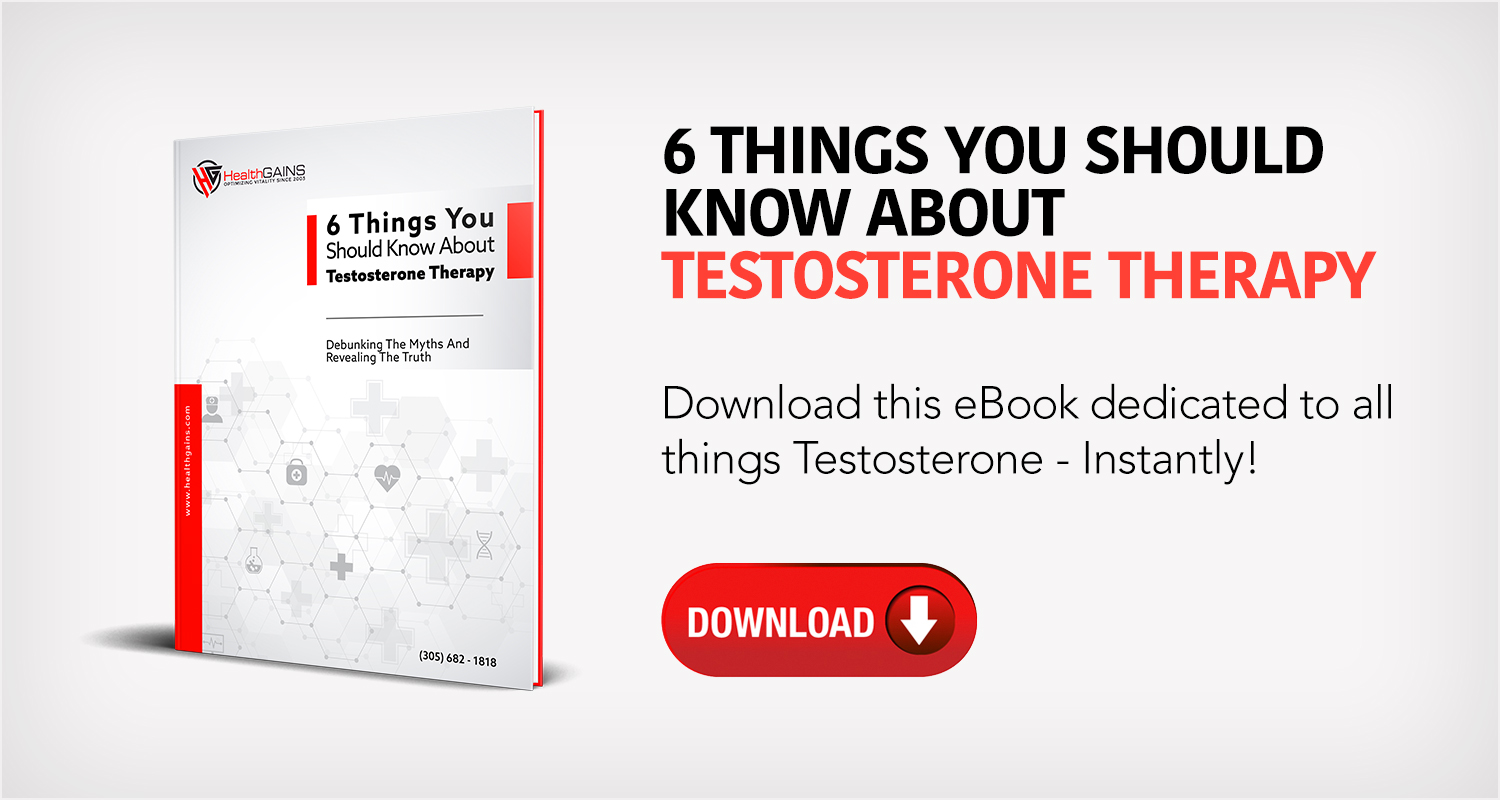 Why Testosterone Levels Get Low
The pituitary gland sends signals to the testes to produce testosterone. According to the Mayo Clinic, a testosterone value of less than 300 nanograms per deciliter is considered below normal.
Losing testosterone is a natural part of the aging process. The body's production of testosterone peaks in the late teens and stays high throughout the 20s. As men age, the testes produce less testosterone, and there are fewer signals from the pituitary telling the testes to make testosterone. The level declines in the 30s and continues to decline at a rate of about a 2% loss every year through the 40s and 50s. By the 70s, a man's levels are half of what they were at their peak. As levels decrease, symptoms of Low-T increase and many men feel the impact in their 50s and 60s.
In addition, men can lose testosterone due to genetic diseases or conditions or diseases affecting the testes or pituitary or hypothalamus glands.
Women may have too little testosterone as well. In women, testosterone is produced in the ovaries and adrenal gland. Causes of deficiencies may include diseases of the pituitary, hypothalamus or adrenal glands, removal of the ovaries, and estrogen therapy.
For the results of normal aging and many other conditions that affect testosterone, testosterone therapy may help.
How Testosterone Can Help
Testosterone therapy is approved to help low production of testosterone by replacing the testosterone the body is no longer making and returning levels to what they once were. It also is approved for the treatment of delayed male puberty and certain inoperable female breast cancers.
Harvard Health Publishing states that a better mood and less anxiety can come from testosterone therapy. Benefits of testosterone therapy are shown to include:
Better bone density and strength and lessened risk for fractures for those with osteoporosis
Increased energy
Less depression
Better sexual function
Reduction of cognition issues
Although there may be risks and side effects from taking testosterone when the body already has enough, for individuals with low-T, testosterone therapy is generally safe if prescribed and supervised by a doctor.
Click to contact our specialist today
What People Should Know About Getting Testosterone Therapy
Before beginning therapy, individuals should have a thorough medical examination by a HealthGAINS professional to determine the cause of low testosterone and to see if they have any underlying conditions which may be problematic.
A HealthGAINS wellness provider can explain what happens when testosterone levels increase and test a patient's testosterone levels through a simple blood test, and interpret the results to see if an individual is a good candidate for testosterone therapy. The doctor will discuss any possible side effects, such as fluid retention and increased red cells, and determine how to prevent them or keep them to a minimum.
During testosterone therapy:
Patients will receive testosterone therapy customized to their individual needs and lifestyle through intramuscular injection
Patients will be constantly monitored, and their testosterone prescription will be adjusted as necessary throughout the course of the testosterone therapy program
Therapy should be part of a program to increase general health through diet, fitness, behavioral, and lifestyle changes which can help keep the testosterone levels above normal
In general, the initial testosterone therapy program can be expected to last from six months to a year
Complete a Free Consultation form now
Contact HealthGains for Help Increasing Testosterone Levels
Treatment for low testosterone levels can be found at HealthGAINS, which has medically supervised clinics nationwide. In addition to testosterone therapy, HealthGAINS provides a program that boosts general health. Contact us for help today to start living a vibrant life without suffering from symptoms of low testosterone.
Contact HealthGAINS to learn more by calling (305) 682-1818. Click to learn more.
Call or text (305) 682-1818 or complete a Free Consultation Form