Testosterone is the main sex hormone in males, but women have it too. It manages fertility, muscle mass and bone mass. If your testosterone levels dip below a healthy amount, then you may experience infertility or hypogonadism. Low testosterone levels are also linked to feelings of anxiousness and depression.
What are the Symptoms of Reduced Testosterone Levels?
Common symptoms of decreased testosterone include:
Erectile dysfunction
Smaller testicles
Decreased bone mass
Hair loss
Trouble sleeping
A lower sex drive
Hot flashes
Fatigue
Additional body fat
Mood swings
Erectile Dysfunction
If you smoke, consume alcohol or have high cholesterol, then you may experience erectile dysfunction, but the condition can also be caused by diminished testosterone levels. The hormone stimulates the tissues in the penis, resulting in the production of nitric oxide. The triggering of nitric oxide activates several different actions that produce an erection.
Smaller Testicles
When your testosterone levels decrease, the condition may cause you to experience a reduction in testicle size. Along with this, your scrotum may feel softer to the touch.
Decreased Bone Mass
Healthy testosterone levels allow your body to develop bone tissue as well as maintain the proper amount of bone volume. When your testosterone is low, you may suffer from decreased bone mass. This may cause your bones to break more easily.
Hair Loss
For many men and women, aging comes with hair loss. According to a 2012 study, women who undergo testosterone implants sometimes experience a regrowth of hair.
Trouble Sleeping
If you are experiencing decreased testosterone levels, then you might have trouble sleeping. Men with lower levels may also suffer from sleep apnea, a sleep disorder that can cause you to stop breathing temporarily while sleeping. When this happens, it can disrupt your sleep. It can also be a severe health problem.
Reduced Sex Drive
A decrease in testosterone may cause you to experience a reduction in your sex drive. This is something that also diminishes with age, but if you are a man and your testosterone levels drop, then you may notice a significant decrease in how often you want to have sex.
Hot Flashes
Women usually associate hot flashes with their estrogen levels. These fluctuate when women go through menopause, but decreased testosterone levels can also cause you to experience this uncomfortable hormone shift.
Fatigue
Testosterone can affect your energy levels, resulting in fatigue. If you're still tired after getting enough rest at night, then it's time to get your testosterone checked. Experiencing a decreased interest in overall movement or exercise are additional signs that your testosterone levels are low.
More Body Fat
Excess body fat is a symptom of diminished testosterone levels. Too much body fat becomes a vicious cycle because fat cells have an enzyme called aromatase, and the job of the enzyme is to build estrogen using testosterone molecules.
When a man begins to gain weight, the aromatase enzyme converts more of his testosterone into estrogen, which causes his testosterone levels to drop. Sometimes, men with decreased testosterone develop gynecomastia. This is a condition that results in a man's breasts becoming larger.
Mood Swings
There is some evidence that men who have reduced testosterone levels experience mood swings like sudden irritability or sadness. They may also have trouble focusing.
For a free consultation, call (305) 682-1818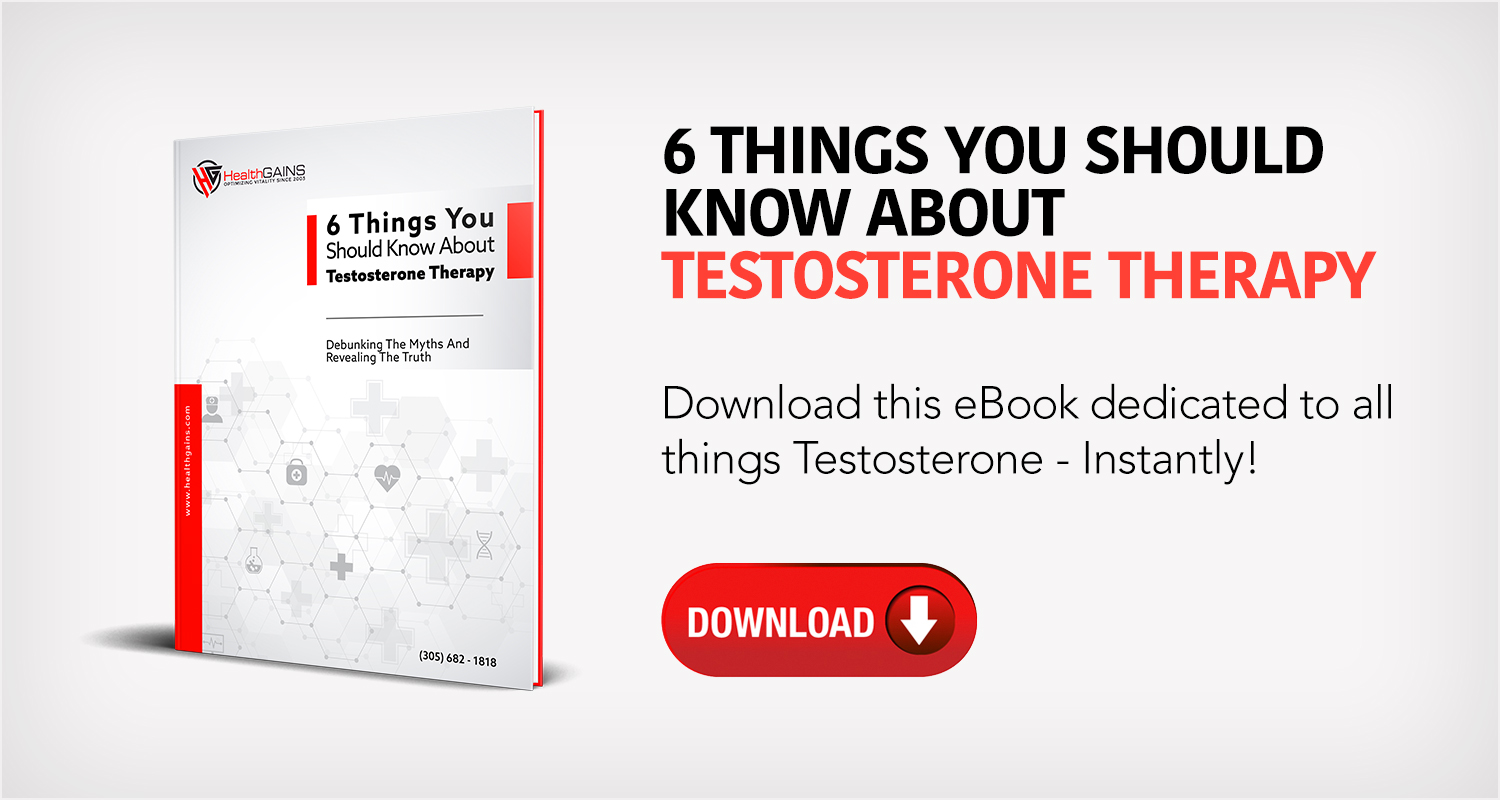 An Important Hormone
Testosterone is important to a person's physical and emotional health. Research confirms that when hypogonadal men participate in testosterone replacement therapy, or TRT, they experience a substantial reduction in anxious feelings.
While the decrease in anxiousness may be partly attributed to treating other symptoms like sexual dysfunction and depression, researchers believe that testosterone also impacts the feelings of anxiousness independent of other elements. This is something that affects men and women.
Psychoneuroendocrinology shared a study in 2016 that found a vital connection between women who suffered from feelings of anxiousness and their testosterone levels. According to the report, women with social anxiety disorder, or SAD, experienced a lower level of avoidance to pictures of angry people as well as less gaze avoidance, which are two main characteristics of SAD, after they were treated for decreased testosterone levels.
Researchers believe that decreasing these kinds of submissive reactions with TRT helps relieve the symptoms of SAD. A later study performed by the University of Texas at Austin also confirmed that treating decreased testosterone could diminish a person's feelings of anxiousness, but their research team pointed out that the benefits varied between women and men. The reason for this is that they have different hormone levels when it comes to testosterone receptors.
When is Testosterone Low?
When are your testosterone levels low? According to the Urology Care Foundation, men with less than 300 nanograms of testosterone for every deciliter of blood have low levels. The organization also confirms that about two in every 100 men experience it. The condition is more common in men as they age.
How is age related low testosterone diagnosed? To diagnose the condition, your medical professional will give you a complete physical examination. He or she will also ask you about your medical history and your family history. Hormone testing will likely take place to review your current testosterone levels. Your doctor will also discuss your health goals with you before recommending a treatment.
Click to contact our specialist today
Safe Testosterone Therapy
The most common way to treat decreased testosterone is TRT. In most cases, a doctor will recommend the treatment if you're experiencing several symptoms of the condition. There are a few methods used to treat it. They include:
Dissolvable tablets
Injections
Skin patches
Gel
After you begin testosterone therapy, you will likely notice fewer symptoms in about 4 to 6 weeks.
If you are interested in reversing the effects low testosterone has had on your life, call us at (305) 682-1818 to get started or to get more information today.
Call or text (305) 682-1818 or complete a Free Consultation Form