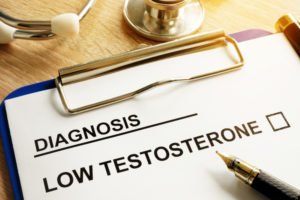 It is normal for a man's body to change as he gets older. This includes changes in testosterone levels, as testosterone decreases naturally and steadily with age. According to Healthline, when a man turns 30, his testosterone levels will decrease by 1% each year.
Harvard Health Publishing provides insight into the average testosterone level by age:
| | | | |
| --- | --- | --- | --- |
| Man's Age | Total Testosterone | Free Testosterone | Bioavailable Testosterone |
| 40 to 49 | 252 to 916 (ng/dL) | 5.3 to 26.3 (ng/dL) | 101 to 499 (ng/dL) |
| 50 to 59 | 215 to 878 (ng/dL) | 4.2. to 22.2 (ng/dL) | 80 to 420 (ng/dL) |
| 60 to 69 | 196 to 859 (ng/dL) | 3.7 to 18.9 (ng/dL) | 69 to 356 (ng/dL) |
| 70 to 79 | 156 to 819 (ng/dL) | 2.2 to 14.7 (ng/dL) | 41 to 279 (ng/dL) |
The average testosterone level by age is highest in younger individuals and lower in older ones. If a man is experiencing low levels of testosterone, he may be able to boost his levels through injections.
What Testosterone Does
The human body produces several hormones, each of which serves a different function.
Testosterone is a hormone that plays an important role in the human body, particularly in male bodies. This hormone is responsible for:
Growth of facial and body hair
A deeper voice
Increased muscle mass
Sex drive and fertility
A man's testosterone levels change throughout his life. They increase during childhood, peak in his 20s, and gradually decline over the rest of his life. This is the normal progression of testosterone levels, but according to Harvard Health Publishing, testosterone levels may fall quicker in some cases. For example, if a man needs certain medications or drinks heavily, his testosterone levels may be affected.
Low testosterone levels can cause symptoms like:
Weight gain
Hair loss or thinning
Muscle loss or weakness
Memory problems
Fatigue or sleeping problems
Decreased bone density
Decreased sex drive and other sexual problems
These changes can have a negative effect on a man's personal life and self-confidence. Fortunately, there are ways to counteract low testosterone levels. One of these methods is through hormone therapy, specifically testosterone therapy.
For a free consultation, call (305) 682-1818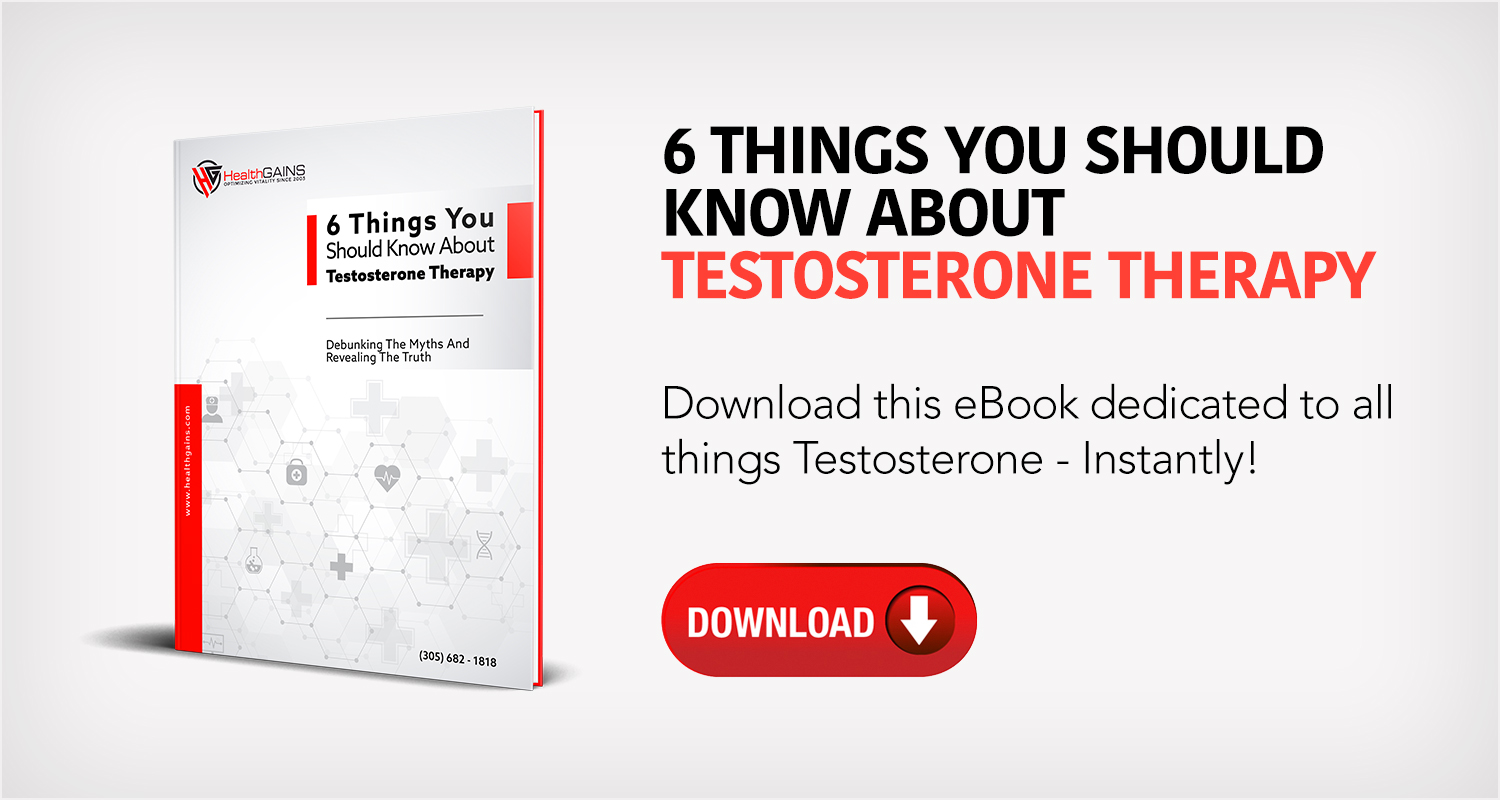 Common Misconceptions About Hormone Therapy
Hormone therapy is a type of medical treatment. Like with any medical treatment, it carries a degree of risk, but not as much as some people may think.
Here are some common misconceptions about testosterone therapy and the truths behind each one:
"Hormone Therapy Is for Serious Athletes"
Because testosterone has been used as a performance-enhancing drug, some may conclude that testosterone therapy is only for athletes—and in particular, athletes willing to risk their health to excel in their chosen sport.
As noted previously, testosterone is present in all humans, especially males. It has many uses and purposes beyond its supposed performance-enhancing properties. Any man who experiences symptoms of low testosterone should consider how medical treatment could work to improve his overall quality of life.
"Hormone Therapy Is Dangerous"
Some people may believe that testosterone therapy is dangerous. However, this is not the case. A 2018 study published in the Journal of Clinical Endocrinology & Metabolism actually recommends testosterone therapy for men with low testosterone levels and explains that there are little risks involved.
Even men at risk for certain conditions, like prostate cancer, may still receive testosterone therapy if they want to. They just need to be monitored regularly and informed of the pros and cons of treatment beforehand. If necessary, the amount of injected testosterone can be adjusted in the middle of therapy to further decrease risks.
"Hormone Therapy Will Work Miracles"
Some men might think of hormone therapy as a "miracle cure" that will increase their body's natural testosterone production to what it was when they were younger. While testosterone therapy is proven to improve a man's energy levels, muscle mass, and libido, it does not reverse all signs of aging.
Yet, peak testosterone levels are not necessary for peak performance. Testosterone injections—when combined with changes in diet, exercise, and sleep patterns—can replace lost "natural" testosterone and help a man live a fulfilling, active life.
Nevertheless, testosterone replacement therapy (TRT) can be an important part of a total wellness plan for men. Anyone interested in introducing this treatment into their life can discuss their symptoms and concerns with a medical professional.
How Hormone Therapy Can Help
With proper doses and monitoring, testosterone injections are safe and can have a big impact on a man's self-esteem and quality of life.
Testosterone injections can:
Increase energy levels
Increase sex drive
Improve sexual performance
Make it easier to lose weight
Increase muscle mass
A man does not need to stay on hormone therapy for his entire life to feel these benefits. Many men start to feel positive effects within the first few weeks, and the initial round of therapy generally lasts no longer than one year.
Click to contact our specialist today
Call HealthGAINS Today
The average testosterone level by age gets steadily lower as the years pass, so a man's testosterone levels will only keep getting lower if he does nothing about it. Learn more about how HealthGAINS can help by calling (305) 682-1818. A HealthGAINS wellness professional can help each patient figure out if testosterone therapy is right for him.
Call or text (305) 682-1818 or complete a Free Consultation Form