As with any prescription, you should follow your doctor's instructions when you stop taking testosterone. If you stop hormone replacement therapy, you may lose any or all progress you made with the program.
People who abuse testosterone by taking higher doses of the hormone than doctors usually prescribe and combining the hormone with other anabolic androgenic steroids (AAS) can experience withdrawal symptoms if they stop taking testosterone, according to the U.S. Food and Drug Administration. These problems can include sleep disorders, decreased interest in sex, loss of appetite, low energy, and irritability.
How to Avoid Withdrawal Symptoms When You Stop Taking Testosterone
You should only take the dose of testosterone that your doctor prescribed. You should always have lab tests done before starting a testosterone treatment regimen to determine the appropriate and safe dose for you. You should never obtain testosterone without a doctor's prescription.
At HealthGAINS, we perform lab tests on all of our hormone replacement therapy patients to assess their current levels of testosterone and calculate the appropriate dosage. Our treatment programs are medically supervised. We make adjustments to your therapy plan based on how your body responds to the prescribed dose.
For a free consultation, call (305) 682-1818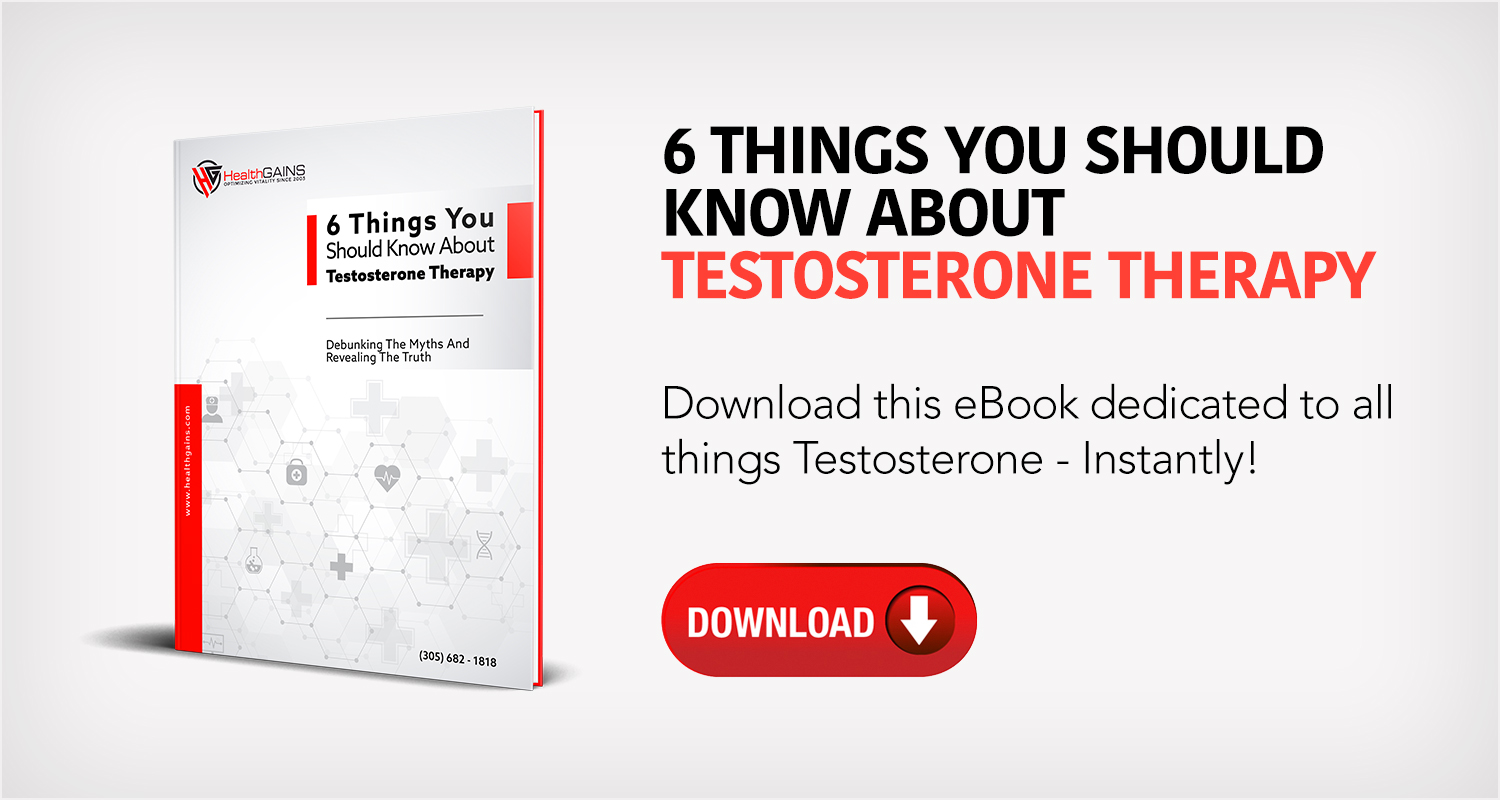 Adverse Consequences of Testosterone and AAS Abuse
Taking very high doses of testosterone with anabolic steroids can pose significant safety risks to the brain, heart, liver, endocrine system, and mental health. The U.S. Food and Drug Administration reports that side effects of abusing testosterone and AAS include:
Stroke
Heart failure
Heart attack
Liver toxicity
Male infertility
Aggression
Hostility
Depression
Even though the human body produces testosterone naturally, taking higher than recommended doses and combining the hormone with AAS can cause harm. When you stop taking testosterone, that can also be dangerous.
Symptoms of Low Testosterone
Just as extremely high levels of testosterone can have health risks, low levels of testosterone, also called low-T, can interfere with your body's optimal functioning. According to recent studies, you might need an evaluation for low-T if you have any of these indicators:
You have lost muscle mass and strength. Working out at the gym does not produce the results that it used to when you were younger.
You feel more tired after exercise and take longer to recover from strenuous workouts.
Your weight keeps increasing. The measures that used to be effective for weight control no longer work as well.
You experience fatigue frequently, and your overall energy levels are lower than before.
It is a challenge to fall asleep or stay asleep.
Your body fat is increasing, particularly around the middle. As a result, your body mass index (BMI) numbers are heading in the wrong direction.
You start to have hot flashes similar to those a woman has during perimenopause and menopause.
You experience erectile dysfunction and low sperm count.
Your interest in sex (libido) decreases.
You feel irritable, angry, sad, or depressed.
Healthline reports that your bones become thin and brittle (osteoporosis) when your testosterone levels are low, which puts you at greater risk of fractures. Brittle bones can rob you of your favorite activities, like running, skiing, rock climbing, and hiking. The Centers for Disease Control and Prevention report that "each year at least 300,000 older people are hospitalized for hip fractures."
You do not need to feel as if your body is holding you back from living the life you want. Give us a call today.
Click to contact our specialist today
Benefits of Testosterone Therapy
People who go through hormone replacement therapy report improvement in their physical health, sexual performance, cognitive ability, and emotional status. For example, they can experience:
Improved metabolism
More muscle mass
Greater bone density
Increased sex drive
Improved sexual function
More energy and vitality
Better levels of concentration, focus, and memory
Restful sleep that lets them awaken refreshed and ready for the day
Improved mood and outlook on life
Better self-esteem and confidence
Just as with any medical treatment, everyone responds differently to testosterone therapy. We are a wellness clinic that monitors our patients and makes adjustments in their therapy as needed. HealthGAINS is not some fly-by-night online purveyor of questionable products that make wild claims.
We have facilities across the United States for your convenience. Our medical team provides concierge age-management treatments. We personalize the therapy for every patient. You do not receive a "cookie-cutter" approach with us that might cause you to stop taking testosterone.
If you are serious about your health, you do not want to buy a bottle of pills off the internet that contains the same dose for everyone, without consideration for the needs of the individual. There is little, if any, regulation of products that do not require a prescription from a doctor, so you do not know if what you buy online or over the counter is safe or effective. You deserve much better than that.
When you come to one of our facilities, you can meet face-to-face with human beings. We take the time to answer your questions. We perform lab tests and design a therapy plan just for you.
Complete a Free Consultation form now
How to Take the First Step
The first step is easy. Just pick up the telephone and call HealthGAINS at (305) 912-8828. One of our wellness advisors will speak with you at no charge. You can get started on the path to feeling and looking better today.
Call or text (305) 682-1818 or complete a Free Consultation Form