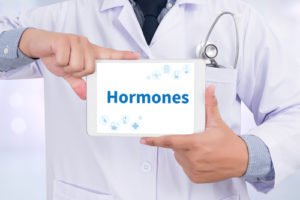 Bioidentical hormones are man-made substances formulated from plant sources. They are made to replicate human growth hormone (HGH), a small protein made in the pituitary gland that acts on many tissues throughout the body.
What You Should Know About Bioidentical Hormones
According to Harvard Health Publishing, human growth hormone stimulates cartilage and bone growth, boosts protein production, supports fat metabolism, interferes with insulin's action, and much more.
In relation to bioidentical hormones, "bioidentical" means that the chemical and molecular structure of HGH is identical to the hormones that the human body makes. The makers of bioidentical hormones made from extracted chemicals from sources in nature, then use them to create hormones that mimic the body's own hormones.
The human body believes bioidentical hormones and the hormones it manufactures to be the same. Bioidentical hormones made from sources in nature can restore your hormone levels to where they were when you were younger and more energetic. Bioidentical hormones help your body with tasks such as brain function, growth, and metabolizing food.
For example, as you age, the amount of estradiol (a form of estrogen) your body makes decreases. Makers of bioidentical hormones can take plant chemicals from soy and yams and synthesize them into bioidentical estrogens like estriol, estrone, and 17 beta-estradiol.
For a free consultation, call (305) 682-1818
What Happens When Hormone Levels Fall with Age
As we age, our bodies begin to make less hormones, such as testosterone, progesterone, and estrogen. All three hormones are required for proper bodily function in both men and women. You might experience the following symptoms if your hormone levels are lower than the necessary amount your body needs to perform:
Uncontrollable weight: It is a challenge to control your weight through diet and exercise.
Fatigue: You feel tired often.
Depression: You might develop depression, or your existing depression worsens.
Thinning hair: Your hair is no longer full, and you incur a loss of volume.
Body fat: Muscle tone diminishes, replaced by increased body fat.
Low libido: Sexual activity suffers.
Some people experience one or two symptoms of hormonal imbalance, while others struggle with several effects of it. Everyone is unique. We will work with you to determine a precise, HGH therapy regimen that can help you.
How Bioidentical Hormones Can Help
At HealthGAINS, we will run a panel of lab work and diagnostic tests to determine your current hormone levels. We take the results of these assessments and create a custom, HGH treatment plan to replace your hormone levels. Each treatment plan is unique and different. We make a treatment plan to meet your individual needs.
When your hormones are back in balance, you can look and feel better. Your energy can increase, and your outlook on life can improve.
Click to contact our specialist today
What Our Patients Say About the Benefits of Bioidentical Hormones
Watch the testimonials of some of our satisfied patients. You can view for yourself the authenticity of our HGH treatment programs. See a few snippets below:
After a hysterectomy, a woman developed arthritis, felt achy, and "felt 100 years old" at the age of 59. She couldn't sleep well and had very little sex drive. After hormone replacement therapy, she no longer experienced arthritis or suffer from restless sleeping. She feels more energetic, which increased her sex drive.
An emergency room doctor in his forties was progressively tired and gaining weight. Within a few weeks of starting hormone replacement therapy, he noticed an improvement in his energy. He also lost excess weight. He recommends HGH treatment for anyone with the same ailments.
A 34-year-old woman was gaining weight and suffering from fatigue. The blood tests at HealthGAINS revealed that she had extremely low testosterone levels. Soon after starting hormone replacement therapy, she lost 20 pounds without increasing the amount of her exercise. Her increased levels of energy also improved her outlook on life and well-being.
The testimonials above are a few examples of success stories from our patients. Results will vary for each person.
Complete a Free Consultation form now
How You Can Get Help
After we run the series of assessments, you will know which hormones are too low. The next step is to formulate a customized treatment plan based on the client's needs, hormone levels, and HGH injectables. Next, we start the HGH therapy. We can answer your questions about whether replacement bioidentical hormones made from sources in nature might be right for you. We offer a complimentary consultation as a service to people who are searching for solutions to their wellness issues.
Call HealthGAINS today at (305) 912-8828 for your free consultation. You can get started on the path to looking better and feeling younger.
Call or text (305) 682-1818 or complete a Free Consultation Form