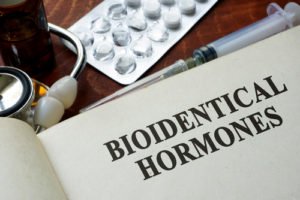 As we age, our bodies naturally reduce the production of certain hormones, including estrogen and progesterone in women, and testosterone in men. Both men and women may have declining thyroid levels. These dramatic hormonal imbalances may contribute to weight gain and other unwanted symptoms.
Bioidentical hormones restore your body's natural balance of these hormones. Many people who choose bioidentical hormone replacement therapy (BHRT) find that they have an easier time losing weight and maintaining lean muscle mass.
How Bioidentical Hormone Replacement Can Help You
If you are experiencing weight gain, thinning hair, loss of sexual desire, and other symptoms of hormonal imbalance, bioidentical hormone replacement therapy can help you regain your health and vitality.
What Makes Bioidentical Hormones Different From Conventional Hormones
Conventional or synthetic hormones were once the only choice that men and women had for restoring balance and vitality. However, conventional hormones are made from synthetic or animal-based material. This may increase your risk of adverse side effects or loss of efficacy.
HealthGAINS medical team prescribes bioidentical hormones, when appropriate, for several reasons:
Bioidentical hormones are plant-based, not made from synthetic or animal material.
Bioidentical hormones are naturally derived.
Bioidentical hormones are virtually identical (in terms of molecular structure) to your body's own hormones.
Discerning men and women who want to feel younger and healthier often benefit from bioidentical hormone replacement therapy.
Bioidentical Hormones are a Safe and Effective Anti-Aging Treatment
Bioidentical hormones are approved by the Food and Drug Administration (FDA). Like any medication, bioidentical hormones should be taken only as prescribed by a doctor or other healthcare professional.
For a free consultation, call (305) 682-1818
Bioidentical Hormones Help You Maintain a Healthy Weight
Many men and women gain weight as they enter their late 40s and 50s. This is due in part to flagging hormone levels that make it difficult to lose weight. Hormonal loss can also make you feel tired, so you are less likely to exercise. Older men and women with hormonal imbalances may also struggle with depression, which can lead to overeating or eating unhealthy foods.
By restoring your body's natural levels of estrogen, progesterone, testosterone, or thyroid hormones, you could lose weight and build more muscle mass, which in turn helps you to maintain your desired weight.
Other Benefits of Bioidentical Hormone Replacement Therapy
In addition to weight loss, our clients typically enjoy other benefits from bioidentical hormone replacement therapy, including:
More energy
Elevated moods
Improved and more even skin texture and appearance
Sharper concentration
Increased sexual desire (men and women)
Enhanced sexual performance and erectile function (men only)
Reduced symptoms of menopause, including hot flashes, night sweats, and mood swings (women only)
Bioidentical hormones can help you feel years younger and enjoy peak performance in your personal and professional lives.
Click to contact our specialist today
We Provide the Latest in Age Management Wellness
HealthGAINS medical team has 17 years of experience in ground-breaking age management wellness. Clients fly into our beautiful South Florida main clinic from around the country, and the globe, for our anti-aging treatments and therapies.
Your travel expenses could be eligible for reimbursement. Bioidentical hormone replacement therapies may be covered by health insurance.
As a patient, you will have a personal Client Concierge who works with your doctor to create a customized anti-aging regimen.
Complete a Free Consultation form now
We Offer a Wide Variety of Anti-Aging Programs
You can enjoy leading-edge treatment and programs designed to revitalize and rejuvenate your body and mind, including:
Bioidentical hormone replacement therapy
Hair restoration
Body sculpting
Stem cell therapy
Skin tightening therapy including the newest non-surgical, non-invasive "vampire" facelift
Nicotinamide adenine dinucleotide (NAD) nasal spray treatment that can reduce your risk of cognitive decline
Intravenous (IV) nutritional therapy with vitamins and supplements
Platelet-rich plasma (PRP) therapy that relieves joint pain and helps you become more mobile and flexible
Customized nutritional guidance and exercise programs based on your age, overall health, and fitness goals
Our ground-breaking age management techniques can seem to turn back the hands of time. Our mission is to help you feel younger, healthier, and more vital at any age.
Why Choose HealthGAINS for Anti-Aging Wellness
Since 2003, HealthGAINS has helped countless men and women achieve peak performance at any age.
Your health, safety, comfort, and privacy are protected by a staff of medical professionals devoted to the best results:
Comprehensive blood and urine testing to pinpoint hormonal imbalance
Careful monitoring of bioidentical hormone replacement therapy progress
Accreditation from the Age Management Medicine Group, American Academy of Anti-Aging Medicine, and the Better Business Bureau
If you are suffering from weight gain, thinning hair, or a loss of energy, you could feel younger, healthier, and more vibrant with bioidentical hormone treatment.
For a free consultation, call HealthGAINS today: (305) 912-8828.
Call or text (305) 682-1818 or complete a Free Consultation Form