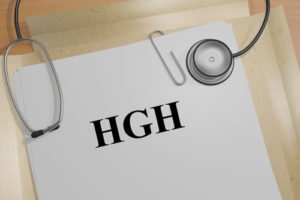 Every type of medical treatment can have some side effects. Many people who receive human growth hormone (HGH) injections, however, do not experience any major side effects or inconveniences. Occasionally, growth hormone therapy can cause minor injection site issues like redness or discomfort, but these issues usually subside quickly. Other potential side effects of growth hormone therapy can include swelling or weight gain, gas, numbness or tingling, muscle and joint pain, and cold or flu symptoms.
People with specific underlying medical conditions should not take HGH injections without first speaking with a doctor. We perform a thorough evaluation of every patient before setting up a growth hormone therapy regime. We will talk with you about your medical history to assess whether you have any health issues that might make you less likely to benefit from HGH injections.
Certified HGH physicians manage our growth hormone treatments, so you can feel confident in the quality of care that you will get at our facilities. We only use bioidentical HGH, which is the safest form of growth hormone available.
The Only FDA-Approved Growth Hormone Therapy
The only FDA-approved way to get HGH in America is via prescription from a doctor. The only effective form of HGH administration is by injection. The Food and Drug Administration (FDA) approved somatropin injections to treat various medical conditions in children and adults. Low levels of growth hormone can lead to many different health issues.
For a free consultation, call (305) 682-1818
Beware of Imitation HGH Products
Although the only legal form of HGH is accessible through a prescription from a doctor, there are countless products for sale online that claim to contain growth hormone. Unless you take these items to a lab for assessment, you have no way of knowing what the company actually put into the bottle you bought.
There is no government inspection or evaluation of these knock-off products. If the so-called "HGH product" is a pill, powder, spray, or anything other than an injection that requires a prescription from a doctor, the product is likely illegal and possibly harmful. Moreover, without knowing exactly what's in the medication, there's no way to be sure of the side effects of this type of growth hormone therapy.
Some supplements claim to boost the amount of growth hormone your body makes. You risk your health when you take unverified and unapproved supplements.
The Science Behind Human Growth Hormone
The body is supposed to make growth hormone in the pituitary gland. When the body does not have enough growth hormone, it cannot do its many jobs correctly. For example, a child whose pituitary does not make enough growth hormone cannot grow to average adult height and build bones and muscles without HGH injections.
Growth hormone is essential after we reach our adult size. We need HGH to maintain strong bones, lean muscles, and healthy skin and hair. Without adequate levels of growth hormone, internal organs and body systems do not work efficiently. This situation can lead to things like:
Insulin resistance, which can cause obesity and heart disease
Chronic exhaustion
The inability to control one's weight through diet and exercise
Elevated blood pressure
Unhealthy cholesterol levels
Poor sleep, which can leave you feeling drained and "foggy" the next day
Depression
Sexual dysfunction
Decreased libido
These are but a few examples of how low HGH in the adult body can impair your ability to be successful and lead a healthy life.
Click to contact our specialist today
Benefits of HGH Therapy
There are so many little ways in which you have grown accustomed to how your body has changed over time. One person might notice that her skin is sagging and has a dull tone. Another person might not get the same results from his workouts as before.
You might have controlled your weight and fitness with diet and exercise throughout your life, but after age 40, you discover that it gets more difficult to do so. If you are in a high-stress profession or business, you might find it harder to keep up the pace. Your body may be holding you back from living the life you want.
Growth hormone therapy can help with these issues. It is possible to feel young and healthy again.
Complete a Free Consultation form now
What Real People Say About Growth Hormone Therapy
We are proud of the results that our patients experience. Some of our patients start to look and feel better within a few weeks of beginning HGH injections. All without any side effects of growth hormone therapy.
We are happy to offer free consultations. Call HealthGAINS today at (305) 912-8828 to get started. For your convenience, we have facilities all across the United States. Our mission is to help people lead healthier, better lives.
Call or text (305) 682-1818 or complete a Free Consultation Form