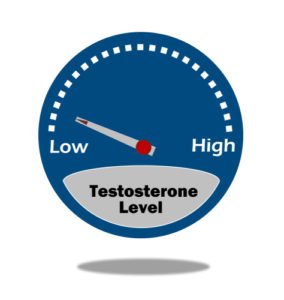 A man can have low testosterone because his body produces less of the substance than before due to aging, low thyroid function, or some medical conditions. Just as women go through menopause, men can experience andropause, which is the medical term for low levels of testosterone. Other terms for this condition include late-onset male hypogonadism, testosterone deficiency syndrome, and androgen deficiency of the aging male.
Testosterone levels tend to peak in the late teens. At around age 20, a man's body usually will make about one to two percent less testosterone every year, according to Merck Manuals. After enough years pass, the testosterone levels become low enough to cause symptoms. When these signs become significant, the man is in male menopause or andropause.
For a free consultation, call (305) 682-1818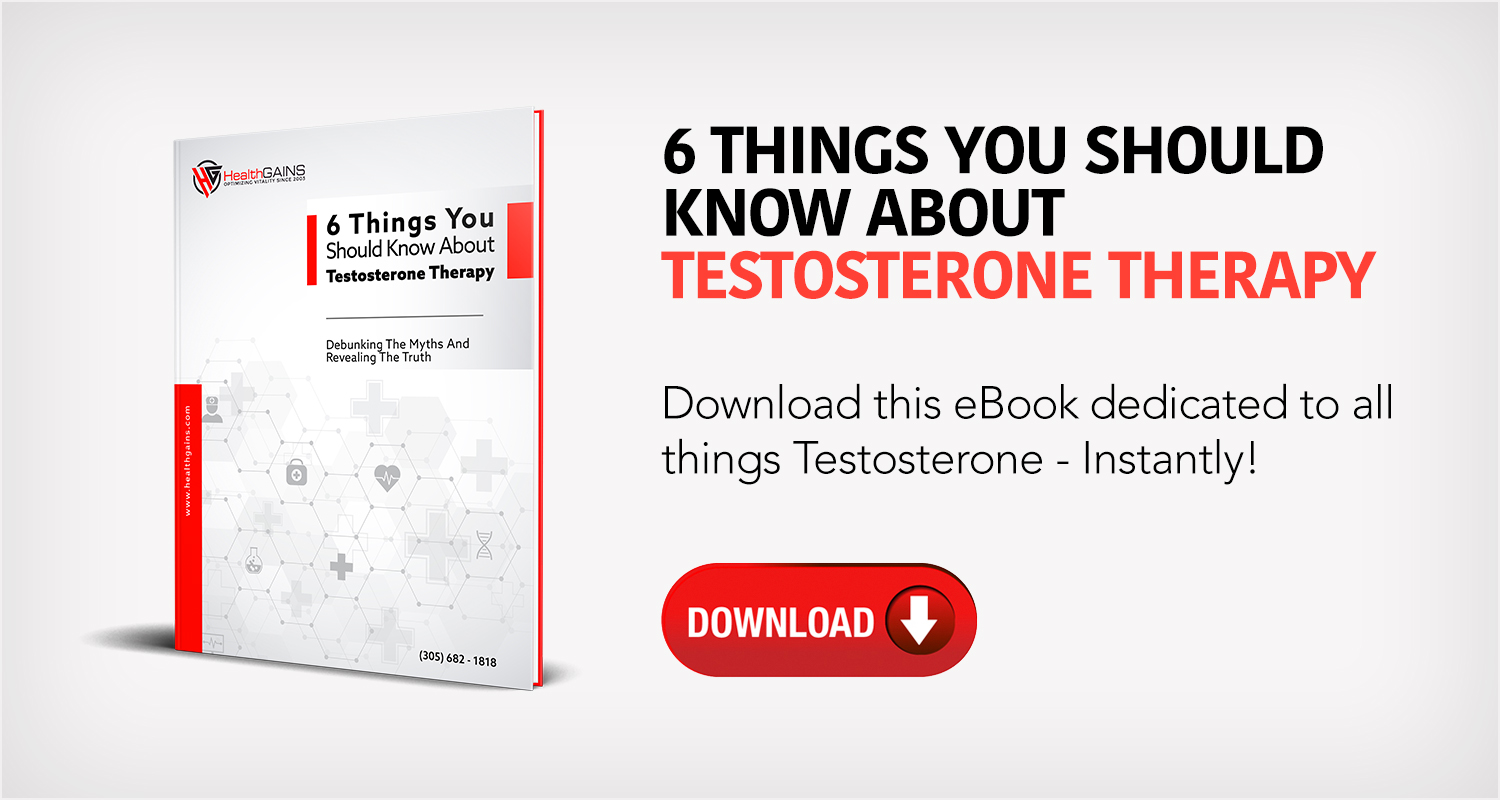 Signs of Low Testosterone
When a man has low testosterone, also called low-T, he can experience many diverse symptoms, including:
Putting on more abdominal fat, despite diet and exercise
Decreased levels of energy
Slower processing and thinking time
Anemia, or low blood cell count
Decreased muscle mass
Osteoporosis, where his bones become brittle, increasing his risk of fractures
Decreased libido
Feeling sad, irritable, or depressed
Erectile dysfunction
An increased risk of coronary artery disease
Low-T is different in every patient. It is best to have a medical assessment if you have indications of low-T. At HealthGAINS, our patients work with medical professionals throughout the treatment process.
How to Treat Low Testosterone
There are advertisements all over television about products that claim to boost the amount of testosterone in men without a prescription. When you use an over-the-counter substance, you probably did not have laboratory tests done to determine your current levels of testosterone. As a result, you do not know the correct dose to treat your low testosterone.
Think about that fact for a moment. Consider whether you want to roll the dice with your health by taking a substance without knowing the right dose for you and without medical supervision.
The best way to treat low testosterone is to work with a medical team at a reputable facility. At HealthGAINS, our patients undergo lab tests to verify whether their hormones are low and to determine how little testosterone they already have. From that information and other details we gather about your medical status, we calculate the safest and most effective dose to treat your low-T.
Our hormone therapy programs take place under constant medical supervision. We can adjust your dose as needed.
Click to contact our specialist today
What Happens When You Undergo Testosterone Replacement Therapy
Our patients rave about the results they experienced from our testosterone replacement therapy. Here are some of their comments, which are also available as videos on our testimonial Member Stories page:
A 61-year-old client lost 35 pounds and feels like he did when he was in his twenties, thanks to testosterone therapy. His sex life and libido improved. He says that his treatment was life-changing.
A 55-year-old competitive powerlifter was able to return to his sport after testosterone treatment. His orthopedic surgeon recommended HealthGAINS after the client had surgery for several lifting injuries. He heals and recovers faster now. He has more energy and less sluggishness in the morning.
You do not have to accept looking and feeling older. Being exhausted, weak, overweight, sluggish, and losing interest in sex are not inevitable. If you have low testosterone levels, you might experience benefits like these from testosterone therapy:
Being more energetic
Feeling more confident and optimistic
Improved mood
Getting better results at the gym
Building increased muscle mass
Having stronger bones that are more resistant to fractures
Increased libido
Sleeping better and getting more rejuvenation from your sleep
Improved sexual performance and stamina
Better concentration, memory, and clarity of thought
Maintaining a healthy weight becomes easier
Recovering from strenuous physical activity happens faster
You do not want to miss out as you age. It is possible to stay strong and active, so that you can keep doing the things that you love.
Our physicians have decades of experience treating low testosterone. They have helped thousands of men for more than 20 years regain the life they wanted.
Complete a Free Consultation form now
How to Get Help with Your Low Testosterone
If you are ready to take control over the signs of low testosterone and feel like you did when you were younger, you owe it to yourself to get in touch with HealthGAINS. Every day that you wait is another missed opportunity to look and feel your best.
High achievers, busy professionals, executives and those just looking for an edge come to HealthGAINS to stay at the top of their game, and so can you. You do not have to be a celebrity to feel like one.
Our advisors will answer your questions and explain the process at no charge. Call us today at (305) 912-8828 for a free consultation. There is no obligation.
Call or text (305) 682-1818 or complete a Free Consultation Form