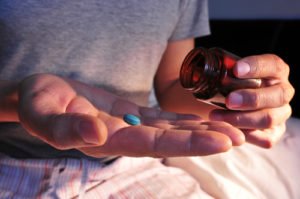 Evidence from the International Journal of Impotence Research suggests that VIAGRA® has been shown to help with symptoms relating to Peyronie's disease. The study concluded that VIAGRA® allowed for 70.8 percent of its participants to successfully engage in sexual intercourse. However, the medication was not able to address one of the major complications of Peyronie's disease, which was the notable curvature of the penis. This factor, not the inability to maintain an erection, is one of the major elements that impede intercourse in those affected.
Sildenafil, one of the active ingredients in VIAGRA®, presents several downsides that make this drug not right for everyone. Men with low blood pressure or who take nitrates should not take this medication, doing so puts them at an increased risk of heart attack or stroke. For this reason, some men affected by Peyronie's disease may be at a loss for what treatment options they may have. GAINSWave® therapy and the Gains Enhancement® both present themselves as viable options for men who have been diagnosed with this condition.
The Downside of VIAGRA® and its Competitors
Many over the counter male enhancement pills contain active hidden ingredients that are often not shared with the general public. These drugs that claim to be "herbal" usually contain sildenafil or thiosildenafil (the active ingredient in Cialis), which can be deadly to men who are taking certain medications or have delicate health conditions.
According to the Journal of Addiction Research Therapy, male enhancement pills should only be taken by prescription from a licensed medical professional. Prescription drugs designed to treat conditions relating to erectile dysfunction (ED) are usually harmless.
According to the Mayo Clinic, some side effects include:
Aches and pains, specifically in the lower back
Rashes or facial flushing
Indigestion
Headaches
Blue tinge to vision
Nasal congestion
If one experiences heart palpitations, hearing or vision loss, or an erection lasting longer than four hours, they should seek immediate medical attention.
For a free consultation, call (305) 682-1818
Treatment Options for Peyronie's Disease
Peyronie's disease is not curable. When one is considering what options may treat this condition, it is important to keep in mind that these therapies will only work to alleviate symptoms, not combat the disease itself. Reviews in Urology reports that Peyronie's disease is the result of excessive scar tissue in the penis, resulting from either a traumatic injury or sustained pressure over time. The scar tissue, also called plaque, causes the penis to take on an extremely curved shape that makes penetrative sex difficult. Additionally, it can cause painful erections, resulting in low libido or desire.
The Columbia University Department of Urology notes that while VIAGRA® is a common treatment option for Peyronie's disease, studies pointing to it as a cure are limited. While VIAGRA® can allow a man to experience an erection, it does not straighten the penis or wear away the scar tissue that results in its curve.
GAINSWave® Therapy Can Treat Peyronie's Disease Symptoms
GAINSWave® therapy uses high-frequency, low-intensity sound waves to break down the penile scar tissue that is causing the organ's unnatural shape. By doing this, the goal is to reduce curvature and allow the patient to successfully participate in sexual intercourse. GAINSWave® therapy is a painless, noninvasive procedure that can be performed in under 30 minutes. Without the use of drugs, needles, or surgery, this treatment option can be administered to many men who may not have been candidates for oral medications. Depending on one's health condition, GAINSWave® therapy usually takes anywhere from six to 12 sessions for optimal success.
The Gains Enhancement® is Another Option For Treating ED
The Gains Enhancement® combines GAINSWave therapy® with the growth factors present in platelet-rich plasma (PRP) to promote penile tissue growth and blood vessel rejuvenation. In this process, blood is drawn from the individual's body and placed in a centrifuge to isolate growth factors. The formula is then reinjected into the penis to target problem areas. The attending caregiver takes various methods to minimize discomfort. This therapy has a wide appeal because it features no adverse side effects. The injection is created from the patient's own blood, significantly decreasing the risk of any complications.
Like GAINSWave® therapy, the state of a man's overall health condition and severity of penile curvature will factor into how many sessions he will require.
Speak With a HealthGAINS Consultant Today
While VIAGRA® may be able to help those with Peyronie's disease achieve an erection, these drugs will not restore penile shape. Those who are seeking relief from these symptoms may see an improvement to their sexual health through GAINSWave® therapy or Gains Enhancement®. There is no need to relinquish sexual ability after a Peyronie's disease diagnosis. For more information regarding these services, call HealthGAINS today at (305) 912-8828.
Call or text (305) 682-1818 or complete a Free Consultation Form