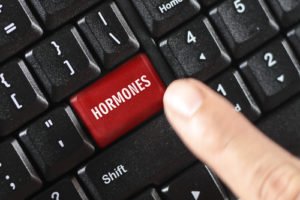 As you enter your late 40s and 50s, your body stops producing hormones. This hormonal imbalance and hormonal absence create unpleasant symptoms in men and women.
If you are suffering from weight gain, hot flashes, thinning hair, and other hormonal imbalance symptoms, you should know that clinical trials have shown health risks due to hormone therapy. As an alternative, you should learn about natural, plant-based bioidentical hormone replacement therapy.
Although some advertisements for over-the-counter hormonal support supplements promise relief, these remedies are not regulated or approved by the Food and Drug Administration (FDA) for the purposes of hormone regulation or replacement. Although they may be natural, they may not be effective or even safe for your individual health profile.
Bioidentical Hormones Are Virtually Identical to Your Own
Bioidentical hormones for women and men are virtually identical to the hormones produced by your body's endocrine system. They are plant-based, naturally derived hormones that are approved by the FDA.
If you are asking how can fix my hormonal imbalance naturally, there is nothing more natural than hormones that match the molecular structure of your body's own estrogen, progesterone, testosterone, or thyroid hormones.
For a free consultation, call (305) 682-1818
Stop Suffering From Hormonal Imbalance Symptoms
Just because your hormone levels drop as you get older does not mean you have to suffer from its unwanted consequences. You have the choice of suffering from age-related hormonal imbalances or enjoying life the way you want to live it.
If you have one or more of the following symptoms, bioidentical hormone replacement therapy can restore you to peak performance in your personal and professional goals:
Difficulty concentrating or "brain fog"
Weight gain, especially belly fat
Thinning hair or hair loss
Depression
Mood swings
Changes in your skin's texture, tone, or appearance
Lack of energy
Erectile dysfunction or sexual performance issues (men only)
Night sweats and hot flashes (women only)
Loss of sexual desire (men and women)
Feeling older than you want to feel
You could start to feel younger and healthier with natural bioidentical hormone replacement therapy. Our medical team makes sure that you have the correct dosage and delivery system for maximum efficacy.
We Design a Customized Bioidentical Hormone Treatment Plan
Your personalized hormone treatment plan begins with a comprehensive diagnostic screening. We provide a prescription for you to take to your preferred testing location or we have a mobile technician who can come to your home.
Once our medical team has analyzed your hormone levels and other important health information, we create an individualized program that may include:
Bioidentical hormone replacement therapy (BHRT) for men, women, and couples
Growth hormone therapy
Thyroid hormone therapy
Testosterone hormone therapy for men
Stem cell therapy
Sexual health and wellness treatment for women including ThermiVa and FemiWave
Sexual health and wellness treatment for men including our erectile dysfunction and enhancement programs GAINS Enhancement and GAINSwave Therapy
Non-surgical hair restoration
Joint health therapy using PRP (Platelet Rich Plasma)
Peyronie's disease treatment
Non-surgical, non-invasive facial treatments that rejuvenate and improve your skin's look, texture, and appearance
Body sculpting using the EMSCULPT system to help you look slim and trim
Sermorelin treatment that enhances hormone replacement therapy
Our clinic has been a leader in anti-aging wellness since 2003.
Click to contact our specialist today
Benefits of Bioidentical Hormone Replacement
Your results and benefits from bioidentical hormone replacement therapy and other anti-aging wellness will be unique to your own health profile.
However, many of our clients have shared their personal stories that include such benefits as:
Feeling younger, healthier, and more confident
Increased enjoyment in intimate relationships with a stronger libido
Increased sexual performance
Better weight management
Increased ability to build and retain lean muscle mass
Better recovery after exercise
Better mood and fewer bouts of depression
Feeling more focused with less "brain fog"
Increased energy levels to continue peak performance in personal and professional relationships
Most of our clients start feeling better within a few weeks of their hormone replacement therapy. It is important that you follow your doctor's recommendations for treatment, nutrition, and exercise to get the most of your anti-aging regime.
Complete a Free Consultation form now
What Makes HealthGAINS the Preferred Anti-Aging Wellness Clinic
Many people ask, how can I fix my hormonal imbalance naturally? It is possible to treat hormonal imbalance naturally, but many people do not know where to turn for expert care. Since 2003, HealthGAINS has helped countless men and women regain their youthful vitality with medically supervised age management.
We are a nationwide clinic headquartered in beautiful Aventura, Florida. You could be reimbursed for travel expenses and some prescriptions may be covered by health insurance.
Discerning men and women who want to feel younger and achieve peak performance rely on our natural and effective anti-aging care and services. You deserve to feel energized and revitalized at every stage of life. Contact us if you've been asking, can I fix my hormonal imbalance naturally?
For a free consultation, call HealthGAINS today: (305) 912-8828.
Call or text (305) 682-1818 or complete a Free Consultation Form