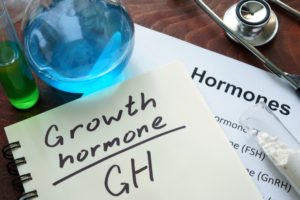 The age at which you can take growth hormones depends on when your doctor diagnoses you with growth hormone deficiency. A person can develop growth hormone deficiency as a child or an adult.
If the pituitary gland at the base of the brain does not produce enough growth hormone, a person can have a growth hormone deficiency, according to Harvard Health Publishing. Growth hormone deficiency can also be the result of a problem with the hypothalamus, the pancreas, or the intestinal tract. All of these body systems and organs must work correctly for a person to make the normal amount of growth hormone.
The Effects of Growth Hormone Deficiency
People with growth hormone deficiency can have very short stature if the condition arose during childhood or adolescence. Once a person hits middle age, the body tends to make less growth hormone. If one's growth hormone levels fall substantially, the person can receive a diagnosis of growth hormone deficiency.
People of all ages need sufficient levels of growth hormone for the body to perform these functions:
Regulate insulin and blood sugar levels
Produce protein
Break down fat
Maintain a healthy bone density level, which prevents fractures
Build and retain muscle mass
Guard against the development of heart disease
Have the energy to get regular exercise
A person with a growth hormone deficiency might experience problems with one or more of these essential functions.
For a free consultation, call (305) 682-1818
Clinical Features of Growth Hormone Deficiency in Adults
A person with adult growth hormone deficiency (AGHD) might exhibit some or all of these symptoms, according to Stanford Health Care:
Decreased bone mineral density, which can increase the likelihood of fractures from falls and other traumatic events
A higher risk of cardiac disease
Weakened muscles and decreased strength and endurance
Change in the ratio of fat to muscle in the body, with less lean muscle and increased fat mass
Stanford Health Care also says that a person with AGHD might experience a lower quality of life, as the condition can leave an individual feeling fatigued and emotionally unstable. In this situation, the odds of the person become more socially isolated increase.
Because AGHD can develop gradually over a few years, some people do not recognize its symptoms because they adjust to not feeling well or attribute their symptoms to ordinary aging.
A person might have cardiovascular, neuromuscular, skeletal, neuropsychiatric, cognitive, or metabolic abnormalities as a consequence of AGHD. However, most of these problems can be treated with growth hormone therapy.
How to Find Out if a Person Has AGHD
AGHD is a significant medical condition that should be evaluated by a medical provider.
It is not a good idea to search for information online and then try to find a way to self-medicate. A health care provider can perform an examination, evaluate a patient's medical history, and order lab tests to assess growth hormone levels professionally.
The only legal form of human growth hormone in the United States is by prescription. Medical professionals do not recommend that a person purchase or use non-prescription substances that claim to contain human growth hormone. Some athletes have misused human growth hormone they obtained from questionable sources to try to gain an unfair advantage in competition. As a result, many of these athletes suffered significant, adverse health consequences.
Prescription human growth hormone comes with the protection of government oversight and regulation. Non-prescription substances do not have these safeguards. As a result, a person who uses a substance claiming to contain human growth hormone might be spending their money on something that could potentially harm them.
The product might contain dangerous fillers and additives. If the item does contain human growth hormone and gets distributed without a prescription, it is illegal.
Click to contact our specialist today
How Growth Hormone Treatments Can Help Adults
Healthline notes that treating AGHD can improve the symptoms of this condition, including:
Energy levels
Self-esteem
Emotional status
Muscle strength
Body composition (including the ratio of fat and lean muscle tissue)
Sexual ability
A large number of AGHD patients with fibromyalgia report that their muscle pain lessened after growth hormone treatment. Taking growth hormone therapy can even reverse the effects of osteoporosis.
Complete a Free Consultation form now
Contact HealthGAINS to Learn More
Any person struggling with a possible growth hormone deficiency should consider the value of working with HealthGAINS. A person can take growth hormones at nearly any age upon getting diagnosed with human growth hormone deficiency. The individual's age is not a relevant factor.
One can call HealthGAINS today at (305) 912-8828 for a free consultation with one of their trained wellness advisors. HealthGAINS tailors each person's human growth hormone therapy to the individual's needs and goals. Call today to learn more.
Call or text (305) 682-1818 or complete a Free Consultation Form