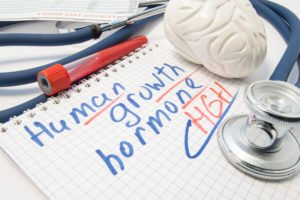 A person's metabolism, their dosage of human growth hormone (HGH), and the severity of their hormone deficiency will determine how long it takes for HGH to leave their system. Yet, according to the Drug Enforcement Administration (DEA), HGH has a circulating half-life of 20 to 30 minutes, while it's biological half-life can be anywhere from nine to 17 hours.
People who undergo HGH therapy for growth hormone deficiency should do so under the care of a physician throughout their treatment, and if they discontinue HGH at any point. One should notify their doctor if things do not feel right during therapy or if there is a reason to stop treatment. From there, a trained medical professional can evaluate whether the HGH dose needs to be modified or if the person should resume therapy.
The Likelihood of Developing HGH Withdrawal
HGH is a natural substance that the body makes in its pituitary gland. As long as a person takes the appropriate dose tailored to their clinical needs, it is unlikely that they will experience adverse side effects upon stopping treatment.
Some athletes and other people in the entertainment industry misuse growth hormones and take high doses. When these individuals stop taking HGH, they can have withdrawal symptoms.
The best way to avoid HGH withdrawal is to obtain growth hormone only from a physician who can write a prescription for HGH injections. HGH is a controlled and regulated substance, which means that it is illegal to obtain HGH without a prescription. Also, the only scientifically proven form of HGH is through a subcutaneous injection.
It is easy to find non-prescription products that claim to contain HGH. If these items actually include growth hormones, they are illegal. Most likely, these products contain filler ingredients instead of growth hormone. Because they are not regulated or tested by the government, these over the counter or online products could contain dangerous substances.
For a free consultation, call (305) 682-1818
How a Person Can Feel if They Stop Taking HGH
When a person stops taking HGH for low human growth hormone levels, HGH levels will fall again, usually to around their previous amount. The person will eventually feel the way they did before starting HGH therapy.
The National Organization for Rare Disorders (NORD) says that the symptoms of HGH deficiency are:
Decreased energy and stamina
Central adiposity, which describes gaining weight around the waist
Decreased muscle mass
Abnormal cardiac enzyme levels
Psychological issues, like depression and anxiety
The reason why growth hormone deficiency can cause so many problems is because the body needs this hormone for optimal function.
When a person's HGH levels fall, either because of a deficiency or because they stopped treatment, it does not take long for HGH to leave the system. The same symptoms that led the person to medical help in the first place will begin to resurface.
How Hormone Therapy Can Help with Low HGH Symptoms
As with any other medical treatment, the results of HGH therapy will vary from one person to the next. It might take some time for the body systems that did not receive enough HGH to become strong and healthy again, particularly if an individual had growth hormone deficiency for a long time before seeking treatment.
Successful HGH therapy can reverse many of the symptoms of growth hormone deficiency. According to Harvard Health Publishing, appropriate HGH treatment can help to restore one's muscle mass lost during the time of the deficiency. Additional benefits can include increased bone density, which can decrease the risk of bone fractures.
Patients can also have increased energy and be able to exercise without feeling exhausted. HGH therapy can reduce a patient's risk of developing cardiovascular disease down the road.
These benefits apply to people with HGH deficiency who take the correct dosage as prescribed. If a person misuses growth hormone, they can miss out on the potential benefits of treatment, and cause harm to themselves. A medical doctor can calculate the appropriate dose based on an individual's clinical need for growth hormone.
Click to contact our specialist today
Getting an Evaluation for Low HGH Levels
The medical professionals at HealthGAINS can evaluate a person's need for growth hormone therapy. HealthGAINS provides customized treatment plans for people with growth hormone deficiencies.
HealthGAINS only provides HGH by prescription and in an injectable form. All HGH therapy takes place under the supervision of trained medical professionals.
To get started with HealthGAINS, call today at (305) 682-1818 and talk to a wellness adviser at no cost.
Call or text (305) 682-1818 or complete a Free Consultation Form