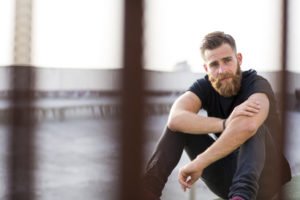 If you need to go into your flight-or-fight stance, this will certainly impact your testosterone production and levels. Cortisol, a hormone that is generated by the body when making decisions under stress, can absolutely impact the body's ability to manage the levels of testosterone if under sustained or concurrent stressors. When cortisol is present in large numbers, testosterone tends to be low.
Is it a Stressful Time?
When you experience stress, your body has a specific reaction to emotional or physical obstacles. When you enter into an emotionally or physically trying time, your body releases hormones that cause changes to the body as a whole.
For example, stress can cause your brain to become more attentive to everything around you, your muscles can begin to feel tense, and your pulse rate quickens. These reactions are not negative when they help you confront a difficult moment, but may have negative impacts on your health if sustained for long periods of time.
When this reaction is chronic, it lasts for a much longer time than you would ordinarily need it to last, and it can lead to depression.
Cortisol and testosterone are associated, but we cannot say that one caused the other. According to Dr. Daniel Shoskes, there isn't a lot of research that demonstrates that cortisol lowers testosterone levels. On top of that, there is even less evidence that if you lower cortisol, you will increase testosterone, but Dr. Shoskes suggests that there is a possibility that testosterone levels will increase when cortisol levels are lowered.
For a free consultation, call (305) 682-1818
Symptoms of High Cortisol Levels
Some of the symptoms of feeling stressed and low testosterone are exactly the same, and they include the following:
Irritability
A general lack of interest
A lack of energy
Difficulties sleeping
Fatigue
Low sex drive
Does Feeling Depressed Cause Low T?
Researchers know that many men and women with low testosterone are feeling depressed at the same time, but they don't know whether feeling depressed causes low T or not, and they don't know that low T causes people to feel depressed. Even so, testosterone therapy has been known to be able to improve the mood of people experiencing depressive symptoms.
Click to contact our specialist today
What Is Depression?
This condition is characterized by sadness, loss or anger that keep people from participating in their daily lives. It may cause a person to feel as if he is hopeless or that she is worthless, and it lasts for several days or even weeks. You may also be diagnosed with the condition if you lost or gained weight, are thinking about suicide or sleep too many hours every day. It is perfectly normal to feel sad after an unpleasant event occurs. Your mood will only be cause for discussion if the sadness doesn't improve for several weeks and interferes with your daily duties.
The symptoms of a depressed individual are often the same as the symptoms experienced by someone with low testosterone, but the symptoms experienced by a stressed individual and a depressed individual are similar as well.
Symptoms of the depressed and those with low T include the following:
Sleep difficulties
Difficulties concentrating
Difficulties remembering
Less interest in sex
Feelings of sadness
Feeling anxious
Feeling irritable
Complete a Free Consultation form now
Age Related Low Testosterone
Hypogonadism is when a man's reproductive system decreases its production of testosterone. As men get older, age related low testosterone becomes an issue because testosterone levels naturally go down as a man ages. The most common reason that men experience erectile dysfunction is because of hypogonadism.
Erectile Dysfunction
Erectile dysfunction is when a male cannot consistently achieve or maintain his erections long enough for him to complete his sexual activity. Situational ED occurs on occasion with some partners and not others. Less common is the type that occurs during every type of sexual encounter, so it is considered to be "generalized." Some men cannot attain an erection, and others cannot maintain it long enough to penetrate a partner or ejaculate. This problem appears to be more prevalent as men age.
The male sexual functions are known as the "erection" and "ejaculation."
Erection
The penis consists of cavernous masses, and these cavernous masses were equipped to hold blood. When these masses fill with blood, they get larger, so the penis gets larger while this is occurring. It only takes 10 or 15 seconds for the penis to become a funnel that has the capacity to expel semen. This is how the process takes place ordinarily.
Ejaculation
The other part of male sexual function is "ejaculation," and it is a spinal reflex. When you reach the threshold during sexual stimulation, it is triggered. Usually, ejaculation occurs at the same time as the orgasm. Ejaculation is when the semen bursts through and enters the vagina.
As blood begins to leave the penis, it becomes less rigid after the orgasm occurs and sexual stimulation begins to slow down. If a man is experiencing performance anxiety, he may achieve an erection, but the anxiety may make him lose his erection after he penetrates his partner.
Performance Anxiety
As men begin to have difficulties obtaining or maintaining an erection, they also begin to experience performance anxiety. This occurs when the man begins to worry about the next time that he is unable to attain an erection. As he worries about it, his anxiety grows, and this is the reason that his dysfunction becomes a regular pattern. Performance anxiety can lead to ED, but depressive symptoms are also known to cause the condition.
If you are concerned about ED, give us a call at (305) 682-1818 to learn more information about what we can do to help you today.
References:
https://www.healthline.com/health/low-testosterone/depression#low-t-and-depression
https://www.everydayhealth.com/mens-health/can-stress-affect-low-testosterone.aspx
https://medlineplus.gov/ency/article/003211.htm#:~:text=Stress%20is%20a%20feeling%20of,danger%20or%20meet%20a%20deadline.
https://www.ncbi.nlm.nih.gov/pmc/articles/PMC1476110/#:~:text=for%20some%20men.-,Summary,low%20enough%20to%20induce%20ED.
Human Sexuality in a World of Diversity by Spencer A. Rathus, Jeffrey S. Nevid and Lois Fichner-Rathus.
Call or text (305) 682-1818 or complete a Free Consultation Form