Low T can make you feel sluggish. It can affect your sexual performance and your self-esteem. Having low T levels can lead to:
Loss of muscle mass.
Low energy levels.
Loss of interest in sex.
Erectile dysfunction.
Bone loss.
Inability to sleep.
Thinning hair.
Many treatments claim to fix your low testosterone. How do you pick the right testosterone therapy? We'll look at the best testosterone boosters.
Natural Testosterone Boosters
Losing testosterone happens gradually as you age. Once you reach the age of 40, it drops a small amount each year. Lifestyle habits, diet, illness, medications and other factors can all cause it to drop even further. You can take steps to reverse this process and start increasing your testosterone levels.
Testosterone occurs naturally in your body. That's why it makes sense to look at natural ways to increase your levels. These methods will help, but they won't fully replace the testosterone you lost. Only testosterone replacement therapy (TRT) will do that.
For a free consultation, call (305) 682-1818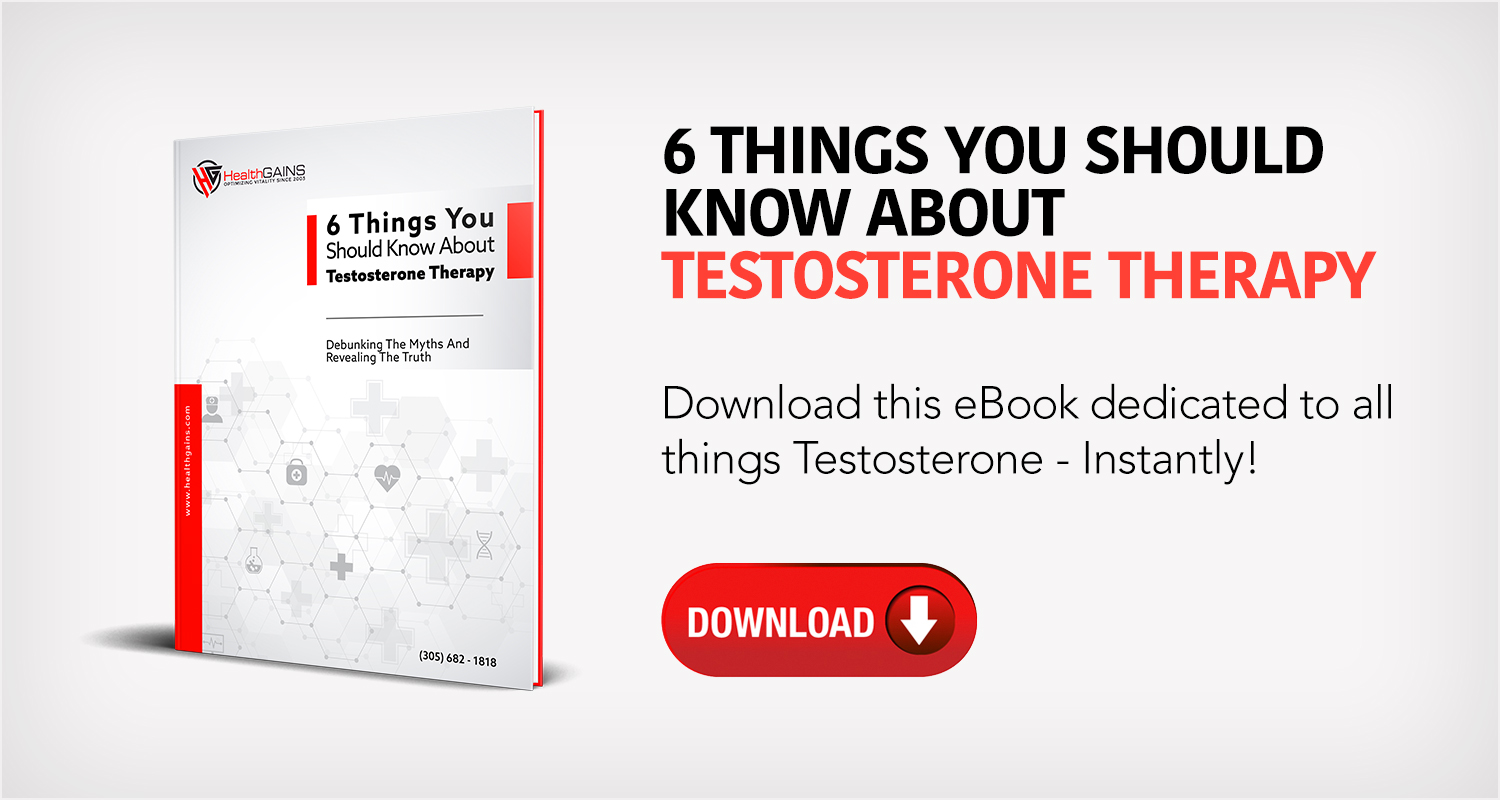 Exercise
According to fitness expert Thomas King, "The best exercises to build testosterone are multi-joint exercises that use the body's largest muscle groups." In an interview in Men's Journal, he listed the following as the best choices:
Squat.
Deadlift.
Row.
Pull-up.
Overhead press.
Push-up.
Regular resistance training will help you build testosterone levels, increase muscle mass and stay healthy. Weight training should be part of your testosterone-boosting plan.
Make Lifestyle Changes
These are all proven ways to maintain or increase your testosterone levels.
Maintain your weight. Extreme weight changes can cause your testosterone levels to drop. So can obesity. One of the best ways to get your hormones back on track is to maintain a healthy weight.
Avoid excessive alcohol. Excessive alcohol and drug use can disrupt your body's hormone production. Studies have found drinking alcohol can damage your testosterone levels. The worst culprit is beer.
Fortunately, cutting back to a moderate consumption can reverse the problem. For most men, two to three drinks a day is the right amount. You might also want to consider drinking spirits or wine instead of beer.
Don't take steroids. Anabolic steroids interfere with your body's natural hormonal balance. They also have dangerous side effects. If you're taking steroids, stop.
Click to contact our specialist today
Reduce Your Stress Levels
High levels of stress can cause your body to produce cortisol. An excess of the so-called stress hormone can affect your testosterone levels.
When cortisol levels go up, testosterone levels go down, and vice versa. This action is called "allostatic load." Studies find that when your body's allostatic load gets too high, your testosterone levels drop.
Cortisol packs a double whammy on your testosterone levels. Cortisol makes your body hold onto fat. Excess fat causes your testosterone to drop even further.
Some studies have found fatty acids can help you fight the effects of cortisol. Increase your intake of fatty acids to help reduce your stress levels. They're in fatty fish, butter, nuts and flaxseed.
Complete a Free Consultation form now
Herbs and Supplements: Can They Fix Low Testosterone?
There are thousands of products that market themselves as testosterone enhancers. You can buy them online or from natural health stores. What's in them? Do they work?
Vitamin Supplements
Certain nutrients are essential to helping your body produce more testosterone. These include vitamins B3, B6 and D3. Zinc and chromium also boost testosterone production.
If you look at the ingredients of supplements sold as testosterone enhancers, you'll see they're mostly just vitamin and mineral formulas. You could get the same benefits from increasing your intake of these nutrients.
Estrogen Blockers
Many of these packaged formulas contain additional ingredients that work as estrogen blockers. If you're trying to build your testosterone levels, you also need to block the action of estrogen. One of the most popular natural blockers is diindolylmethane.
Diindolylmethane is a naturally occurring substance that disrupts the way the body metabolizes estrogen. It's in cruciferous green vegetables like broccoli, cabbage, kale, mustard greens and watercress. Some research indicates it may protect against certain types of cancer. Supplement sellers also tout it as an ingredient in testosterone enhancers.
Unknown and Possibly Dangerous Ingredients
Unfortunately, there is no clinical evidence supporting the use of diindolylmethane to block estrogen. Researchers don't really know if it's safe to take. Health professionals warn against using it. We don't know what dosage of this ingredient is safe to take.
Over-the-counter testosterone boosters frequently contain ingredients that we don't know enough about. If you want to increase your intake of this ingredient, do it by eating more vegetables. Don't take questionable, potentially dangerous supplements.
TRT: The Testosterone Therapy That Works
When lifestyle changes aren't enough, the only way to increase your testosterone levels is with testosterone replacement therapy.
This is the only doctor-approved, clinically proven treatment that:
Has no dangerous side effects.
Uses bioidentical hormones.
Is clinically proven.
Is prescribed by doctors.
Will be formulated specifically for you.
Works quickly.
Don't settle for vitamin supplements wrapped in a fancy bottle and sold as a dubious testosterone treatment. Don't buy products with ingredients whose safety is unknown.
Will TRT Work for Everyone?
Our treatment will work if you have age related low testosterone. It will also work if medication or illness caused your testosterone loss.
You'll enjoy all the benefits of testosterone enhancement, including more energy, increased muscle mass, stronger sex drive and improved sexual performance.
If you're ready to feel youthful and vigorous, you need our safe, doctor-prescribed treatment.
Our Treatment Is Safe, Proven and Fast-Acting
Get ready to feel your best with testosterone replacement therapy. We see this treatment work for hundreds of patients every day. We know it can work for you.
Call us at (305) 682-1818 to schedule your appointment or to find out more about getting started today.
Call or text (305) 682-1818 or complete a Free Consultation Form