There is no definite standard to how long it takes to feel the effects of testosterone injections because, just as with any other medical treatment, results vary from one person to the next. The following factors can affect how quickly an individual might notice an improvement from hormone therapy:
The patients schedule and dosage of testosterone injections
The person's response to and absorption rate of testosterone
The individual's underlying medical conditions and general health
One person might notice changes in how they look and feel within a few weeks, while another person might need a little more time.
An Overview of Testosterone and Why Men Need It
Harvard Health Publishing says that testosterone is an essential hormone for both men and women. Harvard also debunks the myth that testosterone leads to bad behavior, like aggressiveness and road rage. The male body needs testosterone for a variety of bodily functions. This hormone encourages:
Bone growth and strength
Muscle development and strength
Sex drive
Sperm production
Penis and testes development
Changes during puberty
Reduced testosterone levels might be a factor in balding as a man gets older. Adequate levels of this hormone might help a person have appropriate moods. Harvard acknowledges that there is much we do not yet know about the benefits of testosterone.
For a free consultation, call (305) 682-1818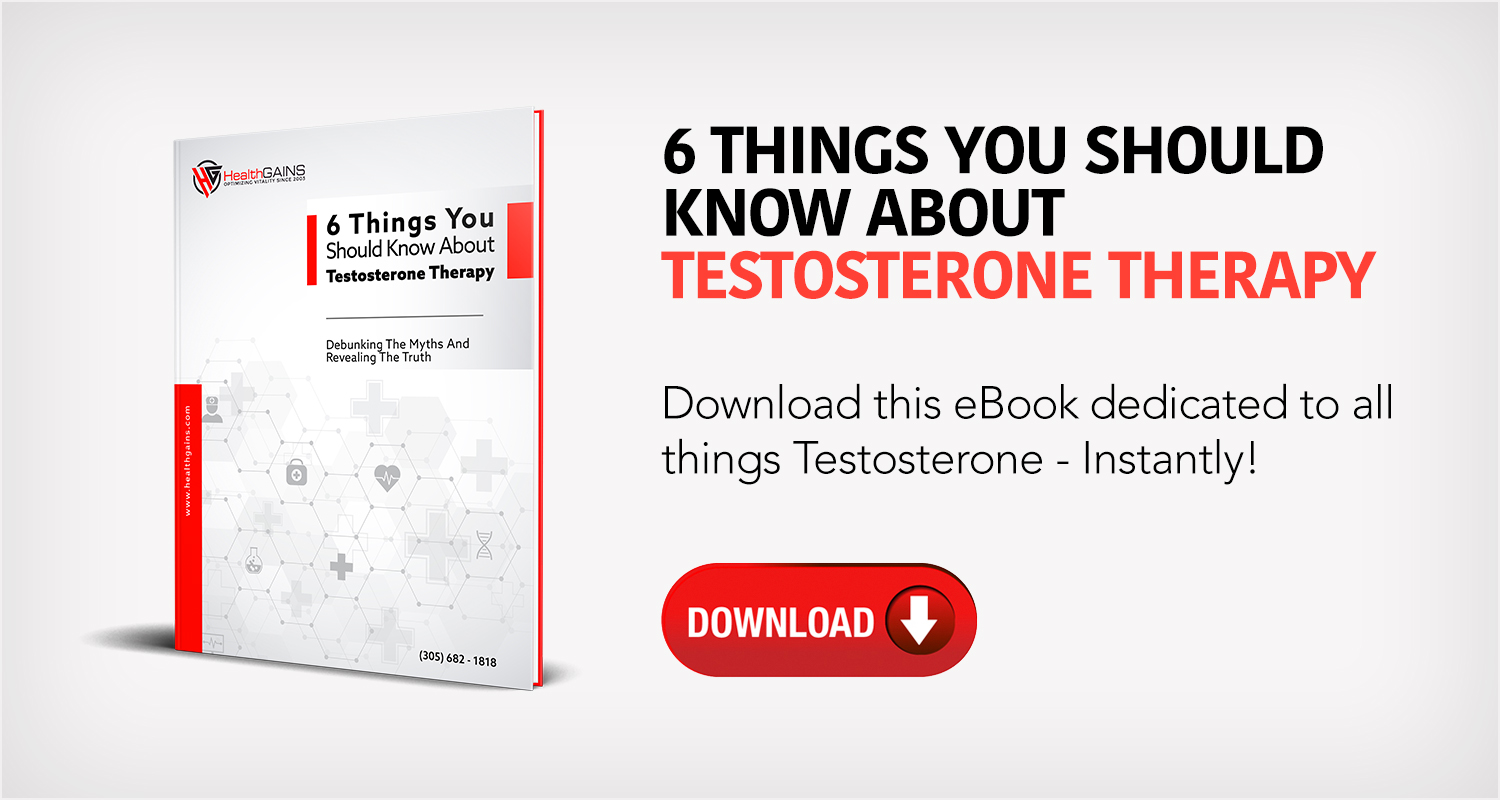 There Are Known Potential Benefits of Testosterone Therapy
According to Harvard, testosterone therapy can treat men with low testosterone levels. The university suggests that testosterone injections might provide relief from the following factors for men with low levels of testosterone circulating through their bodies:
Mood disorders, like depression
Cognitive decline
Sexual dysfunction
Overall lack of strength
Lack of energy
In fact, Harvard researchers found that testosterone therapy can provide benefits for some men even if they have normal hormone levels.
Learn What Can Lead to Testosterone Deficiency
Hormone production is a delicate process that is influenced by other bodily functions. A problem with any of the body's systems or parts can affect testosterone levels. Some of these conditions include:
Problems with the pituitary or hypothalamus glands: Problems may arise because of an infection, autoimmune condition, HIV/AIDS, a tumor, or prescription drugs. Tranquilizers, steroids, and opioid medications can impact the pituitary or hypothalamus glands' ability to perform their functions in testosterone production.
Problems with the testes: Almost anything that affects the testes can cause a drop in a man's testosterone levels. Tumors, infection, injury, radiation, and chemotherapy can lead to testosterone deficiency.
Genetic diseases: The Mayo Clinic says that hemochromatosis can cause high levels of iron to build up in the pituitary gland and other organs, causing erectile dysfunction. Having an extra X chromosome, as in Klinefelter syndrome, can affect the production of testosterone.
These are a few examples of factors that can lead to low testosterone levels, not including aging and other health conditions.
Click to contact our specialist today
How Low Testosterone Levels Can Affect Adult Men
Men produce less testosterone as they get older, but the concept of male menopause is yet another myth about this hormone. Testosterone levels in men only decrease about one to two percent a year as they age. This decrease starts when men are relatively young, so with time, those annual decreases can add up and cause noticeable changes.
Testosterone deficiency can cause the following symptoms:
Decreased muscle mass and strength
Sexual issues, such as impotence, undersized testicles, infertility, abnormally low sperm count, and low sex drive
Thinning of facial and body hair
Loss of bone density, which increases the risk of fractures
The development of more breast tissue
Mood changes, like depression, irritability, and difficulty with attention or focus
Some men even report experiencing hot flashes similar to the menopausal symptom many women have
Harvard reports that testosterone replacement can improve the symptoms of testosterone deficiency.
Complete a Free Consultation form now
How the Male Body Makes Testosterone
The pituitary gland is at the base of the brain. A man produces testosterone after the brain instructs the pituitary gland to start the production process. The pituitary gland itself does not make the hormone. Instead, it directs the testes to produce testosterone. The body converts cholesterol into testosterone.
The brain monitors the amount of the hormone in the blood and lets the pituitary gland know when the levels get too high. For this reason, high cholesterol levels do not cause a man to make an excessive amount of testosterone.
Get Help for Testosterone Deficiency
Men with symptoms of low testosterone levels may have a medical examination. A HealthGAINS wellness provider can evaluate their testosterone levels, look for any causes of testosterone deficiency, and prescribe a treatment. If appropriate, the doctors at HealthGAINS can start the patient on testosterone replacement therapy.
We cannot say exactly how long it takes to feel the effects of testosterone injections, but men all over the globe benefit from treatments that replace this essential hormone. Medical professionals have used testosterone replacement therapy to treat testosterone deficiency for many years.
HealthGAINS has offices throughout the United States. Call us today at (305) 682-1818 to talk with a trained adviser.
Call or text (305) 682-1818 or complete a Free Consultation Form