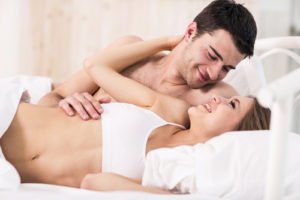 If you are wondering what is the main cause of erectile dysfunction, you should be aware that there are a variety of causes. Erectile dysfunction (ED) has many physical and psychological causes, according to Mayo Clinic. Sometimes multiple elements combine to cause the inability to achieve and maintain an erection that remains firm enough for sexual intercourse. Occasional impotence is not usually a reason for concern, but persistent ED can be an indication of an underlying medical condition.
A man's blood vessels, hormones, brain, muscles, nerves, and emotions must all work together for him to be able to perform sexually. A problem with only one aspect of these elements can cause ED.
Physical Factors That Can Cause Impotence
A physical issue is often the underlying cause of ED. Mayo Clinic reports that many different medical conditions can cause impotence, such as:
High blood pressure
High cholesterol
Diabetes
Heart disease
Atherosclerosis (a build-up of plaque inside blood vessels)
Multiple sclerosis
Parkinson's disease
Obesity
Peyronie's disease (a condition in which scar tissue forms under the skin of the penis and causes painful curvature)
Metabolic syndrome (high insulin levels combined with high cholesterol, high blood pressure, and storage of fat at the midsection/waist)
Prostate cancer
Some lifestyle issues can contribute to ED, like:
Use of tobacco
Alcoholism
Other types of substance abuse
Medical treatments can lead to ED as well, including:
Some prescription drugs
Operations that impact the spinal cord or pelvic area
Enlarged prostate treatments
These are but a few examples of the many physical considerations that can lead to impotence; there is no single main cause of erectile dysfunction. Additional factors, such as age, can also hinder a man's ability to perform sexually. At least 50% of men over the age of 50 will experience a decline in their penile function, according to the University of Utah.
For a free consultation, call (305) 682-1818
Psychological Factors That Can Cause ED
When a man has a physical issue that causes impotence, he is likely to experience a cascade of emotions, like anxiety and depression, that can escalate the magnitude of his condition. A study published in the Journal of Clinical Psychiatry, states that the presence of both erectile dysfunction and depressive illness is high. Psychological issues can be the root cause of a man's inability to achieve or maintain an erection. Sometimes, a physical factor leads to ED, and the resulting emotions worsen the impotence.
Mental health issues like depression, anxiety, and other psychological conditions can contribute to the wellbeing of a man's sexual health. When a man is under a great deal of stress, either at home or at work, he can experience impotence. Men who have unstable personal relationships also may struggle with ED.
How ED Can Impact A Man's Life
Although some people might trivialize impotence, the ability to perform sexually is an integral aspect of an enjoyable life. A man may want to start a family with his partner. ED can rob him of the ability to father children through sexual intercourse. A man may feel embarrassed or anxious in a moment of sexual activity.
A man's stress levels can skyrocket while his self-esteem plummets. The Journal of General Internal Medicine that men suffering from ED face challenges in maintaining healthy relationships and often have low self-esteem and confidence.
Click to contact our specialist today
Issues That Can Increase the Risk of ED
As discussed, sexual performance can be sabotaged by any of a multitude of factors. A man might be at increased risk of ED if he falls into any of these categories:
As his age increases, it can take longer to develop an erection, and the firmness might not be as potent as when he was younger.
He had an injury to the blood vessels or nerves that allow an erection.
He had radiation treatment for cancer or prostate surgery.
He carries excess weight. The likelihood of impotence goes up with the more weight he has.
Using tobacco can decrease the flow of blood through his blood vessels. Also, he can develop ongoing medical conditions from tobacco use, and these conditions can contribute to ED.
Taking other prescription drugs can cause impotence.
Drinking alcohol or using drugs can cause ED. Heavy drinking and long-term drug use have a high association with impotence.
Some psychological and psychiatric issues can cause or contribute to ED. Depression, stress, and anxiety are common psychological factors related to impotence.
Knowing what factors can put a man at an increased risk of developing ED can help him take control of his health and wellbeing.
Complete a Free Consultation form now
What a Man Can Do About ED
Sometimes, it is possible to manage impotence through lifestyle changes, like smoking cessation, decreased alcohol consumption, exercise, and losing excess weight. Many men also find that medical intervention can make a significant difference in their sexual performance.
HealthGAINS offers a variety of bio-identical treatments to increase his libido and improve his sexual performance. Depending on the results of his lab panel, a doctor may be able to tell what therapy can help him meet his individual needs and goals. HealthGAINS doctors often integrate multiple treatments to achieve the optimal outcome for patients.
Men do not have to let ED get in the way of their best lives. Sexual health can be essential to a man's overall wellness. People with an active sex life can live longer, be happier, improve their relationships, and be more successful in their careers and businesses.
Men can visit a HealthGAINS wellness practice to get started on their path toward getting back to the sex lives they want.
Call or text (305) 682-1818 or complete a Free Consultation Form