According to recent studies, the answer to this question should be in the affirmative. In 2014, the Journal of Sexual Medicine published the results of a study conducted on this subject. The researchers discovered that when they replaced the testosterone of a group of hypogonadal males, their joint pain improved. Hypogonadal men have abnormally low levels of testosterone.
In addition to the previous study, a study conducted in 2015 also demonstrated that male subjects received joint pain relief while they were being treated for abnormally low levels of testosterone. More importantly, in 2014, a study showed that there is an association between a man's testosterone levels and the risk he runs of developing rheumatoid arthritis. The researchers learned that men with low levels of testosterone were very likely to develop rheumatoid arthritis in the years to come.
Rheumatoid Arthritis
Symptoms of Rheumatoid Arthritis include the following:
Swollen joints
Stiffness in the joints in the mornings or after periods of inactivity
Fatigue
Loss of appetite
Fever
If you don't find a therapeutic treatment for this condition, it can spread to other parts of your body. For example, rheumatoid arthritis moves on to the wrists, elbows, shoulders, ankles and knees.
For a free consultation, call (305) 682-1818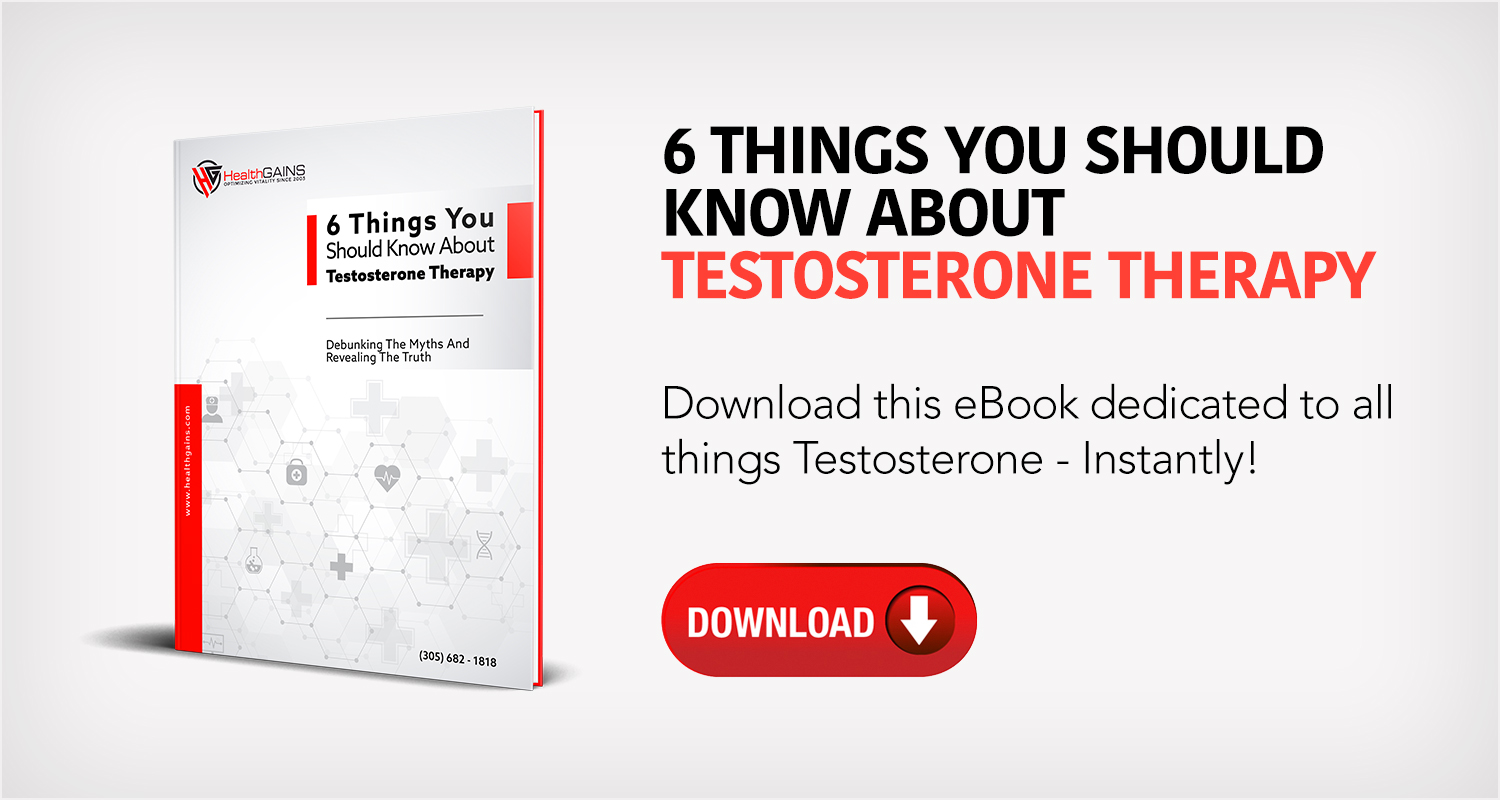 Age Related Low Testosterone
Testosterone levels do not remain the same throughout your entire life, but they do begin to slowly decrease as you age. You begin to experience age related low testosterone at the age of 30, and it decreases 1% every year. Medically-supervised hormone therapy is the best way to bring your testosterone levels up to the most optimal point.
This slow drop in testosterone levels is commonly known as "andropause," and it is comparable to the menopause that women experience. As testosterone levels decrease, men begin to experience several symptoms, such as a loss of muscle mass, less interest in sex and depression.
As women go through menopause, their risk of developing osteoporosis increases, and this is very much like what happens when men go through andropause. Men also experience hot flashes just like women, and they begin to experience cardiovascular symptoms as well. This is also a time when men begin to gain weight and experience mood swings. These troubling symptoms may require that you seek the professional services of a physician.
When You Need to See a Doctor
Because your levels of testosterone fall naturally throughout as you age, not everyone will seek treatment for this condition, but there are a few instances when it would be a good idea.
Contact your doctor about testosterone therapy if you are experiencing the following:
You noticed that you don't have as much body hair.
You are getting shorter, and your muscles are getting smaller.
Your sperm count is low.
Your sex drive is low.
You are experiencing the symptoms of erectile dysfunction.
Treatment for Lower Levels of Testosterone
If you are experiencing symptoms related to lower testosterone levels that are affecting your daily life, your physician may prescribe injections to treat your condition. Our safe testosterone therapy will increase your testosterone levels and reduce the unpleasant symptoms that you are facing.
Symptoms of Lower Levels of Testosterone
The symptoms of lower testosterone levels include the following:
A decreased sense of well being
Feeling irritable
Feeling depressed
Finding it hard to concentrate
Loss of hair on your face and body
Decreased muscle mass
Less energy
Erectile dysfunction
A lower sex drive
Testosterone Injections for Joint Pain Relief
At HealthGAINS, personalized TRT is just one way we help optimize patient health. TRT or testosterone replacement therapy can improve upon your symptoms and prevent further joint damage from occurring. Individualized treatment that balances your hormones will ensure that it functions properly and without pain.
Click to contact our specialist today
Comprehensive Pain Relief Options
Depending on your conditions and symptoms, the physical pain you experience can be mitigated or resolved with an optimized treatment plan that is customized just for you. With TRT as part of a comprehensive plan, you can start to address some of the underlying conditions causing your pain and also enjoy many other improvements including:
A higher sperm count
A better mood
An increased amount of energy
An improvement in the symptoms of erectile dysfunction
An improvement in your sex drive
If you have been experiencing pain in your joints and other symptoms of low T, call us today so that we can schedule an appointment for you at (305) 682-1818.
Complete a Free Consultation form now
References
Call or text (305) 682-1818 or complete a Free Consultation Form