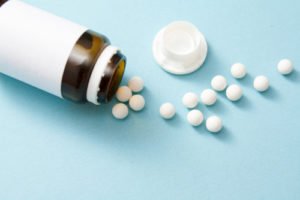 Thyroid pills take aim at a number of issues that can arise from an underactive thyroid. Some of the signs of an underactive thyroid that may be improved by pill-based thyroid treatments include:
Gaining weight
Lack of energy
Depression
Thinning hair
Abnormal cold sensitivity
Thin blood
Aching muscles
What thyroid pills can do will vary on a case-by-case basis, but you should consider the value of these sorts of therapies if you are experiencing any of the above issues.
The Role of The Thyroid in Our Bodies and Lives
The thyroid is a butterfly-shaped gland located in the front of the neck underneath the voice box and produces three hormones:
Triiodothyronine, (T3)
Tetraiodothyronine, (T4)
Calcitonin
The thyroid works alongside the pituitary gland to regulate hormone production for bodily functions such as metabolism, growth, and sex-specific functions such as fertility.
T3 and T4 are specifically responsible for the basal metabolic rate. When this rate increases, it has a number of effects on the body. These include:
A faster heartbeat and pulse
A rise in body temperature
Growth of the body
Maturation of the brain
Improved concentration and reflexes because the nervous system is put on alert
The importance of the thyroid cannot be overstated. It allows us to grow to a normal height; it helps our body to develop in a healthy way, and it keeps our metabolism functioning in a way that promotes long-term health.
An Abnormal Thyroid Wreaks Widespread Havoc on The Body
Just as the benefits of a well-functioning thyroid promote natural biological growth and health, an unhealthy thyroid has the opposite effect. A lack of thyroid hormones creates an underactive thyroid, a condition referred to as hypothyroidism.
The symptoms of hypothyroidism include:
Weak and aching muscles
Low energy
Muscle cramping
The inability to move quickly
A minimized or lost sex drive (libido)
Dry, scaly skin
Sensitivity to cold
Constipation
Abnormal weight gain
Unhealthy hair and nails
Numbness, tingling, and pain in the extremities
Irregular or heavy menstrual flow
In the elderly, additional problems may arise affecting memory and possible depression
These are only the short-term effects of an underactive thyroid. Allowing these issues to persist untreated by failing to implement some form of thyroid therapy could lead to even worse problems. Some of the potential long-term effects of an underactive thyroid include:
A slowed heart rate, which may be a sign of a taxed cardiovascular system
Anemia, which is an abnormally low amount of red blood cells
Diminished hearing or complete hearing loss
A puffy face
A hoarse or low-pitched voice
Thin or patchy eyebrows
Both the short and long-term consequences of an underactive thyroid are undesirable and can shorten the length and quality of your life. Professionals in the field of thyroid hormone therapy can help identify the causes of your hypothyroidism to craft a treatment plan to quell your symptoms.
For a free consultation, call (305) 682-1818
Causes of Thyroid Disorders
Hypothyroidism occurs when your body does not produce enough hormones. This lowered hormone levels can be the result of a number of things. Some of the causes of hypothyroidism are:
An autoimmune disease takes hold when the body's own immune system begins to attack otherwise healthy organs, tissues, or other parts of the body. One autoimmune disease that takes aim at the thyroid is called Hashimoto's thyroiditis, or Hashimoto's disease. It is more common in women and men and can cause a slew of health problems.
Certain cancers in the neck and head area can require radiation treatment that may affect the thyroid, causing hypothyroidism.
According to research published in the Journal of Psychiatry and Neuroscience, lithium is among the medications that may induce hypothyroidism. If you have recently begun taking a new medication and experience symptoms associated with hypothyroidism, ask your doctor if your new medication could have such an effect.
An overreaction to hyperthyroidism
Hyperthyroidism is the antithesis of hypothyroidism as it occurs when the thyroid gland produces an abundance of the hormone thyroxine, and it accelerates the body's metabolic responses. Some treatments for hyperthyroidism can go beyond their intended effect, resulting in hypothyroidism.
When doctors remove part of the thyroid, such as when it has developed cancer, this can impact hormone production and result in hypothyroidism.
Each of these causes may be treatable with thyroid hormone therapy, depending on the specific nature of your thyroid condition.
Pill Therapy Is Only One Approach
Thyroid hormone treatment involves a multi-pronged approach. While thyroid hormone replacement pills are certainly part of the approach, they go alongside other recommendations that may involve changes to:
Diet
Lifestyle
Daily regimen and outlook
How Thyroid Hormone Replacement Therapy Works
Pills are often an easy way to correct the low levels of thyroid hormone as they contain a synthetic form of the hormones that are produced naturally by the thyroid, with the hormone thyroxine (T4) being the most common.
Before prescribing you a dosage level, a medical professional will conduct non-invasive observation such as blood tests to determine how much replacement hormone is appropriate. These tests can reveal not only the amount of thyroid hormone in the blood, but also how much thyroid-stimulating hormone (TSH) is present in your blood.
The idea of thyroid hormone therapy is to replace the hormones as well as to:
Ensure that your regimen of thyroid hormone replacement, diet, and lifestyle will create consistent energy levels and bodily function
Provide a long-term solution for healthy thyroid hormone production, not just a one-time solution
Click to contact our specialist today
Call HealthGAINS To Learn More About Thyroid Hormone Replacement Therapy
The team at HealthGAINS will walk you through your specific case and settle on a treatment plan that works for you. Call today at (305) 912-8828 to discuss further.
Call or text (305) 682-1818 or complete a Free Consultation Form