Low testosterone levels (low T) can affect more than your sex life. Having low levels of this vital hormone can make you tire more easily, lose muscle strength and experience bone loss. Low T can also cause thinning hair and low sperm production.
It's not something you want to live with for any length of time.
Fortunately, medical treatments and lifestyle changes can work to increase your testosterone levels, get strong and experience renewed sexual health.
In our experience, hormone replacement therapy (HRT) is the best testosterone therapy for men.
Do You Have Low T?
According to a 2008 study, one in three men suffers from a drop in testosterone after the age of 30.
It's a common problem, but it has a solution. There's no reason to live with it. With your doctor's help, you can fix low testosterone symptoms.
Raising your testosterone levels is a multifaceted process that includes dietary changes, lifestyle changes and hormone replacement therapy. This three-step approach can help you fee sexually vigorous again.
For a free consultation, call (305) 682-1818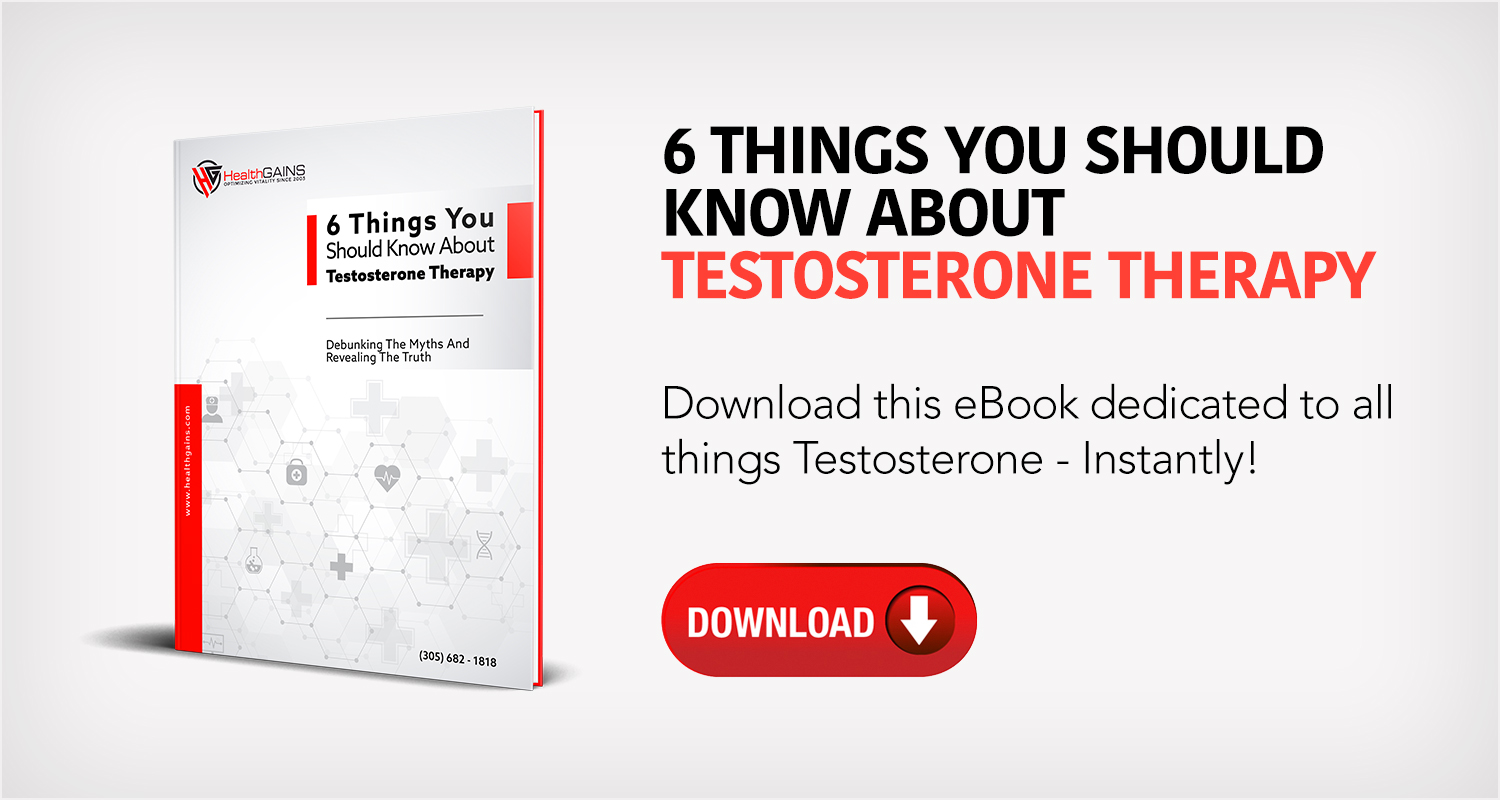 What Causes Testosterone to Drop?
The medical term for low T is hypogonadism. This simply means your testes aren't producing enough testosterone.
There are several reasons this happens.
Age: Your body's testosterone levels naturally drop as you age. According to the Cleveland Clinic, this condition affects almost 40% of men aged 45 and over.
Drug and alcohol use: Using alcohol, anabolic steroids or narcotics can affect your testosterone levels. Liver disease often accompanies low testosterone levels. Using opiates, including those prescribed by a physician, can cause hormonal imbalances.
Injury to the testicles: Trauma, injury and infection can all cause testosterone levels to drop.
Illnesses: Men with renal failure, HIV/AIDS, lung inflammation, sleep apnea, uncontrolled diabetes and other chronic conditions often have low T. In some cases, these illnesses slow or interrupt glandular activity. Sometimes, low T is a side effect of the medications used to treat these conditions.
Weight fluctuations: Being obese or dropping a lot of weight suddenly can cause your testosterone levels to drop.
Low Testosterone Symptoms
The following symptoms often accompany low T.
Hair loss.
Reduced bone mass.
Difficulty getting or maintaining erections.
Low sex drive.
Sleep problems.
Low energy levels.
Increase in body fat.
If you've noticed three or more of these symptoms, talk to your doctor. You could have low T. The good news is you'll improve all these conditions as soon as you start replacing your lost testosterone.
How Can You Fix Low Testosterone Levels?
There are natural ways to increase your testosterone levels. These include lifestyle changes and dietary changes.
These natural methods work gradually. Only hormone replacement therapy (HRT) will give you a quick, safe and fast-acting dose of testosterone.
Let's look at these three approaches in more detail.
Click to contact our specialist today
Lifestyle Changes to Increase T Levels
Getting healthy will get your hormones back in balance.
Exercise: Lifting weights and other muscle-building exercises are excellent ways to increase testosterone. A 2012 study found that men who exercised regularly improved their T levels and sperm production.
Eat carbs and fats: If you've been avoiding carbs, it's time to change your diet. Several studies have found eating carbs for fuel increases testosterone levels in men who are also lifting weights. Other studies have found that eating healthy fats like olive oil and argan oil can improve testosterone levels.
You shouldn't go overboard. The best way to approach diet and exercise is to maintain a healthy weight, lift weights and eat plant-based carbs and fats.
Complete a Free Consultation form now
Dietary Changes Can Help Fix Low Testosterone Levels
Vitamin D and zinc will help your body produce testosterone. These nutrients are present in:
Low-fat milk fortified with vitamin D.
Egg yolks.
Fortified cereals.
Avoid phytoestrogens. These are compounds that mimic the action of estrogen. Men who eat too many phytoestrogens often have low T.
There are four classes of food that contain phytoestrogens:
Lignans, found in grains, fruits, nuts and flaxseed.
Isoflavones, found in soy, chocolate and peanuts.
Resveratrols, found in berries, grapes and red wine.
Quercetins, found in nuts, grains and vegetables.
Some studies have found that excessive amounts of these compounds can affect testosterone levels in men. This is especially true of soy.
Hormone Replacement Therapy Is the Best Way to Fix Low Testosterone
Lifestyle changes can help increase your testosterone levels, but only HRT works quickly, safely and without side effects.
If you're ready to get back your youthful vitality, our HRT treatment is the answer. We use pure, undiluted bioidentical hormones to replace what age and other factors have taken away.
Can a Doctor or Urologist Fix My Low Testosterone?
Many doctors are able to prescribe TRT for combatting many age-related diseases. At HealthGAINS we elect to use only high-quality, bio-identical hormones from safe and trusted medical compounds. This facilitates our patients' success through medically supervised therapies that include the prescription use of testosterone.
Never try to buy hormones without a prescription.
These so-called hormones are likely to be ineffective knockoffs and may contain dangerous additives. Because they are largely unregulated, you have no way of knowing what's in these products.
We use only clinically proven, FDA-approved medications. Our physicians can prescribe a safe, fast-acting treatment that will have you feeling your best in no time.
You Can Fix Low Testosterone
Our doctors can create a treatment plan that's perfect for you. HRT will give you the youthful vigor you thought you lost. Call (305) 682-1818 today if you're finally ready to take your sexual health to the next level to set up an appointment.
Call or text (305) 682-1818 or complete a Free Consultation Form