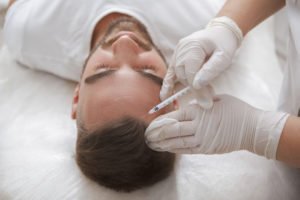 The success rate of PRP hair treatment is strong, according to scientific research. Patients who receive platelet-rich plasma (PRP) treatment every two to three weeks during a three-month period usually see improvements in their hair's thickness, hair follicle counts, and hair root strength. PRP treatment can also help with alopecia. These treatments have a long-lasting effect, with most patients requiring occasional treatments to maintain healthy, natural-looking hair.
If someone is suffering from hair loss, there is a good chance that they have spent a lot of time daydreaming about what it would be like to find the perfect solution. HealthGAINS offers PRP hair treatment as a way to treat people dealing with hair loss. PRP hair treatment does not only treat hair loss, but it has also been used to treat a number of other health conditions, such as erectile dysfunction and Peyronie's disease. PRP hair treatment is different from some of the other drugs and gels that someone battling hair loss may have come across before.
HealthGAINS wellness providers are ready to help individuals figure out if PRP hair treatments are right for them. The treatment has been used for several years in a variety of applications and does not require surgery or daily medications.
How PRP Hair Treatment Works
Hair loss, receding, and thinning hair is incredibly common. Many factors, such as aging and genetics, can present patterns of baldness as the scalp is unable to keep up with hair production. Hair loss can affect both men and women.
The first step to PRP hair treatment involves taking a sample of the patient's blood. The treatment that will be used to stimulate hair growth is derived from this specific blood sample. The blood is placed in a centrifuge that separates the key components. Platelets are an important part of the body's system for healing itself. For instance, when a person suffers a cut, platelets help the blood clot and form a scab to aid with healing. They also contain "growth factors" that can encourage the development of new cells.
When this treatment is injected into areas where hair loss has occurred, the body reacts by creating more cells. This, in turn, stimulates hair growth because PRP treatment causes increased blood flow to the area, creating thicker, stronger hair growth.
The process of receiving injections is relatively painless and only requires 60 to 90 minutes of a patient's time. There is a general anesthetic used to help alleviate any discomfort associated with the injections. Compared to other hair loss approaches, this is a minor investment of someone's time. Other treatments either require users to take a pill every single day or apply a cream to their skin multiple times a day. PRP hair treatment can be incredibly convenient if someone works long hours, travels frequently, or simply does not want to take a treatment every single day.
For a free consultation, call (305) 682-1818
The Safety of PRP Hair Treatments
When considering hair growth treatments, many over-the-counter pills and creams come with unpleasant side effects. For example, creams can cause hair growth in unwanted places, such as facial hair on women. However, when it comes to PRP hair treatments, there are currently no known side effects. The last thing someone wants to deal with when trying to treat their hair loss is having hair show up somewhere it should not be in the first place.
PRP hair treatment can restore one's confidence and provide them with a long-lasting head of healthy, natural-looking hair. Many patients actually prefer PRP hair treatment over other methods because the procedure stimulates hair growth by using the body's natural resources.
Making Healthy-Looking Hair a Reality
If an individual has been considering seeking treatment for hair loss, contact HealthGAINS today. They provide tailored and customized health plans that address multiple aspects of wellness, including issues like hair loss. The path to healthy-looking hair can begin with a simple phone call. Prospective patients can use this as an opportunity to ask questions about the success rate for PRP treatment and other services that HealthGAINS offers.
After that, a patient can personally meet with a HealthGAINS wellness provider to learn more about their potential treatment options. Every treatment that a patient receives is tailor-made with their medical history and personal goals in mind. HealthGAINS' state-of-the-art facility tends to make people forget that they are visiting a wellness clinic.
Since 2003, HealthGAINS has been helping people realize their full potential. Interested parties can get in touch with HealthGAINS by calling (305) 682-1818.
Call or text (305) 682-1818 or complete a Free Consultation Form