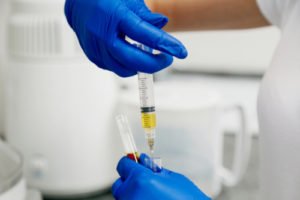 Injections of platelet-rich plasma (PRP) are used to treat a variety of ailments. A prospective, single-blind, placebo-controlled trial of bone marrow aspirate concentrate for knee osteoarthritis from the American Journal of Sports Medicine reported that patients with osteoarthritis noted a decrease in pain one week after receiving PRP injections and that these results lasted for six months. Information from SICOT-J on an evidence-based evaluation on the use of platelet rich plasma in orthopedics seconded these findings, also reporting that PRP generally lasts six months, but can be extended with periodic maintenance injections.
The period of effectiveness for a PRP treatment regimen will depend on numerous factors, including:
The condition toward which the PRP injections are targeted
The overall health condition of the patient receiving the injection
How the body responds to the initial round of treatment
While these results show promise for PRP injections, the benefits experienced by each individual will rest on a case-by case-basis. Patients receiving PRP injections for the same condition may experience different outcomes.
Explaining PRP Therapy
PRP therapy leverages growth and recovery factors to target various ailments. The American Journal of Sports Medicine notes that the human body has at least 60 different growth and repair factors, many of which heal injuries and carry out other functions. The basis of PRP therapy is to isolate the biologically beneficial elements in the bloodstream (platelets) and re-inject them into an afflicted area.
PRP injections are used to target several conditions, including but not limited to:
Rotator cuff injury or tendonitis
Elbow injury
Stretched or torn ligaments
Knee injuries, including arthritis
Erectile dysfunction
Because PRP therapy uses a patient's own body's recovery mechanisms in a concentrated, targeted manner, there is minimal risk involved in PRP injections. This is one of the primary benefits of these injections versus other more invasive treatment options.
For a free consultation, call (305) 682-1818
PRP Is Safer than Surgery
In the face of chronic joint pain, many people elect to have surgery to replace a joint in their knee, especially if physical therapy has proved ineffective. Yet, every operation comes with risks. Many of the procedures that a patient might undergo instead of receiving PRP injections can cause serious adverse outcomes.
According to the Mayo Clinic, some difficulties related to minimally invasive surgery may include:
Complications related to anesthesia, such as heart attack or stroke
Infection in areas affected by the surgery
Excessive bleeding, which could be internal or external
Loss of sensation
Blood clots
Adverse reactions from aftercare medications and therapy
Paralysis
Even with these major risks, surgery is not guaranteed to be effective. For all of these reasons, consider PRP therapy as a course of treatment before considering this invasive measure.
PRP May Help Treat Joint-Related Ailments
PRP injections can be administered to any joint in the body that has suffered an injury or deteriorated over time.
This procedure can be used to target joint-related ailments in various parts of the body, such as the:
Shoulders
Wrists
Hands
Knees
Ankles
Various literature supports the effectiveness of PRP therapy for various joint-related ailments. For instance, according to a systematic review of preclinical studies and clinical evidence on PRP for joint degeneration in Knee Surgery, Sports Traumatology, Arthroscopy, PRP injections may improve the overall biological function of a joint, producing factors that encourage healing.
Osteoarthritis is a common problem, especially among athletes and others with significant wear and tear on their knees. The condition arises from the degeneration of tissue and cartilage in the joint, producing increasing pain and stiffness in those who suffer from it.
PRP as a Treatment for Osteoarthritis
Only those with arthritis understand the extent of this debilitating condition. It limits one's ability to move without pain and can have an adverse impact on one's overall quality of life.
Studies suggest that PRP therapy is an effective course of treatment for those who suffer from osteoarthritis. The European Journal of Orthopaedic Surgery & Traumatology published a study on platelet-rich plasma injections as an effective treatment for early osteoarthritis where test subjects suffering from osteoarthritis received PRP injections and subsequently were asked to record their responses.
During the course of the experiment, researchers found:
Patients experienced a decrease in knee pain after receiving PRP therapy
The decrease in pain lasted for nearly nine months, on average
Test subjects reported no adverse side effects, suggesting yet again that PRP therapy is less hazardous than joint replacement surgery.
Click to contact our specialist today
Contact HealthGAINS Today to Learn More
PRP therapy is quickly revealing itself to be an effective treatment method for those who are suffering from chronic joint pain. With no downtime, minimal discomfort, and long-lasting effects, one's life no longer has to be defined by their physical condition. At HealthGAINS, we provide PRP therapy and many other innovating treatment options as well. Upon arriving at our clinic, a patient can expect to be examined by a medical professional to determine the severity of their condition and then learn more about their candidacy for PRP injections.
To get started with a free consultation, call HealthGAINS today at (305) 912-8828.
Call or text (305) 682-1818 or complete a Free Consultation Form