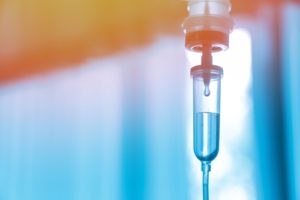 According to Cedars-Sinai, an intravenous (IV) therapy session typically takes about 45 minutes to complete. While many people often associate getting an IV with emergency medical intervention, this is no longer the case. IV therapy is available to anybody who is seeking to enhance their overall quality of life. During one of these treatment sessions, a caregiver designs a blend of carefully selected vitamins and nutrients to address deficiencies in one's body. A small needle is inserted beneath the skin, where a medical professional carefully monitors a patient's reaction to provide diligent care.
The Impact of Micronutrients on Good Health
The Journal of Midwifery & Women's Health notes that in today's world, people tend to follow dietary routines, which may include foods high in fat with increased caloric intake. To ensure optimal health, one should eat a balance of whole grains, fruits, vegetables, full-fat dairy products, and certain forms of protein. However, whether due to dietary restrictions or preexisting health conditions, many people are unable to meet these standards of good eating. IV therapy can introduce micronutrients into the system that support healthy growth and development, which are key to fighting disease and improving longevity.
According to the Centers for Disease Control and Prevention (CDC), the six most critical vitamins and nutrients for good physical health include:
Iron
Vitamin A
Vitamin D
Iodine
Folate
Zinc
An adequate supply of these six vitamins and minerals can help improve one's health, enhance the immune system, ward off illness, and promote healthy nerve function.
Consequences of Vitamin and Mineral Deficiency
When the body is not receiving the nourishment and micronutrients it needs, there can be serious consequences. Essential vitamins in the body perform hundreds of different functions that promote optimal wellbeing. Without these elements, the body is more prone to infection and deterioration.
Rush University Medical Centers lists these additional impacts:
Headaches
Hair loss
Delayed healing
Aches and pains
Irregular heartbeat
Poor vision
In addition to these difficulties, improper nutrition can hinder efforts to maintain healthy weight goals. If one is experiencing any of these symptoms and believe vitamin deficiency is contributing to their health concerns, they may want to consider speaking with a medical professional for further insight.
For a free consultation, call (305) 682-1818
The Connection Between Vitamins and Good Cognitive Health
Some mental health complications can arise from a lack of crucial vitamins, minerals, and nutrients in the body. For instance, vitamin B-12 plays a vital role in how the brain manages cognitive functions and mood. Without proper levels of this vitamin in the body, one may experience increased anxiety, depression, and listlessness.
According to Harvard Health Publishing, any nutritional deficiency may result in:
Difficulty controlling movements
Unclear thought patterns
Difficulty forming memories
Weariness and fatigue
Because the brain works around the clock, it is important that it is properly nourished. For optimal performance, this organ requires a proper balance of vitamins and minerals.
How a HealthGAINS IV Therapy Session Works
The CDC reports that only one in every 10 adults receives adequate nutrition from fruit and vegetable intake. In today's busy world, it can be challenging to find time to purchase, prepare, and consume healthy meals three times a day. Along with sufficient hydration, a proper diet helps one's body function well.
While undergoing treatment at a HealthGAINS wellness clinic, one can expect to be:
Examined and screened to determine the nutrients they may be lacking
Connected to an IV by a trained health care professional
Given necessary nutrients delivered directly into the bloodstream
An experienced health care provider will oversee the procedure. With IV therapy, one can be sure that they receive the specific blend of nutrients their body needs.
Click to contact our specialist today
Connect with a HealthGAINS Wellness Provider Today
IV therapy may be able to provide the nutrients missing from one's life. Speaking with a HealthGAINS Wellness Advisor can be an opportunity to discuss one's eating habits, vitamin intake, and other health concerns. From there, we can devise a treatment plan tailored to meet the individual circumstances of one's health condition.
Sufficient vitamin intake is an important part of proper nutrition, which is an integral part of maintaining or restoring good health. By delivering these components directly into the body, one may notice an immediate improvement to their cognitive function and physical abilities.
After completing their course of IV therapy, some members have reported:
Reduced signs of aging
Fewer instances of getting sick
An improvement to the quality of their nail, hair, and skin health
A boost in mood and cognitive ability
Enhanced physical activity
Contact HealthGAINS to learn more about the benefits of IV therapy by calling (305) 912-8828 today.
Call or text (305) 682-1818 or complete a Free Consultation Form