Testosterone therapy may help with recovery from the symptoms of low testosterone. Because testosterone is a hormone that promotes several different forms of male health, suffering from low testosterone (low-T) may cause a broad number of health problems. Some of the low-T-related issues that testosterone therapy could help with are:
Carrying excessive weight
Inability to gain muscle mass
Mental health problems
Cognitive problems
Low energy
Sleep problems
Erectile dysfunction
Men with low testosterone levels may suffer from each of these issues. Losing testosterone over time is normal, but it does not have to be a permanent reality.
Symptoms of Low Testosterone (Low-T)
Men's bodies may produce less and less testosterone with time due to aging, or they may have conditions that accelerate the rate of testosterone loss.
Aside from aging, some of the other causes of low testosterone levels may include:
The side effect of certain medical treatments
Disorders related to the pituitary gland, which is responsible for the production of hormones such as testosterone
Substance abuse
Autoimmune disorders
Obesity
Sudden weight loss
Certain types of trauma
While there are many possible causes or accelerants of low testosterone levels, getting older may result in diminished testosterone production for all men. The symptoms of low testosterone levels may be harmful and could also create a network of secondary health problems.
Some of the noteworthy symptoms of low testosterone are:
Loss of Energy
Feeling persistent fatigue may be an indication that someone is suffering from low-T. The total negative effects of fatigue may not be obvious, but they can certainly disrupt one's life in various ways.
Lacking energy may lead to:
Disruption of exercise routines, or not exercising at all
Changes in sleep patterns that, if they become frequent or long-lasting, could spawn sleep-related health issues
Abandonment of behaviors and activities that improve one's mental health
Professional consequences such as low productivity and lost jobs
General dissatisfaction with one's life
Energy is vital to accomplishing the goals that one sets for themselves. Loss of energy caused by low testosterone levels can therefore not only cause health problems, but also hold a person back from their dreams and ambitions.
Increased Cholesterol
Having low reserves of testosterone could also make it more difficult for a man to metabolize cholesterol. In other words, it may be more difficult for someone suffering from low-T to break down fat. This may lead to:
The buildup of cholesterol in the bloodstream
The buildup of fat in the body
Health problems related directly to the storage of fat
As cholesterol deposits build up over time, they may increase the risk of a person suffering a heart attack or stroke suddenly and without warning. Such an event could potentially result in death.
General Unhealthiness
The list of health issues that may arise from low testosterone levels is extensive. High cholesterol levels and low energy are just two symptoms, and they may exist along with poor bone health, mental fogginess, depression, inability to add muscle, and other possible consequences of low-T.
The combined effects of low testosterone paint a picture of poor health. Testosterone therapy may help with the various symptoms of low-T.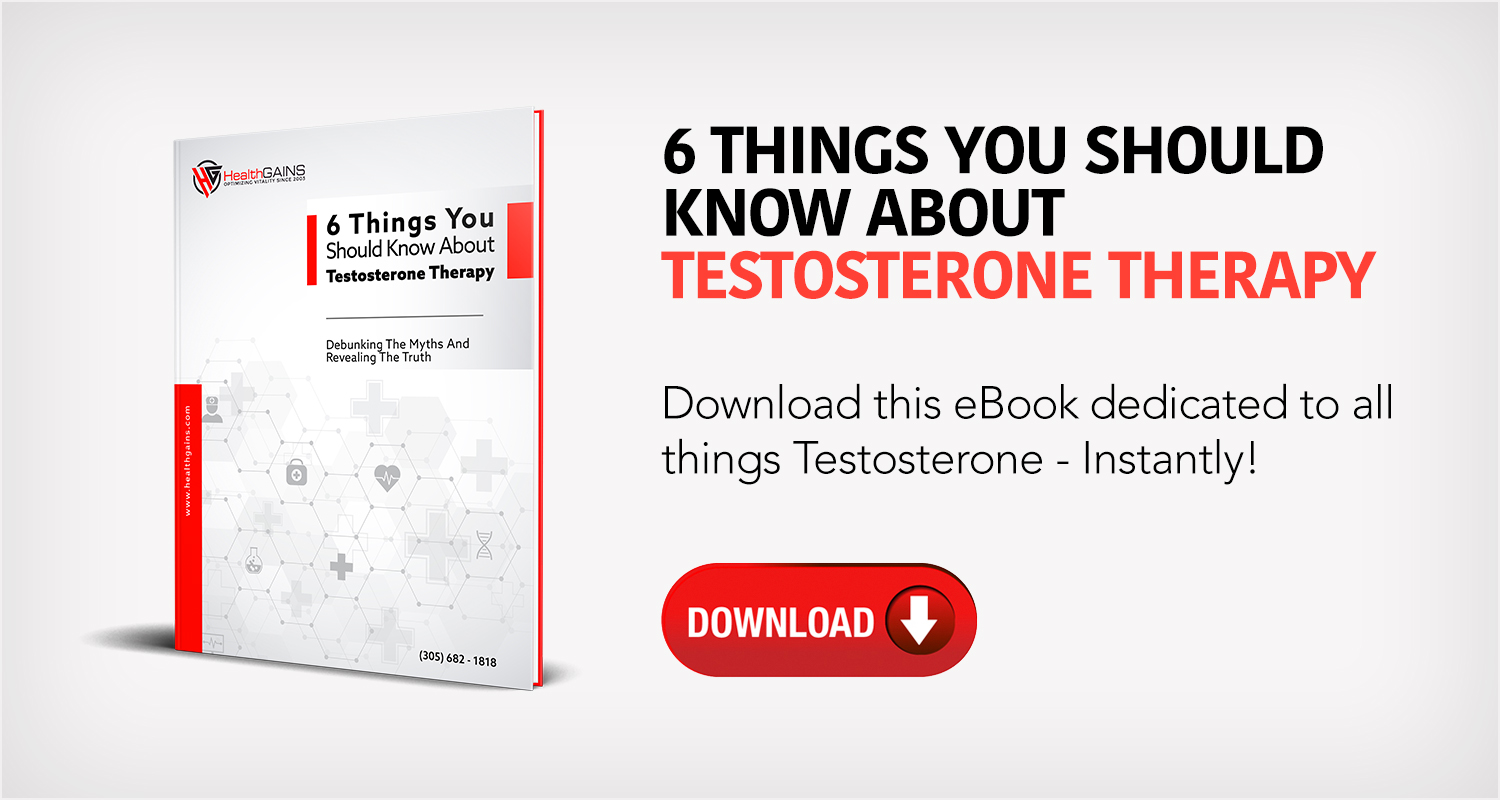 Prospective Results of Testosterone Therapy
Those who explore the benefits of testosterone therapy may seek general wellness, but they may also have specific goals for their therapy. Some of the prospective benefits of undergoing testosterone therapy through a HealthGAINS wellness provider include:
Improved Energy
Testosterone therapy is designed to replace the testosterone therapy that a patient has lost, whether because of the natural course of aging, a specific condition, or any other reason. Therefore, the goal of patients seeking more energy through testosterone therapy may be to restore the levels of energy that they previously experienced.
This may allow a patient to resume old habits, routines, and activities and to experience the benefits of their old ways.
Improved Muscle Gain and Fat Loss
Gaining muscle and losing fat may be synonymous with improved health. These are also two health metrics that become increasingly difficult to achieve as one's testosterone levels decline. Some patients may seek specifically to increase their rate of muscle gain and fat loss by restoring T-levels through testosterone therapy.
Stronger Mental Health
Low testosterone may lead a person to think less clearly and possibly develop mental health-related conditions such as depression. Those who do not want to live with cognitive cloudiness or feelings of sadness may turn to testosterone therapy as a form of treatment.
Call HealthGAINS Today for Additional Details
Contact a HealthGAINS wellness provider to learn how they can help a patient receive testosterone therapy treatment. They will speak with prospective patients about what to expect from therapy, at which time they can better understand a patient's goals for testosterone restoration.
Contact HealthGAINS today to learn more by calling (305) 682-1818.