The determination of when a patient could start seeing results from testosterone therapy cannot be answered definitively. Patients may respond differently to testosterone therapy, but it may not take long for someone to begin seeing the improvements they seek through testosterone therapy.
A patient's age, overall health profile, and the results they hope to achieve may all be of relevance when considering how long it may take for them to experience positive results.
Low Testosterone May Be a Reason for Men to Receive Testosterone Therapy
Men and women who suffer from low testosterone may experience several problems. These problems may manifest as health issues and could also rear their head in other aspects of a person's life. Some of the following consequences may be the result of low testosterone levels in men.
Changes in Temperament or Personality
Men may experience psychological and physical changes as a result of decreasing testosterone levels. Such changes may manifest as an apparent shift in a man's temperament or overall personality.
Some of the changes that a man or their loved one may witness include:
Depressed mood, which may include the acute indicators of depression
More frequent bouts of sadness
Irritability, which could manifest as a man being short-tempered with loved ones
Depression may be a particularly insidious consequence of having low testosterone. Symptoms of depression may be massively disruptive to any person's life and could include:
General restlessness and anxiety
A slowed metabolism
Recurring negative thoughts
Lack of motivation
Difficulty with cognitive function
Loss of appetite that could cause unhealthy weight loss
Someone who is depressed may not be able to perform as they normally would professionally. They may not have the energy or effort necessary to maintain strong relationships and may resort to destructive behaviors like substance abuse.
These are reminders of how dangerous low testosterone levels may be.
Physical Regression
Those who pay attention to their physical health may be disturbed by the physical consequences of low testosterone. Loss of muscle mass and overall strength coupled with weight gain and greater difficulty losing fat may be the hallmarks of low testosterone levels.
The inability to maintain muscle, let alone add it to the body, could increase one's risk of injury. Gaining fat or being unable to lose existing fat could increase one's risk of health consequences resulting from being overweight.
Some of the weight-related health problems that could stem from low testosterone include:
Type 2 diabetes
Cardiovascular disease
Bone and joint problems such as osteoarthritis
Being overweight may generally decrease one's quality of life. A person may be less able (or unable) to exercise as they would like or pursue physical activities that might otherwise bring them joy. Developing an acute health consequence related to weight may exacerbate the issues that stem from being obese.
Low testosterone might contribute to physical characteristics that affect one's appearance and, more importantly, may compromise their short- and long-term health. Testosterone therapy could help a man return his T-levels to normal, resulting in some tangible benefits.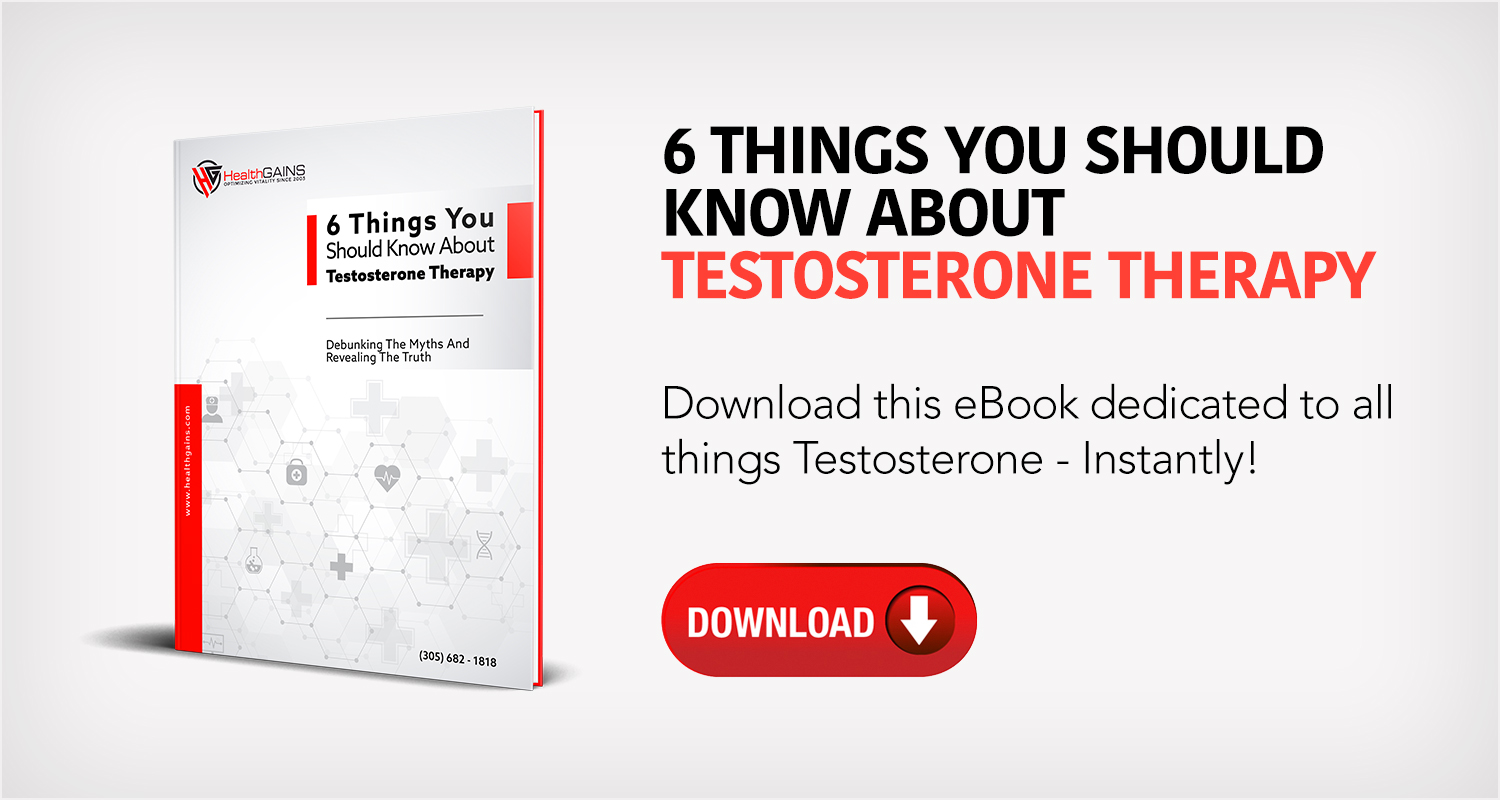 Women May Also Benefit from Testosterone Therapy
The female body contains testosterone and needs a certain amount of the hormone to function normally. Women who suffer from abnormally low testosterone levels may display symptoms that lead them to seek testosterone therapy.
Some symptoms that could be a sign of low-T in women are:
Decreased sexual appetite
Decreased sexual satisfaction
Depression or symptoms similar to those of depression
Lack of energy
Feeling generally weak
These symptoms could have a great negative effect on a woman's life like they do on men. A woman who is suffering from low testosterone may:
Be unable or unmotivated to engage in their normal exercise routine and could gain unwanted weight as a result
Be generally withdrawn due to their depressed mood
Be less engaged in personal relationships due to irritability that can coincide with depression
Feel less connected with romantic partners due to decreased sexual drive and satisfaction
Be generally less happy and satisfied with their life
The role that testosterone plays in both the male and female bodies cannot be overstated—it is truly critical. Those experiencing symptoms that they believe are due to low testosterone can contact HealthGAINS about receiving testosterone therapy.
Contact HealthGAINS Today to Discuss Treatment
Though every patient may start seeing results from testosterone therapy at different points, the benefits of the treatment could be significant for either a male or female HealthGAINS patient. HealthGAINS uses only prescription testosterone, which is the only way to ensure that testosterone is legitimate.
Those interested in beginning testosterone therapy or learning more about the process can contact HealthGAINS to learn more today by calling (305) 682-1818.