The side effects of testosterone therapy can be managed through consistent monitoring and care.
When testosterone therapy is not issued responsibly, patients could experience:
A reduction in sperm production
Worsening symptoms of preexisting sleep apnea
Acne
Overactive red blood cell production
HealthGAINS wellness providers aim to help patients avoid such side effects through a comprehensive, safety-conscious approach to providing testosterone therapy.
How HealthGAINS Providers Aim to Prevent Side Effects
Patients who receive testosterone replacement therapy from a HealthGAINS wellness provider will receive several benefits. These benefits are indicative of the patient-first approach that all HealthGAINS wellness professionals take.
HealthGAINS testosterone therapy providers aim to mitigate the likelihood of side effects by:
Speaking with prospective patients about their health profiles
Determining any preexisting conditions that could increase a patient's risk of experiencing side effects
Tailoring each patient's testosterone therapy regimen based on their needs
Using prescription-grade testosterone, which is the only legitimate basis for testosterone replacement therapy
Monitoring patients' health throughout the treatment process
Adjusting a patient's treatment regimen as necessary
Ensuring that all testosterone replacement therapy sessions are completed using appropriate safety practices
These measures not only help patients avoid any side effects, but they also help patients get the best possible results from testosterone therapy. Though there may be side effects of testosterone therapy, HealthGAINS wellness providers' mission is to help patients avoid them.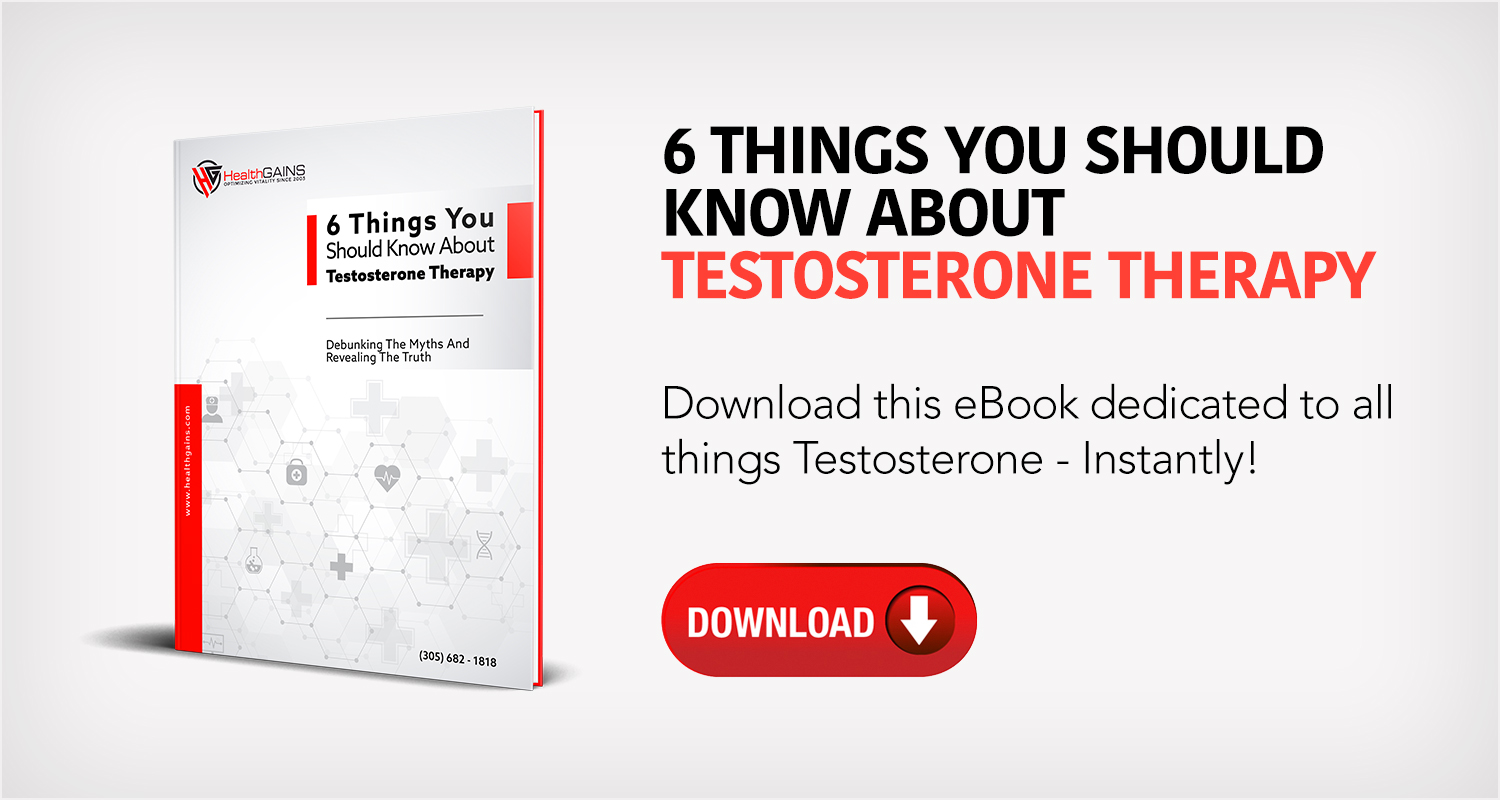 Why Patients Seek Testosterone Therapy
As men get older, they may notice an increase in body fat, lowered sexual stamina, and a loss of muscle mass. While many of these changes could be a result of the natural aging process, they could also indicate low hormone levels. Although these changes are not inherently fatal or dangerous, they still should be taken seriously. If a man has low hormone levels and does not receive treatment, he risks developing long-term health complications.
Some effects of low testosterone levels include:
The Redistribution of Fat
As a man gets older, he may find that snacking tends to have greater consequences now than it did in his youth. Over time, a man may find that it is easier to gain weight than it is to lose it. This may be due in part to the way fat is distributed or redistributed within the body.
More specifically, testosterone may help men shed fat in their abdominal region. Abdominal fat can be a precursor to type 2 diabetes and heart disease, among other conditions.
Through testosterone therapy, men may experience a greater ability to shed abdominal fat, as well as fat in other areas of the body. This could provide not only a stronger self-image but may also improve one's physical health.
Enhanced Sex Drive and Sperm Production
Men do not have to give up their sex lives just because they are getting older. Every man, regardless of his age, orientation, or lifestyle, deserves to engage in intimacy. However, the depletion of testosterone in aging men may cause a lowered sex drive and sperm count.
These issues can be problematic for several reasons.
Suppressed sex drive and a low sperm count may:
Make it more difficult to conceive children
Cause relationship problems
Go hand-in-hand with erectile dysfunction
Harm a man's self-image
A healthy sex life may be an important feature of a healthy life. Testosterone replacement therapy may help restore a man's lost libido and virility.
Being Mentally Sharper and Happier
Aging can lead to changes in the brain, which, put simply, are not good for clear thinking.
As a result, aging men may experience:
Trouble remembering names, dates, events, and other information
Mental health issues, like depression
Difficulty concentrating
Each of these issues may have a disruptive effect on one's life, even permeating their personal and professional lives. Testosterone replacement therapy may positively affect patients in ways that both improve their mood and cognitive abilities.
Gaining Muscle Mass
Men may notice two concerning phenomena as the years go by; not only is it more difficult to rid themselves of fat, but it is also harder to put on muscle.
Loss of muscle mass is a symptom of low testosterone. It makes sense, then, that restoring testosterone levels through testosterone replacement therapy could help men build muscle.
Contact HealthGAINS About Testosterone Therapy Today
Getting older can be difficult for men, as it may take physical, cognitive, and psychological tolls on them. Testosterone replacement therapy not only addresses the negative effects of aging, but it can improve a man's cognitive function, libido, and physical strength.
To learn more, contact HealthGAINS by calling (305) 682-1818.