No, testosterone therapy does not hurt any more than any other standard injection. The medical professionals at HealthGAINS offer testosterone therapy in the form of injectable prescription testosterone hormone. There can be a nominal amount of momentary injection site discomfort, but patients do not report any sensations that would rise to pain level.
Why HealthGAINS Uses Injectable Testosterone Therapy
Injectable testosterone therapy by prescription is the most effective way of delivering the hormone in a form that the body can use well. It is possible to obtain products like pills, powders, shakes, supplements, and protein bars that claim to treat low testosterone levels, also called "Low T." Still, the only approved form of testosterone is by prescription from a medical doctor.
Some people try to self-treat their Low T with things they buy online that claim to boost the body's testosterone production, but there is no proof that those products work. Also, since non-prescription substances are unregulated, over-the-counter items do not have prescription testosterone's safety assurance.
At HealthGAINS, doctors determine how much testosterone the individual patient needs. The testosterone replacement treatment (TRT) is never "one-size-fits-all." A man with testosterone deficiency deserves a safe, effective treatment plan tailored to his unique needs and goals.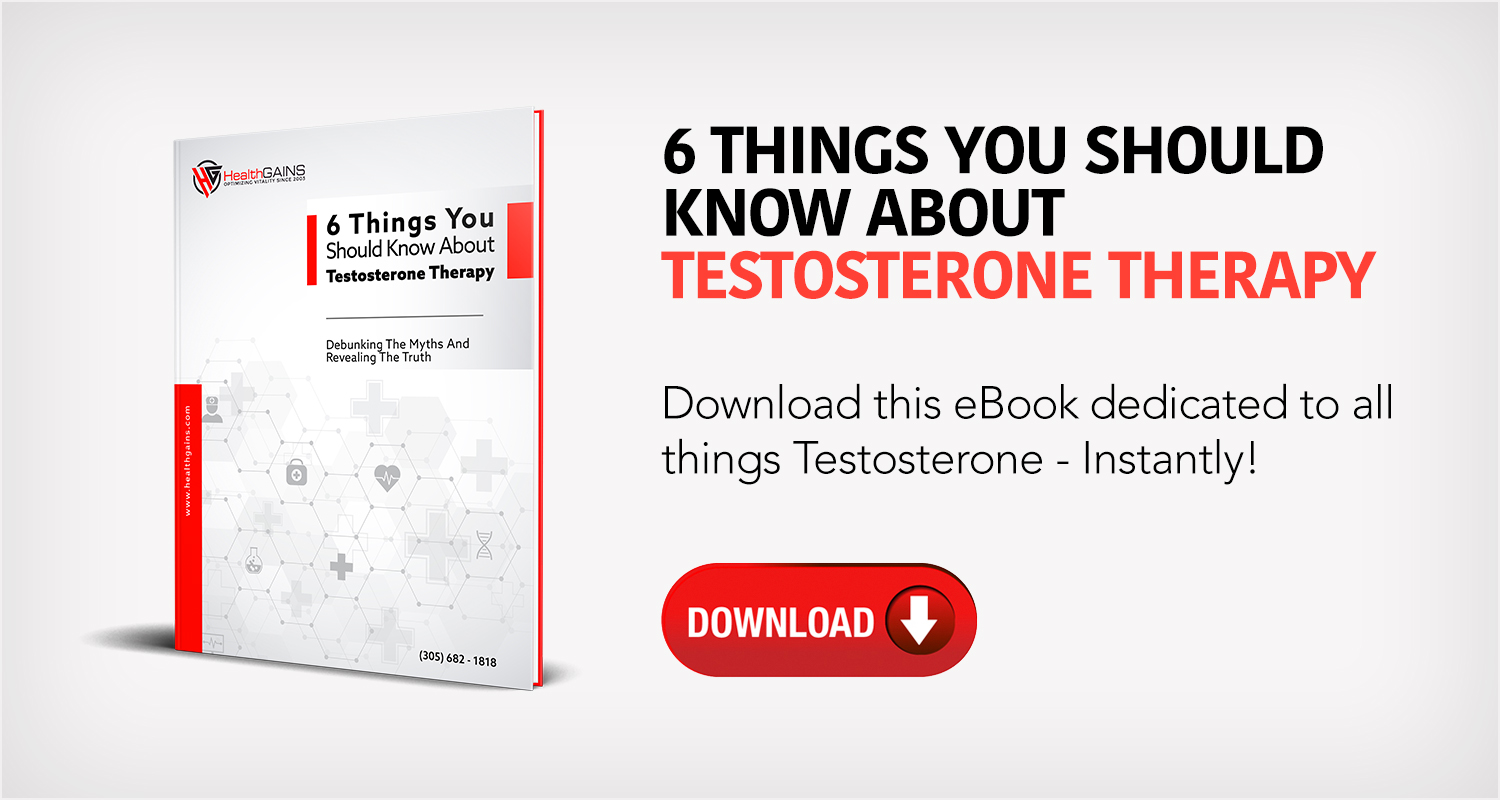 Symptoms of Testosterone Deficiency
Most men experience a decrease in testosterone levels as they get older, but not everyone develops significant symptoms from that reduction. When the signs of Low T impact a man's health and daily life, it is time to get a professional medical evaluation to find the cause. A proper diagnosis is the first step to a successful treatment.
It might be helpful to get an evaluation from HealthGAINS when a man experiences one or more of these indications of testosterone deficiency:
Workouts No Longer Provide the Same Results as Before
Over time, muscle mass can decrease.[1] A man can feel weak and lack endurance. His body shape changes with the loss of lean muscle mass.
Diet and Exercise Become Less Efficient at Keeping Body Fat at Bay
The pounds pack on, even without changing one's diet or workout routine. The things that used to work to control weight and fat distribution might no longer do the trick. The combination of decreased muscle mass and increased fat accumulation can leave a man looking out of shape and flabby.
Impotence or Loss of Interest
A man might find his libido becoming elusive. His interest in sex can wane. When a man with Low T does become aroused, he might not be able to have an erection. His erectile function can become less predictable. He might not have the wherewithal to sustain the few erections he achieves.
Reduced Bone Density
Without sufficient levels of testosterone, a man's bone density can diminish. This situation can make him more vulnerable to fractures and frailty. Falling and breaking bones can cause a person to lose mobility. A man's physical and social activity can decrease in this situation.
Loss of Enjoyment of Life
Men with Low T often report depression and decreased self-confidence. A man might feel that he is "less of a man" when his testosterone levels are very low. Testosterone levels can impair a man's ability to concentrate and focus, causing him to lose a competitive edge in his career.
Fatigue
Fatigue is a frequent complaint among men with testosterone deficiency. They can suffer from the lack of energy that sufficient levels of testosterone can provide. Low T can rob a man of quality sleep, escalating the exhaustion and making him drag through his day.
Menopausal Symptoms
Some men with testosterone deficiency develop breast tissue swelling and tenderness. They can also experience hot flashes, similar to menopausal women, and have flushing, which is redness of the face and chest.
Testosterone replacement therapy can improve or reverse the symptoms of testosterone deficiency. A person might wonder if the injection for testosterone therapy hurts, but the benefits of TRT can vastly outweigh the momentary sting of a shot.
Benefits of Testosterone Therapy
Testosterone therapy can reverse the symptoms of testosterone deficiency.[2] A man with the symptoms of Low T can greatly improve his health and quality of life through appropriate testosterone therapy under the supervision of a HealthGAINS doctor.
How to Get Started
A man with Low T does not have to face unpleasant symptoms for the rest of his life. Just like any other medical procedure, testosterone replacement therapy is not a viable option for everyone, but the treatments often do a good job of treating testosterone deficiency.
A HealthGAINS medical professional can evaluate the cause of a man's symptoms and design a treatment plan centered around the individual's unique situation. Everyone starts with a unique medical history and baseline testosterone level. Everyone deserves the best treatment available.
Anyone interested in getting more information about testosterone replacement therapy for testosterone deficiency can call HealthGAINS today at (305) 682-1818.
[1] https://www.health.harvard.edu/mens-health/is-testosterone-therapy-safe-take-a-breath-before-you-take-the-plunge
[2] https://www.mayoclinic.org/healthy-lifestyle/sexual-health/in-depth/testosterone-therapy/art-20045728