When patients may start seeing the results of testosterone therapy cannot be stated for certain. Every patient is different, and every treatment plan is unique. Therefore, the time it takes for a patient to start seeing the results of their hormone therapy depends on their situation.
With this in mind, HealthGAINS explains that some men may see elevated testosterone levels within a matter of days, with more consistent results generally coming four to six weeks after treatment starts.
Charting a Course of Treatment
Any patient who plans to receive testosterone therapy can speak with a HealthGAINS wellness provider about when they may start seeing results of testosterone therapy.
A patient may start their course of treatment by:
Contacting a HealthGAINS wellness provider
Showing up to a HealthGAINS wellness facility for treatment
Receiving a diagnosis of low testosterone levels
Once a person visits HealthGAINS and learns that they have low testosterone levels, they can secure testosterone injections through prescription—the only type of testosterone therapy that is legitimate.
While meeting with a HealthGAINS wellness professional, a patient may learn about their treatment plan.
Some of the factors that may influence one's course of treatment include:
Whether someone is ready to start treatment right away
What type of results they are seeking from testosterone therapy
Their overall health
Specific health conditions that may be relevant to testosterone therapy
Specific considerations for treatment as discussed with their HealthGAINS wellness provider
Every patient has their own set of needs and expectations. Their specific treatment plan, along with many other elements, may affect when a patient starts to see the results of testosterone therapy.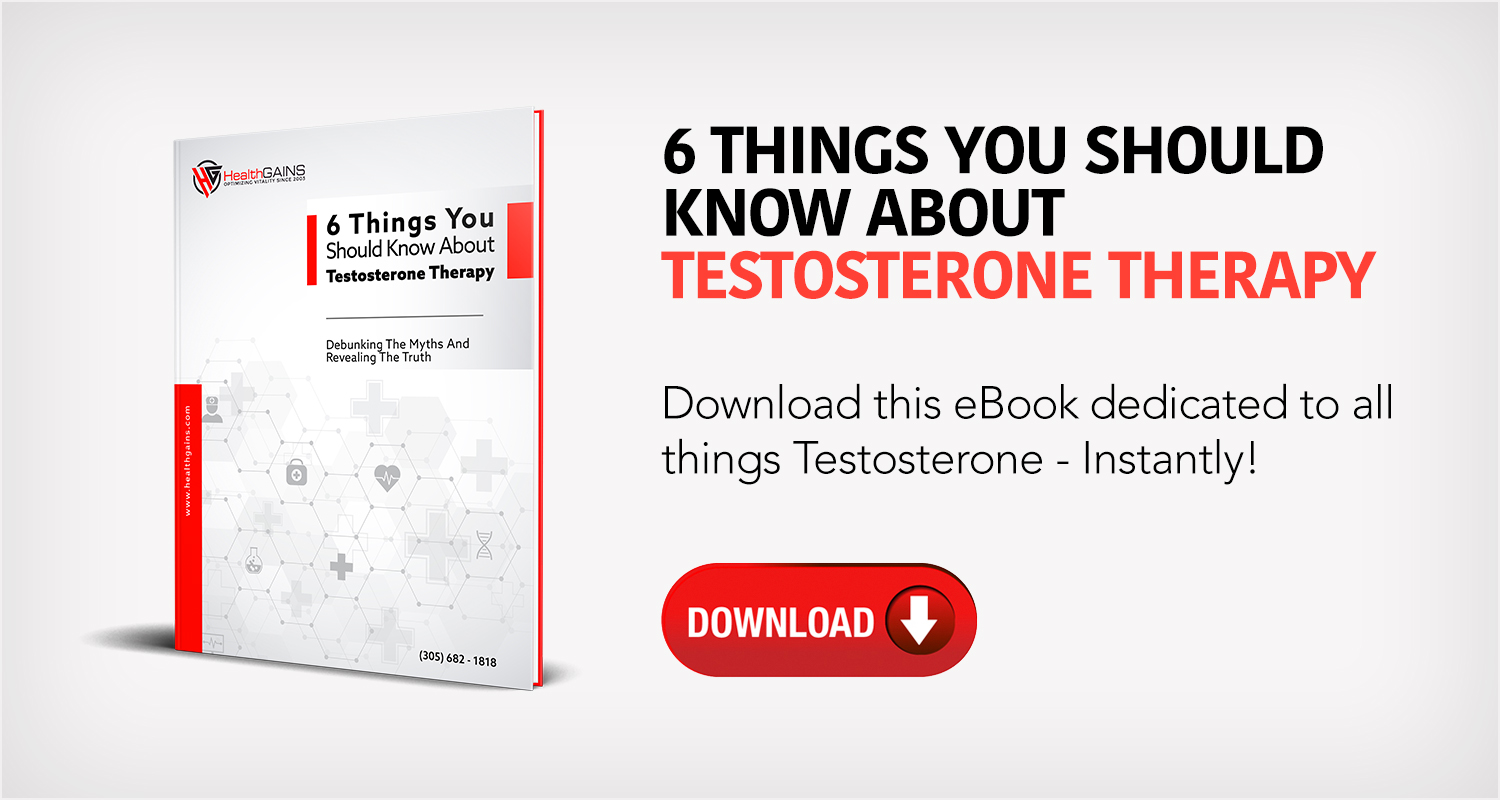 What Testosterone Therapy Results May Look Like
A patient may choose to undergo testosterone therapy for a host of reasons. Some men may want to see a change in their physical, sexual, and cognitive abilities. Others may want to prevent the health complications that come along with low hormone levels.
Some of the possible indicators that testosterone therapy is producing results include:
Increased Muscle Mass
Men may lose muscle as they age, which may be the result of declining testosterone levels. While struggling with low hormone levels, affected men may find that building muscle mass seems impossible. Despite their level of physical activity, low testosterone levels can affect a man's ability to build muscle and improve their overall strength.
Men who undergo testosterone therapy may measure their progress in a few different ways.
They may:
Visually assess whether their muscles appear to be more prominent
Feel their muscles for size and firmness
Measure their lean body mass
HealthGAINS professionals may provide more sophisticated tools for measuring muscle growth.
Lower Body Fat
Reducing one's amount of body fat may be a primary motivation for men who undergo testosterone therapy.
Patients may measure their loss of fat in several ways, including:
Monitoring their total body weight
Using specialized tools, such as a body fat analyzer
Measuring one's waistline
Gauging their overall feeling of healthiness
Judging how their clothes fit them
HealthGAINS wellness providers may, again, have sophisticated tools on hand to track a patient's progress when it comes to weight loss.
Improving the Invisible Sides of Health
While one's outward appearance may say much about a person's health, it does not tell the entire story. Mental health, cognitive health, and energy are three features of a person's wellness that may not be visible but are certainly important. Testosterone therapy could help a patient realize improvements in each of these health categories.
A patient may realize the success of their testosterone therapy by:
Feeling less tired during the day
Relying less on energy substitutes, such as coffee, tea, or energy drinks
Feeling the symptoms of depression lift
Feeling that their recollection abilities are stronger
Finding it easier to concentrate
One's mental and cognitive health may be just as important as their physical health. Men who engage in testosterone therapy may see an improvement in all aspects of their life.
Contact HealthGAINS About Treatment Today
Since 2003, HealthGAINS has been helping both men and women achieve their full potential. At HealthGAINS' state-of-the-art facility, patients can learn more about improving their physical and cognitive function. Additionally, men who are feeling the mental or physical effects of low testosterone can receive treatment to improve their health.
Call HealthGAINS to learn more about receiving testosterone therapy treatment today by calling (305) 682-1818.