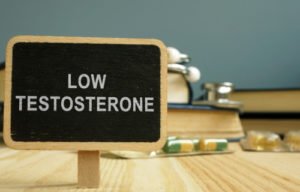 Every patient is unique, so we cannot say how much your testosterone replacement therapy will cost. Several factors impact your total expenses, like the dosage and number of treatments you need, and any additional services you select. All of our clients receive a customized treatment plan. That is why costs for testosterone therapy can vary.
We only use bioidentical hormones in our treatments. Bioidentical hormones are thought to be the safest and most effective hormones available.
Beware of Knock-Off Products
You cannot watch a sporting event on television without seeing commercials in which retired athletes hawk bottles of pills that they claim will restore your testosterone levels. These products are sold over the counter; in other words, without a prescription from a doctor. An irresponsible and dangerous practice like this is not how HealthGAINS operates. We employ doctors to tailor your treatment plan with medically prescribed injections just for you.
If you buy products online from sellers without a reputable track record, you might receive dangerous chemicals that could harm you. Either way, you are taking an unacceptable risk with your health and spending your hard-earned money on the cost of so-called testosterone therapy that could be a scam.
The U.S. Department of Justice reports that it is illegal to possess or sell substances containing testosterone without a prescription from a doctor. Our physicians administer testosterone replacement therapy by prescription only.
For a free consultation, call (305) 682-1818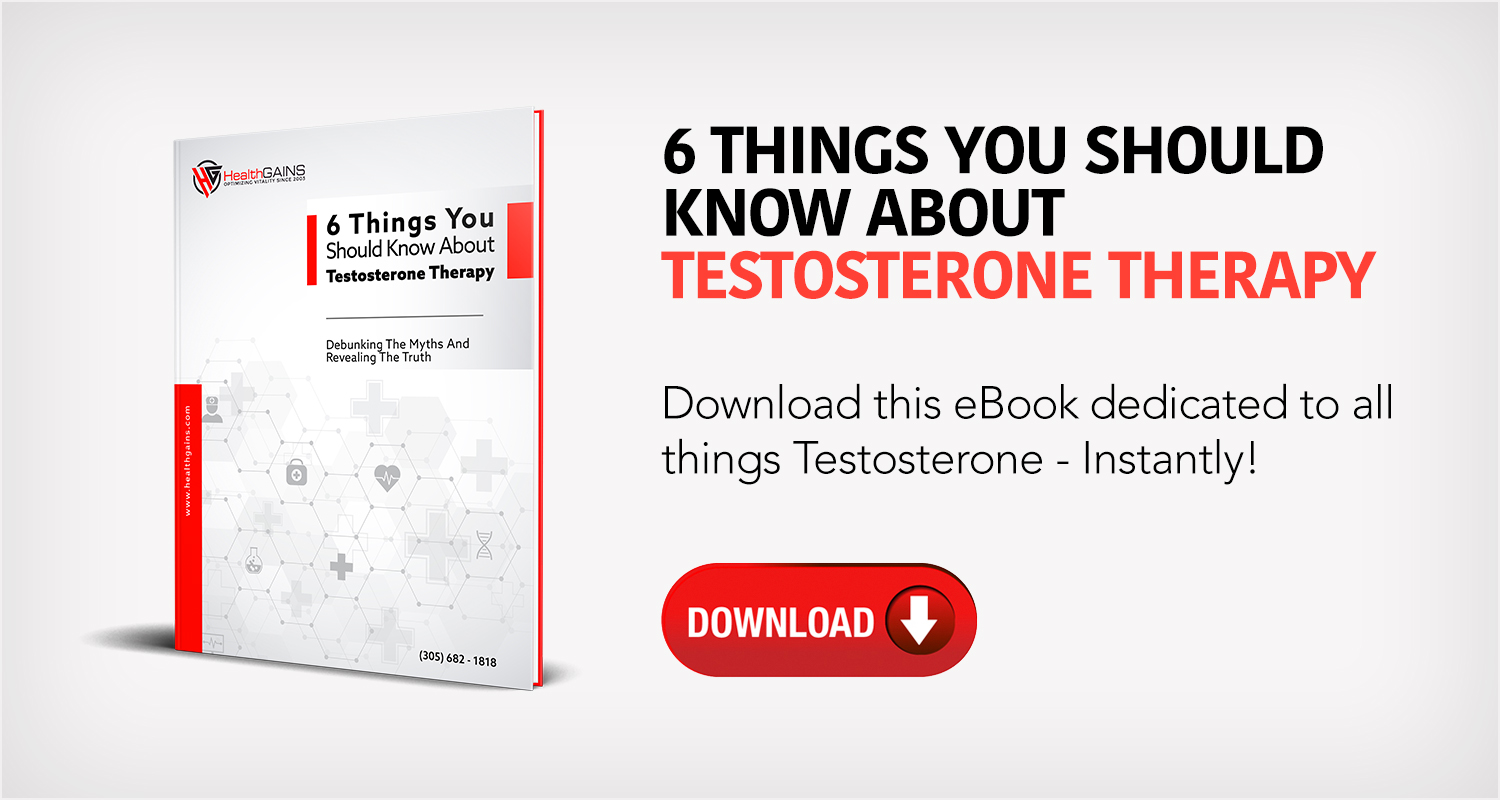 Testosterone Through the Lifespan
Your body was making testosterone before you were even born. As you grew, your body produced more of the hormone to meet your growing needs. According to Healthline, most men reach their peak testosterone production in adolescence and early adulthood.
You still need testosterone throughout your entire life, but your body becomes less able to make as much as you need as the years pass. Men often experience a gradual decline in testosterone production, about 1% a year, beginning at about age 30.
By middle age, you might not notice many changes as a result of your lower testosterone levels. Many of us feel significant repercussions from low-T in our older age. If your levels get low enough, you could experience what is colloquially referred to as "male menopause." The medically accepted term for this phenomenon is andropause.
Andropause can cause a man to develop increased breast size with tenderness. Some men get hot flashes.
Symptoms of Low-T
The Mayo Clinic reports that you can have indications of low testosterone levels long before you hit andropause. Many of our clients have these signs of low-T before they start testosterone replacement therapy:
Increasing body fat, particularly around the middle, that does not respond to diet or exercise
Less muscle mass
Thin, brittle bones that put him at a higher risk of fractures
Mood changes that can include depression, sadness, anger, and irritability
Lack of optimism and motivation
Diminished libido, which can take a toll on relationships
Erectile dysfunction
Insomnia and other sleep disturbances
Fatigue and sluggishness
Needing more time to bounce back after a strenuous workout
Having to struggle to finish his routine at the gym
Seeing fewer results from his workouts
Having to work harder every year to keep off excess weight
Having difficulty concentrating and remembering things
It can be a challenge to enjoy the lifestyle you have built for yourself through years of hard work when you experience symptoms like these. We all get older but feeling old is not inevitable. You can take control of how you look and feel. You are not ready to act like an old man – not yet.
Click to contact our specialist today
What Testosterone Replacement Therapy Can Do for Low-T
If you have low-T, hormone replacement therapy could improve your life by providing benefits like these:
Feeling as energetic as you did years ago
Getting restful sleep that prepares you to take on the day
More interest in sex, which can improve your relationships
A metabolism that burns off fat and carbohydrates faster, making it easier for you to lose weight
Building more muscle mass from your workouts
Better moods, focus, and clarity of thought
Stronger, denser bones that can protect you from fractures
Feeling stronger and more vital than you have in years
Some of our clients start to feel better within a few weeks of starting testosterone replacement therapy.
Complete a Free Consultation form now
How to Get Started
Low energy and the other symptoms of low-T can make you feel as if you are losing your edge. You do not want feeling old to get in the way of success in your profession or business. Testosterone therapy can help with the problems that low-T causes.
You can call HealthGAINS today at (305) 912-8828 for a free consultation and to find out how much testosterone therapy could cost. There is no obligation.
Call or text (305) 682-1818 or complete a Free Consultation Form