HealthGAINS is a national leader in offering individualized hormone replacement therapy plans and HRT for men and women who want to age well. Our Tampa anti-aging physicians and hormone doctors have decades of combined experience in prescribing bioidentical hormone replacement therapy (BHRT). Our Tampa hormone center specializes in treating the hormone imbalances and the decline of hormones that happens to all of us as we get older. Our hormone specialists understand how hormone loss can negatively impact your life, and how the many benefits of Hormone Therapy can help you to keep doing the things that you love!
What is Bioidentical Hormone Replacement Therapy?
You may be wondering exactly what are bioidentical hormones, and how does bioidentical hormone therapy differ from other forms of hormone therapy. First, let's start with answering the question, "what is hormone therapy." The levels of your body's most critical hormones all decline as you get older. At its most basic level, hormone replacement therapy, or HRT is a way to replace what time takes away, and correct any hormone imbalances. Bioidentical hormones are exact duplicates of the hormones natural produced by your body. People often ask "are bioidentical hormones safe." In fact bioidentical hormones are safer and more effective than their synthetic counterparts. Bioidentical hormones are custom made for you by compounding pharmacists. They exactly match the physical and chemical structures of the hormones made by the glands of your endocrine system. When used in your Bioidentical Hormone Therapy (BHRT), our Tampa BHRT doctors work with area compounding pharmacies to blend a dosage that tailored to your specific needs. BHRT is the safest and most effective way to treat hormonal imbalances, and less than optimal hormone levels.
For a free consultation call (305) 682-1818
What are the Benefits of BHRT
The positive benefits of BHRT are plentiful. Hormone Replacement Therapy is designed to correct hormonal imbalances, and make you feel younger and more alive! There is no safer or more efficient form of hormone therapy than BHRT. Hormone therapy can stop, and in many cases, reverse the typical "symptoms" we think of as "aging," such as: thinning hair, weight gain, fatigue, loss of muscle tone, depression, and sexual wellness issues.
Hormone Therapy Specialist Near Me (305) 682-1818
Who Can Benefit from BHRT?
We need hormones for so many critical body functions, but unfortunately our bodies cannot make them in unlimited supply. Any man or woman who is over 35 may be beginning to feel the effect of declining hormones and related hormonal imbalances. One of the first signs that you may need the benefits of HRT is tiredness and fatigue. If you couple that with gaining weight that is harder and harder to take off, along with some "trouble in the bedroom," there is a very good chance that you are a candidate for hormone treatment.
Click to contact our specialist today
How Do I Know if I Need Hormone Therapy?
Hormone imbalances usually show up between the ages of 35 and 55. The most common signs of low hormones include:
Energy loss
Mood Swings
Weight gain, especially in the abdomen
Muscle and Bone loss
Sleepless nights
Loss of sex drive
Night sweats (women)
Hot flashes (women)
Erectile Dysfunction (men)
If you believe you may have low hormones, contact our offices for a hormone test. Only a hormone test can tell if you need HRT.
Complete a Free Consultation form now
Bioidentical Hormone Therapy for Men
Declining levels of testosterone in men can have a serious negative impact on your life! HRT for men is designed to return your testosterone levels to normal. A man's testosterone level peaks in your 20s. After that it is in steady decline. That loss of testosterone can lead to a lack of vitality, weight gain, cognitive difficulties, and "trouble in the bedroom." Our male hormone replacement therapy programs can restore your youth and your self-confidence. Low testosterone in men, also referred to as Low-T, can have a negative impact on many aspects of your life, from your relationships, to your job performance. Bioidentical Hormone Therapy for men can help give you back what time and nature take away, and put you back on your path to being a younger, stronger, healthier you!
Bioidentical Hormone Therapy for Women
Hormones can be a little more complex in women than in men. Women have a complicated interaction of many hormones that impact their physical and emotional health. BHRT for women will usual involve bringing more than one hormone back into balance. Usually BHRT for women are based upon replacement of estrogen and progesterone. Hormone replacement therapy (HRT) is still the safest and most effective way of treating hormonal imbalances in woman, as well as helping women to deal with the most debilitating symptoms of menopause. The benefits of HRT for woman far outweigh any potential risks. As women age, the will experience many of the symptoms of unbalanced hormones such as hot flashes and night sweats. BHRT is the most effective therapy around to treat the most severe symptoms of the hormonal imbalances that occur at the "Change of Life." Women who had been suffering from night sweats and hot flashes have reported as much as 90% improvement in symptoms within a few weeks of starting BHRT.
Side Effects of Hormone Replacement Therapy
Of course if you are thinking about starting hormone therapy, you are wondering "Are there side effects to hormone replacement therapy?" It is a reasonable concern, but in reality HRT, when properly prescribed HRT doctors, has very few potential side effects. Bioidentical hormone side effects are few and far between. That is because your body cannot distinguish bioidentical hormones from your own hormones. That is why there are very few BHRT side effects. Even the reports of serious side effects of HRT, such as that Hormone Therapy can cause cancer, or heart attacks are largely false! In fact, some of the newest research on HRT suggests that it may even lower your risk of heart disease and some cancers!
See how Human Growth Hormone Therapy changes this patient's life: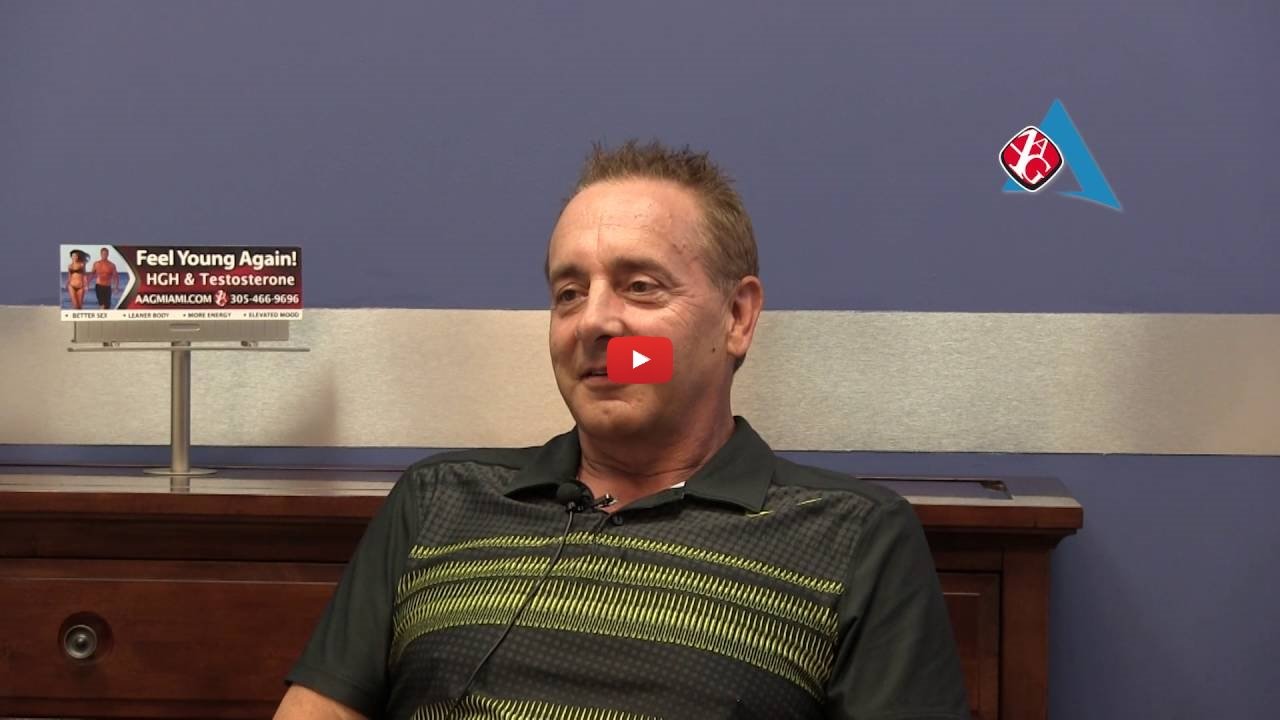 What Kinds of HRT is Available?
HRT treatment can take many forms, and can be prescribed to you in a number of ways.
Testosterone – Most men look for HRT to deal with Low-T or declining levels of testosterone. Our HRT for men treatments are customized to evaluate your testosterone level and bring it back to optimal level for your needs and lifestyle.
HGH – Growth hormone, AKA Human Growth Hormone or HGH, has many anti-aging benefits. Our Miami anti-aging doctors will evaluate your HGH and levels, and create an HRT program to make you look and you're your best!
Sermorelin – Sermorelin is not a hormone. It stimulated the production of other hormones such as HGH and testosterone. Sermorelin Therapy alone, or in conjunction with HRT is designed to boost you levels of these critical hormones.
Thyroid Hormone Therapy – Your thyroid gland produces hormones that are very important to your energy metabolism. Thyroid HRT can make you feel like you are in your 20s again!
Ipamorelin Therapy – Like Sermorelin, Ipamorelin isn't a hormone, but it helps push your body to create more vital hormones, particularly HGH.
There are various ways to prescribe HRT. Your hormone doctor may give you: hormone replacement pellets, creams, injections or hormonal skin patches.
Hormone Therapy Consultation in Tampa
Your hormone treatment starts with hormone tests. If you want the benefits of Hormone therapy for men, or HRT for women, before you can start your hormone treatment, you need a proper hormone test. Some hormone clinics use a cheek swab test. Our Tampa hormone doctors do hormone tests by testing your blood. This kind of lab test will reveal all of your hormone levels, and show any hormone imbalances. Once we have your hormone test completed, our Tampa hormone specialists will be able to prescribe hormone therapy tailored to your unique needs and lifestyle.
Hormone Replacement Therapy Testimonials
"I am a women in my 40s, I am too young for menopause, but I was having problem, like a loss of sex drive, I was moody, putting on weight. I thought it was just stress, I never even considered it could be hormonal. I heard a radio commercial about HRT, and made an appointment at the hormone replacement clinic. I have been on the program for only a few months, and I am already feeling the difference." — Linda S. – Harbour Island, Tampa
"Hey, I am in my late 50s, and I tried those "little blue pills." But, they gave me headaches, and besides who wants to have to take pill every time the mood strikes, or the moment is right? I tried testosterone therapy, and it's been good by pills, and hello better sex ever since!" — James P. – Ballast Point, Tampa
"My wife and I have been married for years, but we still like to, you know – get frisky! But recently I found I was not being able to perform like I used to. That made me feel bad, not just for me, but for her. I called you clinic, I had the hormone tests, I found out my testosterone was low. Well, since I have been on the program, I am a new man…just ask my wife!" — Ross C. – Seminole Heights, Tampa
Finding a Hormone Replacement Doctor in Tampa
Like Jim, Giselle, David, and hundreds of our other patients, hormone therapy can change your life! We can help you locate a hormone specialist in Tampa, or in: Pinellas Park, Saint Petersburg, East Lake, Dunedin, Largo, and Brandon, FL.
Watch this testimonial to see how Hormone Therapy for Men helped this patient: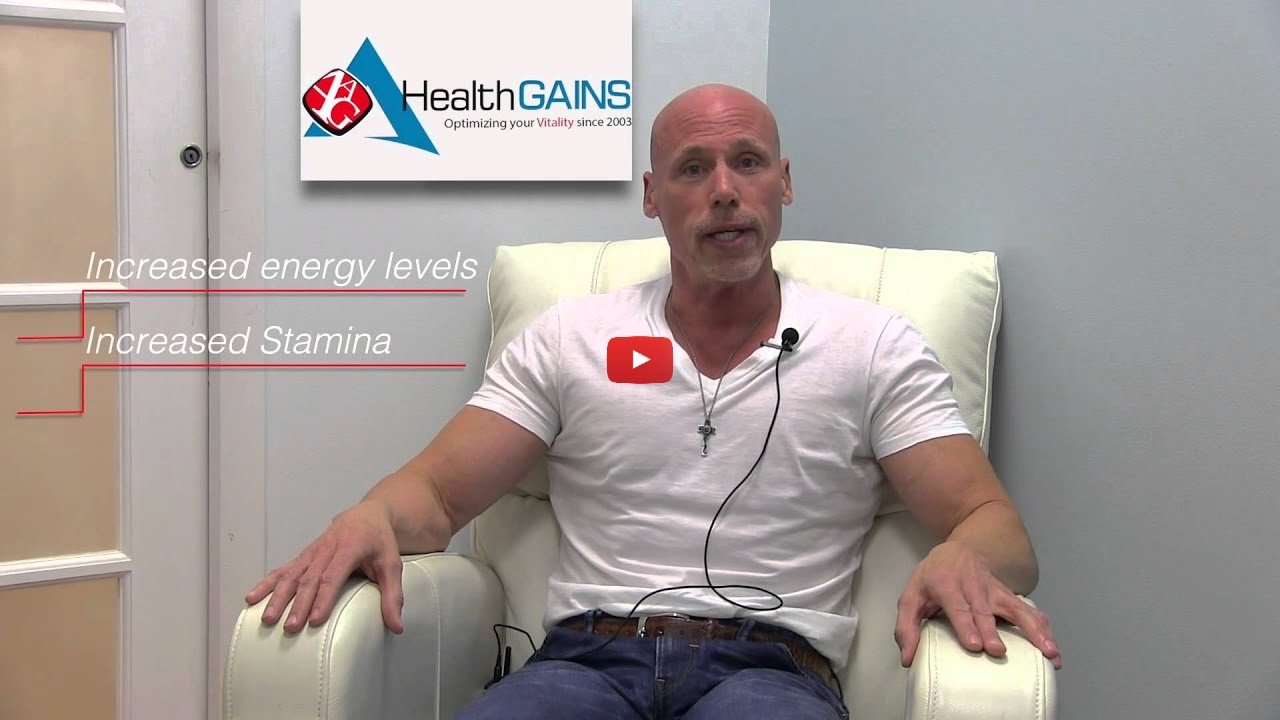 Hormone Therapy FAQs
What is the difference between bioidentical and synthetic hormones?
As opposed to the synthetic hormones produced by the big pharmaceutical companies, bioidentical hormones exactly replicate the hormones produced by your body. They match your naturally produced hormones on a chemical and molecular level.
Are Bioidentical Hormones Safe?
Yes! Since bioidentical hormones are exact copies of your normal hormones, BHRT is the safest and most efficient form of hormone replacement therapy there is! Bioidentical hormones are indistinguishable from the hormones made and released by your glands, so bioidentical hormones are better recognized and better absorbed by your body than synthetic hormones.
How much does hormone replacement therapy cost in Tampa?
We pride ourselves on providing the most cost effective HRT in your area. Of course the cost of HRT differs from patient to patient, but you can expect to pay from $600 to about $2500 per month depending on your age, gender and results of your hormone tests.
Can hormone therapy be used for weight loss?
Hormone Therapy should not be considered a replacement for diet and exercise to help you lose weight, nor should being overweight be the only reason you seek hormone therapy. However there a hormone imbalance can cause weight gain, and there is a link between HRT and weight loss. Improved energy, and an increased ability to burn fat and build lean muscle is one of the many benefits of BHRT, and therefore HRT can help you lose weight!
HealthGains Madeira Beach
15131 Madeira Way Madeira Beach, FL 33708 Call us at – (727) 386-6982
Serving the following neighborhoods in Tampa:
Downtown, Candy / Sun Bay South, Courier City Oscawana, Davis Island, Eastside Commercial Area, Fair Oaks / Manhattan Manor, Forest Hills, Harbour Island, Historic Hyde Park, North Tampa, Old Seminole Heights, Palmetto Beach, Parkland Estates, Port Tampa City, South Seminole Heights, Sulphur Springs, Sunset Park, Tampa Heights, West Meadows, Ballast Point
Tampa Hormone Clinic Locations
Our doctors also prescribe testosterone therapy, and growth hormone therapy in and around Tampa. Our hormone specialists also provide HRT for the nearby communities of: Pinellas Park, Saint Petersburg, East Lake, Dunedin, Largo, and Brandon, FL
2727 W Dr Mlk Blvd Ste 200 Tampa, FL 33607
5610 W La Salle St Tampa, FL 33607
14438 University Cove Pl Tampa, FL 33613
15423 N Dale Mabry Hwy Ste 101 Tampa, FL 33618
427 S Parsons Ave Ste 120 Brandon, FL 33511
11916 Sheldon Rd Ste C Tampa, FL 33626
1550 Bloomingdale Ave Valrico, FL 33596
501 Dr Mlk Jr St So Ste B Saint Petersburg, FL 33705
3909 Galen Ct Ste 101 Sun City Center, FL 33573
11370 66th St Ste 125 Largo, FL 33773
1724 Bruce B Downs Blvd Ste Q2 Wesley Chapel, FL 33544
4105 49th St N Ste B Saint Petersburg, FL 33709
1822 N Belcher Rd 101 102 Clearwater, FL 33765
29245 Us Hwy 19 North Clearwater, FL 33761
5653 Park St N Ste 2 Saint Petersburg, FL 33709
607 S Alexander St Ste 107 110 Plant City, FL 33563
8745 State Road 54 New Port Richey, FL 34655
Other Tampa Hormone Services:
Florida Hormone Clinic Locations
Call or text (305) 682-1818 or complete a Free Consultation Form