People looking for hormone replacement therapy in Miami, FL, need look no further. At HealthGAINS, we are a wellness clinic that provides innovative, cutting-edge treatment options to our patients. We believe that growing old should be a thing of the past. Through hormone replacement therapy, we can address a multitude of conditions that impede your relationships and day-to-day life.
Our team has been helping people realize their full potential since 2003. Our state-of-the-art facilities are each equipped with the latest in healthcare technology. If you are interested in feeling younger and achieving more, call our team today. Right now, you can connect with one of our wellness advisors. To get started, dial (866) 806-1867.
Understanding the Importance of Hormones
Hormones are produced by various glands throughout the body. These chemicals are responsible for maintaining and controlling various internal processes, including your sex drive, metabolism, and cognitive function.
When your hormone levels are low or imbalanced, you may feel less than your best. As people age, they may feel tired, unmotivated, or depressed. Some write these conditions off as just being old. But this is not the case. Sometimes, these conditions are the result of low or imbalanced hormones.
Hormones in the Female Body
There are two main types of female sex hormones: estrogen and progesterone. Women also have testosterone but in small amounts. When a woman's hormone levels are low or imbalanced, she may have trouble getting pregnant.
She may also experience mood swings and be unable to live life to the fullest. As a woman approaches 40, her hormone levels decrease, resulting in menopause. While this is perfectly normal, hormone replacement therapy could alleviate many of the symptoms of menopause and hormonal imbalance in general.
Hormones in the Male Body
One of the most important male hormones (also called androgens) in the body is testosterone. Produced in the testes, for many, testosterone is what "makes a man a man." Testosterone regulates one's sex drive, virility, muscle growth, and fat distribution.
A man's testosterone levels peak in his late teens to early 20s. From there, his levels will start to decline, becoming noticeable in his 40s. This decline can result in erectile dysfunction and other undesirable issues.
For a free consultation call (305) 682-1818
Bioidentical Hormone Therapy for Women
Generally speaking, women are more familiar with hormones, and hormone therapy than their male counterparts. Hormone therapy has been used for a lot longer to treat women going through menopause. Even women who are not yet menopausal, can and do suffer from hormone imbalances, simply because of the greater role hormones play in women's anatomy. HRT has long been used to help women cope with menopause. Several years ago, women began to question the use of hormone replacement, believing largely erroneous reports that HRT can increase the risk of breast cancer or heart disease. Such reports were based on very outdated studies, and relate very little to the way our hormone specialists prescribe HRT for women today. Bioidentical Hormone Therapy for women remains the optimum method to deal with the most challenging difficulties of menopause such as night sweats, mood swings, depression, and hot flashes. Keep in mind that you do not have to be menopausal or pre-menopausal to benefit from HRT. Regardless of how close to menopause you may or may not be if you are experiencing any of the difficulties listed on these pages, there is a very good chance that you could benefit from HRT.
Hormone Therapy Specialist Near Me (305) 682-1818
Side Effects of Hormone Replacement Therapy
Of course, if you are thinking about starting hormone therapy, you are wondering "Are there side effects to hormone replacement therapy?" It is a reasonable concern, but in reality, HRT, when properly prescribed HRT doctors, has very few potential side effects. Any risk of HRT side effects is far outweighed by the benefits. Of course, BHRT is not side effect free, but the side effects of today's Hormone replacement treatments are low. And, those risks are made lower, by working with our Miami area hormone doctors, who are up on the latest uses and studies Hormone Therapy. Our Miami Hormone Doctors understand it is not minor side effects that may keep you from considering hormone treatments. It is the fear of major hormone side effects like cancer or heart disease. Let us put those fears to rest. Reports you may have heard that HRT can increase the risk of heart disease or cancer, are largely unfounded. In fact, some of the latest research on HRT indicates that it may even prevent cancer and lower the risk of heart attack!
Click to contact our specialist today
What Kinds of HRT is Available?
HRT treatment can take many forms and can be prescribed to you in a number of ways.
Testosterone – Most men look for HRT to deal with Low-T or declining levels of testosterone. Our HRT for men treatments are customized to evaluate your testosterone level and bring it back to the optimal level for your needs and lifestyle.
HGH – Growth hormone, AKA Human Growth Hormone or HGH, has many anti-aging benefits. Our Miami anti-aging doctors will evaluate your HGH and levels, and create an HRT program to make you look and you're your best!
Sermorelin – Sermorelin is not a hormone. It stimulated the production of other hormones such as HGH and testosterone. Sermorelin Therapy alone, or in conjunction with HRT is designed to boost your levels of these critical hormones.
Thyroid Hormone Therapy – Your thyroid gland produces hormones that are very important to your energy metabolism. Thyroid HRT can make you feel like you are in your 20s again!
Ipamorelin Therapy – Like Sermorelin, Ipamorelin isn't a hormone, but it helps push your body to create more vital hormones, particularly HGH.
There are various ways to prescribe HRT. Your hormone doctor may give you: hormone replacement pellets, creams, injections or hormonal skin patches.
See how Human Growth Hormone Therapy changes this patient's life: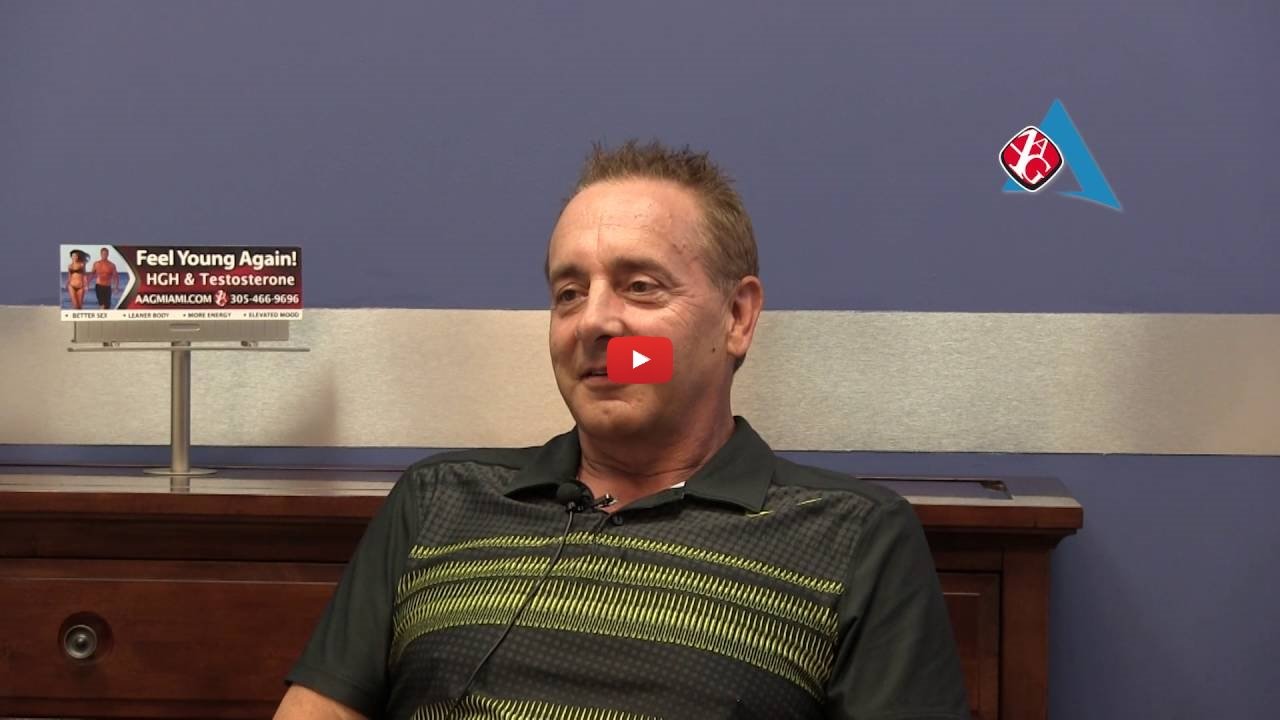 Complete a Free Consultation form now
Hormone Therapy Consultation in Miami
An accurate hormone test is necessary before you can begin any hormone treatment. When you come to our Miami Hormone Replacement Center, you will be given this hormone test. Your hormone test will tell your hormone doctor your current hormone levels, and he or she will be able to see how your hormones are working together, and if you have any hormone imbalances. After your hormone test, our Miami hormone specialists will prescribe the best BHRT program for your needs. We treat you as an individual and will develop a hormone replacement therapy plan that best suits your needs, lifestyle and budget. We know you have a choice when it comes to choosing a hormone therapy clinic. Make the right one and contact us today!
Hormone Replacement Therapy Testimonials
"I am 45. I just do not like how I am feeling and looking lately. I knew I was no longer the man I once was. I was putting on weight, always tired, depressed, and even was having some "trouble in the bedroom." I tried changing my habits, took some vitamins and supplements, but nothing really made a difference. Then a friend told me about HRT. I called your offices, set up an appointment. My hormone test said I had Low-T, I've been on the program just for a few weeks now, and I am already feeling some big changes!" — Mike S. – Aventura, FL
"I was going through the worst of you know "woman's stuff," the night sweats, mood swings, hot flashes, even though I am not that close to menopause. I called your clinic, and your counselors were so sympathetic and helpful! They told me you do not have to be menopausal to have hormonal imbalances and have some of the same kinds of symptoms. Well, they put me on a program of low-dose HRT pellets, and I am feeling myself again!" — Cynthia D. – Hollywood, FL
"Look, I'll come right to the point, I was having some "intimate issues," and then I also started feeling tired, and depressed, even my work was suffering. I heard Joe Rose, you know the guy on the radio, talking about HealthGAINS and low testosterone. Well I have been with HealthGAINS for about 5 months and really feel I am getting back to the top of my game…" — Dennis M. – Coral Gables, FL
Watch this testimonial to see how Hormone Therapy for Men helped this patient: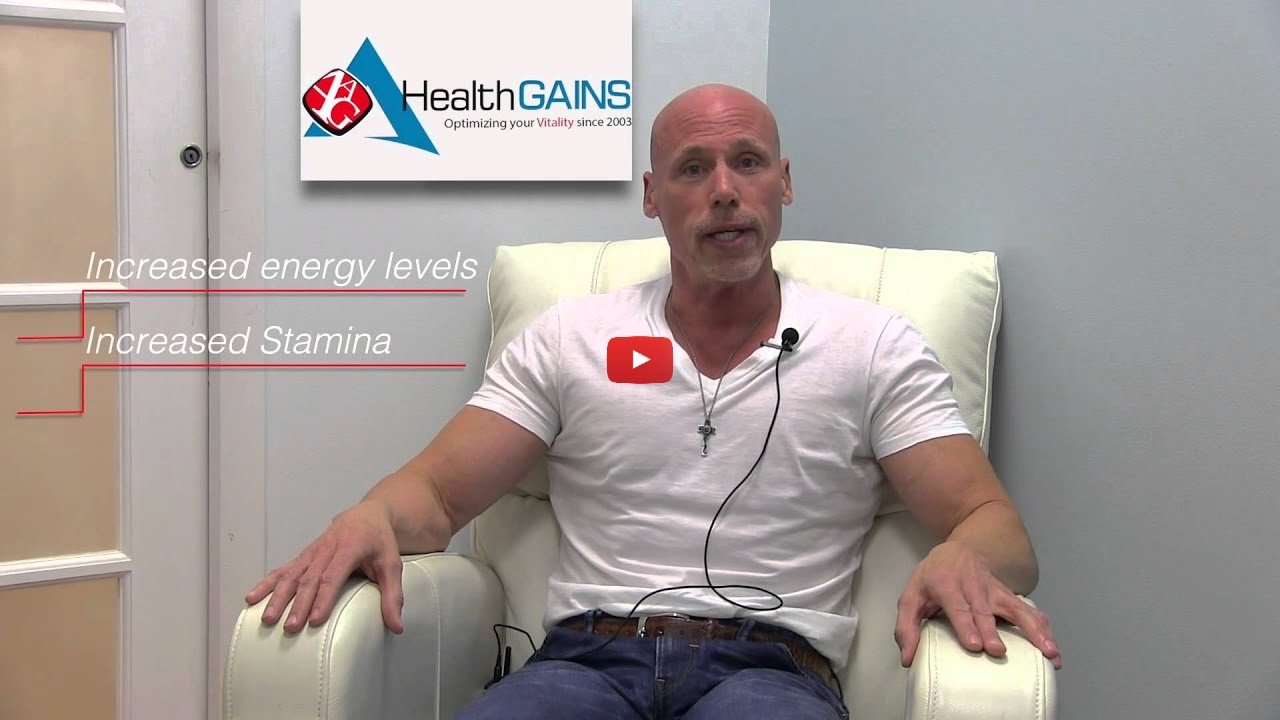 Finding a Hormone Replacement Doctor in Miami
Bioidentical hormone replacement doctors can make you a younger, stronger you! We have made it easy to find a hormone specialist in Miami, or if you live in and around: Fort Lauderdale, Pembroke Pines, North Miami, North Miami Beach, Sunny Isle, Bal Harbour, Coconut Grove, Coral Gables, Miami Beach, South Beach, West Palm Beach, Pompano Beach, Boca Raton and Deerfield
Hormone Therapy FAQs
How are bioidentical hormones different from synthetic hormones?
Synthetic hormones are made in labs using chemical compounds. Bioidentical hormones are custom-compounded from all natural sources to your particular needs. More importantly bioidentical hormones are exact duplicates of your body's own natural hormones – molecule for molecule.
Are Bioidentical Hormones Safe?
BHRT using bioidentical hormones is actually the safest form of hormone therapy there is. Since bioidentical hormones are "identical" to those made by your body, they are better recognized by your body and have fewer side-effects than synthetic hormones.
How much does hormone replacement therapy cost in Miami?
We pride ourselves on providing the most cost-effective HRT in your area. Of course, the cost of HRT differs from patient to patient, but you can expect to pay from $600 to about $2500 per month depending on your age, gender and results of your hormone tests.
How long until I see results using hormone therapy?
The full benefits of hormone therapy are usually not seen for several months. However, many of our clients start to see results, particularly when it comes to having more energy or improvements in sexual drive in a few weeks.
Can hormone therapy be used for weight loss?
People often wonder if hormone imbalances lead to weight gain. A hormone imbalance does not cause weight gain, but hormones are involved in fat metabolism. Hormone therapy should not be a replacement for a good diet and exercise, but HRT can and does improve your ability to burn fat and build lean muscle, and therefore can help you lose weight and get in better shape.
Serving the following neighborhoods in Miami:
North Grove, Coconut Grove, Brickell, Wynwood / Edgewater, Grapeland, Aventura, Shenandoah, Central Downtown, Little Havana, North Bayfront (Upper Eastside), Aventura
Miami Hormone Clinic Locations
Our group of practitioners include hormone specialists from several medical disciplines who provide BHRT treatments in Miami and the surrounding areas of: Aventura, Fort Lauderdale, Pembroke Pines, North Miami, North Miami Beach, Sunny Isle, Bal Harbour, Coconut Grove, Miami Beach, South Beach, West Palm Beach, Pompano Beach, Boca Raton and Deerfield Beach.
951 Sw Le Jeune Rd-Ste 302 Miami, FL 33134
400 Arthur Godfrey Road 510 Miami, FL 33140
7000 Sw 62 Avenue Suite 570 Miami, FL 33143
4201 Palm Ave Ste A Hialeah, FL 33012
2720 Sw 97 Ave Stes 204 205 Miami, FL 33165
100 Nw 170th St Ste 205 North Miami Beach, FL 33169
7150 W 20th Ave Ste 213 Hialeah, FL 33016
9950 Sw 107 Ave Ste 203 Miami, FL 33176
14713 Sw 42nd St Ste 101 Miami, FL 33185
10081 Pines Blvd Ste A Pembroke Pines, FL 33024
10720 Caribbean Blvd Ste 430 Cutler Bay, FL 33189
3990 Sheridan St 109 110 Hollywood, FL 33021
17901 Nw 5 St 104 105 Pembroke Pines, FL 33029
2731 Executive Park Dr Ste 5 Weston, FL 33331
7061 Cypress Rd Ste 101 Plantation, FL 33317
Other Miami Hormone Services:
Florida Hormone Clinic Locations
Call or text (305) 682-1818 or complete a Free Consultation Form