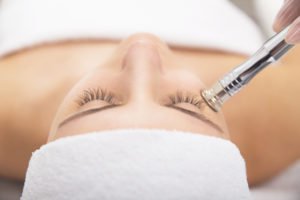 Yes, peptides are good for aging skin and many other conditions and therapeutic goals. Peptides help the body's immune system work better to fight off illness, heal better, and slow down aging signs on the skin. Peptides are groupings of amino acids. These parts of cells control how other molecules work. The body cannot perform essential functions without the involvement of peptides.
Peptides for Skincare and Anti-Aging
The medical professionals at HealthGAINS use these peptides for anti-aging and skincare:
CJC 1295 with Ipamorelin
This peptide helps the body break down and use proteins better. With improved protein synthesis, the patient can lose fat and grow new, healthy tissue. People who use this peptide might experience an enhanced sleep quality, leading to more energy during the day. CJC 1295 might also strengthen the immune system. A person's body mass can become leaner with greater bone density, diminishing the risk of fractures.
The Ipamorelin component of the CJC 1295 with Ipamorelin increases growth hormone levels in the blood, specifically in the plasma. This peptide has the potential to decrease appetite and improve sleep quality. Ipamorelin might increase the body's production of collagen, thereby making skin look more youthful. This substance could enhance the ability of cells to repair themselves, contributing to anti-aging. People who use this peptide can experience greater endurance and energy.
GHK-Cu
GHK-Cu is a tripeptide that attracts immune cells. The body naturally makes this copper peptide, found in a person's plasma and other types of tissues. GHK-Cu can reduce fine lines and wrinkles while boosting the production of collagen significantly. This peptide provides anti-inflammatory and antioxidant benefits while it diminishes nerve pain. The substance also supports wound healing and decreases the likelihood of infections. It helps to repair damaged tissue and maintain healthy tissue.
As medical science learns more ways that peptides can improve skin health and provide anti-aging benefits, there will likely be additional peptide therapies for these purposes.
For a free consultation, call (305) 682-1818
An Overview of Peptides
Professional laboratories compound peptides like they do with other medications. A doctor prescribes peptides, and a pharmacy fills the prescription.
There are many different uses for peptides. The medical professionals at HealthGAINS use peptides for these therapeutic purposes:
Skin Care and Anti-Aging
Peptides are good for aging skin and improving overall skin appearance.
Depression and Anxiety
RG3/Methylcobalamin/NAD Nasal Spray uses the B12 vitamin to boost energy, improve memory, and safeguard against heart disease. The Selank peptide, used in a nasal spray, can work as a stable neuropsychotropic substance to reduce anxiety and depression. Also, Selank can improve memory and learning.
Inflammatory Disorders and Body Healing
The BPC-157 peptide can help burns and other wounds heal faster. This substance might improve joint inflammation. HealthGAINS provides this therapy in capsule or injection form, depending on the specific purpose of the treatment. Thymosin Beta-4 is a protein that could offer hope for patients with inflammatory lung disease. This protein assists in the regeneration of tissues and the health of cells.
Strengthening the Immune System
Research suggests that the Thymosin Alpha peptide might slow breast cancer progression and skin cancer (melanoma). In addition to treating inflammatory disorders, Thymosin Beta-4 shows the possibility of supporting and strengthening the immune system to fight off disease.
Improving Mental Focus and Clarity
CJC 1295 with Ipamorelin, discussed above, can help with a person's ability to focus and think clearly. Dihexa molecules can provide anti-dementia benefits and improve cognitive function. Semax is a synthetic peptide that can reduce depression and treat cognitive, memory, and stroke disorders.
Building Muscle
CJC 1295 with Ipamorelin can help a person increase lean muscle mass. The MK-677 peptide, called Ibutamoren, might increase fat burning, muscle mass, bone density, and endurance.
Sexual Health
The PT-141 peptide can improve a person's sex life. PT-141 can work with a woman's dopamine hormones to increase libido and treat erectile dysfunction in men.
Better Sleep
Patients suffering from sleep disorders might experience better sleep with the CJC 1295 with Ipamorelin peptide. Another option for poor sleep is Sermorelin, which can improve skin texture, provide more energy and stamina, and increase mental focus.
Weight Loss
In addition to the Ipamorelin peptide for weight loss, HealthGAINS offers the Advanced Obesity Drug (AOD 9604) for patients struggling with maintaining their desired weight.
Depending on the treatment's purpose, the method of delivery for peptides can be capsules, inhalants, injections, or other modalities.
How to Take the Next Step
It only takes a phone call to HealthGAINS to get started on the path to receiving the benefits of peptide therapy for anti-aging, skincare, and many other benefits. A person interested in evaluating available peptide therapies that might be suitable can call HealthGAINS at (305) 682-1818 today. A trained medical advisor can answer questions in a free consultation.
Call or text (305) 682-1818 or complete a Free Consultation Form