Human Growth Hormone Therapy in Miami
Hundreds of Miami locals have experienced life-altering changes from their HealthGAINS HGH therapy treatments. Headquartered right here in Miami, HealthGAINS has continued to establish itself as the leading expert for hormone replacement therapy in the United States. With clinics and affiliates across the country, Miami locals are able to take advantage of an extremely valuable resource for age-management through HealthGAINS's specialized form of bioidentical HGH therapy. By only using bioidentical hormones, HealthGAINS is able to offer patients the safest and most effective care for their growth hormone deficiency. Contact your local HealthGAINS HGH clinic in Miami to find out what HGH therapy can do for you and your health.
For a free consultation call (305) 682-1818
What is HGH Therapy?
Human growth hormone therapy is the medical solution to the body's slowing the production of HGH over time or as a result of a medical condition or injury. As we age, or through the effects of a condition, our bodies do not produce the necessary levels of HGH. This can result in a number of development issues and other side effects. HGH clinics in Miami, like HealthGAINS, are able to introduce external HGH hormones into the body to help remediate the negative effects that low levels of growth hormones can have on the body. The process of HGH therapy works in two parts – test and treat. Patients are first tested to establish their definitive hormone levels. Based on the results of the test and whether or not the patient is truly HGH deficient, the Miami HGH doctor will then administer a shot or prescription for the necessary amount of growth hormones in order to restore balance in the patient's body. This process has helped treat many Miami locals and reversed their symptoms of an HGH deficiency.
Hormone Therapy Specialist Near Me (305) 682-1818
Symptoms of a Growth Hormone Deficiency
The human growth hormone plays an extremely vital role in the body. From the way that we sleep to how our skin looks, the growth hormone is a major factor in how we do what we do and how we are who we are as individuals. It is the largest component of both our physical and mental development as children and it continues to shape and reshape our bodies as adults. If you are experiencing an HGH deficiency, you will feel any number of these symptoms –
Sagging skin

Slower recovery from illness or injury

Slowed metabolism that can quickly lead to weight gain

Loss of muscle and bone density

Sexual performance issues for men

Low sex drive

General weakness and fatigue

Compromised brain functionality.
Click to contact our specialist today
Benefits of Human Growth Hormone Therapy
The growth hormone provides so many beneficial functions in our bodies. Any human growth hormone deficiency will have a major impact on the sufferer's body and impact their entire way of life. With the help of growth hormone treatments, Miami hormone specialists are now able to fight back against the aging effects of HGH deficiencies and give patients these life-changing benefits:
Improved stamina and energy

Better sleep (brain function, better mood, less obesity)

Improved libido

Stronger immune system and cardiovascular system

Lowered blood pressure and cholesterol levels

Decreased insulin resistance

Improved bone density

Better skin health

Slows hair loss

Increased lean muscle production
Complete a Free Consultation form now
HGH Treatment Benefits for Women
HGH is an equally important hormone for both men and women. It helps us maintain a proper sleep cycle, develop lean muscles, have a healthy heart and slows down hair loss. Whether you have a developmental condition or you are looking for the anti-aging benefits of HGH therapy, our Miami HGH specialists can help. Women with low levels of HGH can use HGH therapy to stay sharp in the boardroom, active in the gym and energized at home. So whether you are a businesswoman, mom or both, your growth hormones are helping you be the best version of yourself for whatever life throws your way.
HGH Therapy Benefits for Men
You don't have to be a professional athlete to experience the rejuvenating benefits of growth hormone therapy. Beyond the numerous benefits of HGH for your physical shape, heart health and mental acuity, men with erectile dysfunction can experience relief from their symptoms through HGH treatments.
The Different HGH Treatments in Miami
At HealthGAINS, we pioneered the HGH treatments in Miami and the U.S. We worked hard to provide anti-aging treatment to hormone deficiencies to give Miami locals a better way to grow old. With our safe HGH treatments, patients in their 90s are able to experience the rejuvenating effects of proper HGH levels in their bodies and not only age gracefully but take back their lives and create new memories rather than spend their last days reflecting on old ones.
Ipamorelin Injections –

The newest HGH treatment, Ipamorelin provides the safest option for HGH treatments by stimulating the body's own growth hormone production process. As a growth hormone-releasing peptide (GHRP), Ipamorelin provides a natural solution to treating the symptoms of an HGH deficiency.
Sermorelin Injections –

If you are experiencing muscle weakness, low stamina, sexual health issues, a lack of focus or sleep issues, you may have an HGH deficiency. Sermorelin, like Ipamorelin, can help promote the natural growth of HGH in the body to safely and effectively treat growth hormone deficiencies.
HGH Therapy –

Our growth hormone plays a vital role in the way we develop as children and function as adults. It controls our body's metabolism, energy levels, muscle strength, libido, provides an immune boost and assists with our entire cardiovascular system. HGH therapy allows patients the ability to live their lives to the fullest with the energy, enthusiasm, and ability to stay sharp mentally and active physically well into their golden years.
See how Human Growth Hormone Therapy changes this patient's life: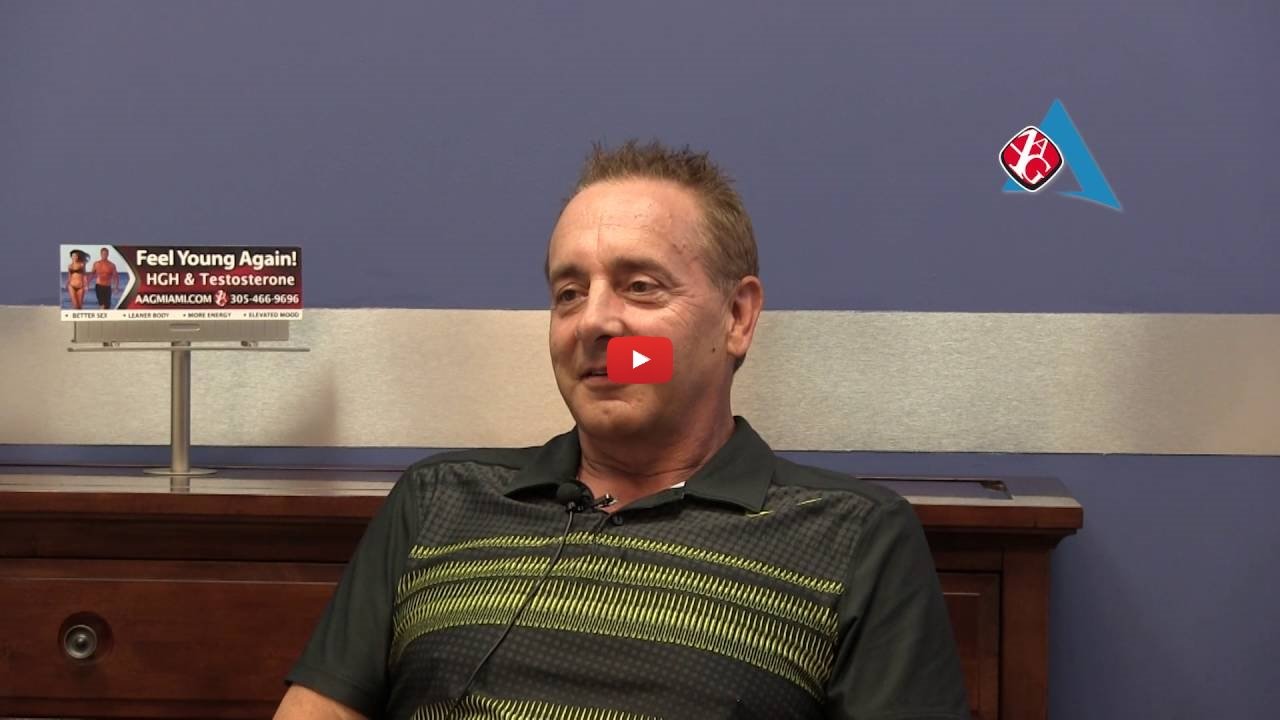 Side Effects of HGH Injections
While side effects from HGH therapy can occur, many treatments have been performed at our clinics and hundreds of other HGH clinics across the world with very few instances of adverse effects. The risks associated with HGH therapy increase drastically when patients opt for less legitimate forms of HGH treatments, such as ones that are advertised on T.V. or online. HGH treatments are taken very seriously and thus, only certified HGH doctors are able to legally prescribe HGH treatments to help promote safety. We have treated patients with HGH deficiencies in Miami for over a decade with little to no evidence of side effects. Through proper testing and understanding of the patient's age, gender, and overall health, we administer only the necessary amounts of HGH to our patients to give them the results they need without any of the risks. The dangerous stigma that is attached to HGH treatments, is centered around the illegal use of HGH primarily by athletes looking to gain unnatural growth for a competitive edge. Many of these patients do not have HGH imbalances or developmental issues and thus are injecting additional growth hormones into their bodies, causing abnormalities in their bodies' functions that can lead to serious side effects.
HGH Treatment Consultation in Miami
Doctors that prescribe HGH in Miami, will first want to schedule a consultation to have a complete idea of your overall health and your particular case of HGH deficiency to establish the best solution moving forward. The growth hormone doctor will go over your medical history, symptoms and administer a blood test to establish your exact growth hormone levels. Once HGH doctors have seen the results of your blood test, they will be able to prescribe the exact amount of HGH therapy to remediate your HGH deficiency.
Testimonials from Miami Growth Hormone Clinics Patients
"My HGH deficiency was completely draining my energy. Even getting up my stairs to go to bed at night was becoming a challenge, let alone getting through an entire workday. HGH therapy saved my job and really kept my life together. I feel like I'm in my 20s again and my wife loves that it helped with my moderate ED." — Gavin S., 58
"As a diving photographer, I have a lot of long days out in the ocean. Normally it's a very routine thing, but when I started losing energy and awareness, it quickly became a risk just to do my job and what I love most. HealthGAINS was able to put together a treatment plan that was a little more aggressive to help me make my next shoot, but I didn't feel like it was a risk at all because they are so professional and place patient safety above all else." — Juan R., 47
"I coach cheer for a competitive girls team here in Miami. My girls really look up to me and it means the world to me to be such an influence in their lives. However, lately I haven't been able to be as involved in the process because my body is not able to keep up with the practices. I my doctor told me that it might be my hormones and recommended HealthGAINS. I setup a consultation and from moment one I knew I was in good hands. We tested my hormone levels and found out it was my HGH levels that were low causing my body to be weaker and have less energy than usual. After a few treatments, I was able to be more involved in practices than ever and I was able to lead my girls to nationals!" — Becky W., 50
Watch this testimonial to see how Hormone Therapy for Men helped this patient: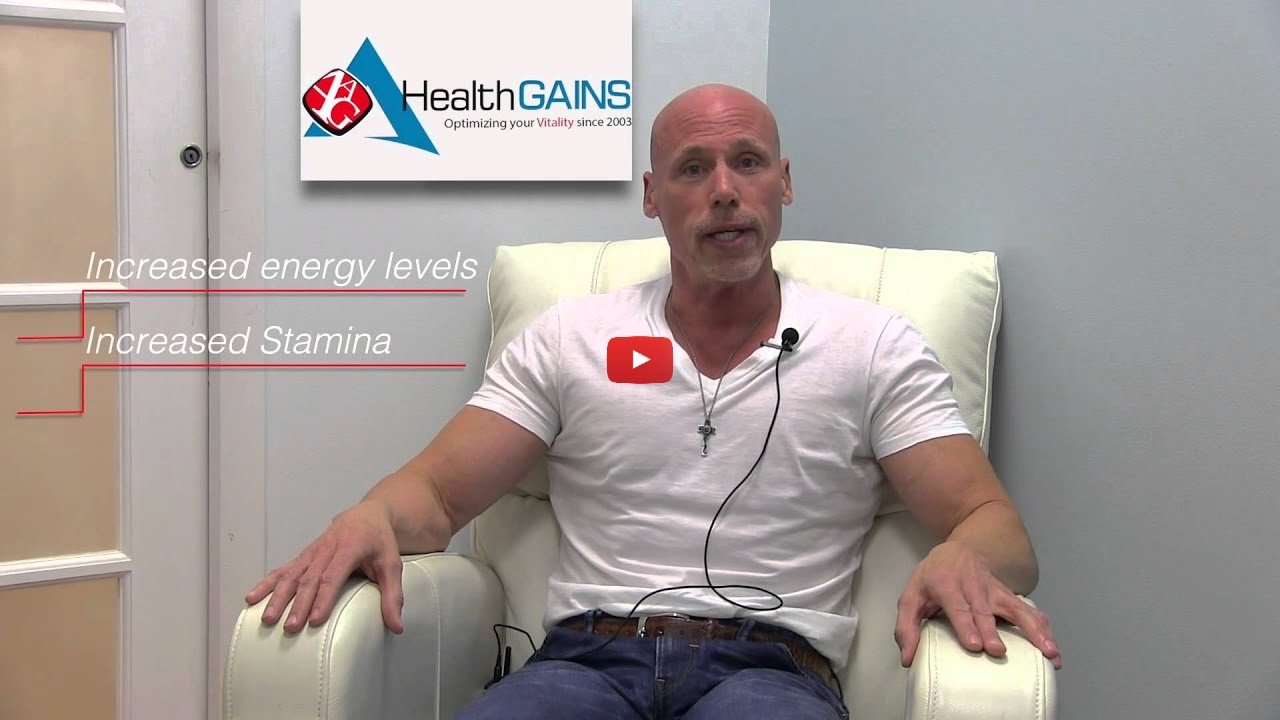 Find the Best Miami HGH Therapy Doctors
With HealthGAINS headquartered in Miami, quality HGH treatments are practically just around every corner. We have helped pioneer the hormone therapy movement in the U.S. over the past decade. Led by a world-renowned medical team, our clinics offer more than just convenience, but rather the peace of mind that all of our HGH treatments are performed by certified HGH specialists that use proprietary methods and practices to ensure the highest level of patient safety and satisfaction. Don't put your HGH deficiency in the hands of any doctors who prescribe HGH in Miami, but rather the trusted hands of our Miami HGH clinics.
Miami Human Growth Hormone Treatment FAQs
How old are your typical growth hormone therapy patients?
Our typical patient that comes in with an HGH deficiency is in their 40s or 50s. Unless there is a developmental disorder, patients under 30 rarely require an HGH injection. However, HGH therapy, when prescribed from a certified HGH specialist, is very safe and patients can receive HGH therapy well into their 70s, 80s and even 90s.
What is the price of HGH therapy in Miami?
Growth hormone cost can vary depending on your age, gender and HGH levels. A man in his 50s should expect to pay $1,500 while a woman in her 50s would expect to pay $1,200. Overall, patients can pay anywhere from $600 to $2,500 for Miami HGH therapy.
Can HGH treatments help with weight loss?
Yes! One of the major functions of the human growth hormone is to control the body's metabolism. When you are suffering from declining levels of growth hormones, it can lead to weight gain, especially in the stomach.
When should I start seeing the results of my HGH therapy?
HGH therapy is a fairly fast-acting form of hormone therapy. Patients should expect to see results in no later than two weeks after their initial treatment, though the full results of your growth hormone treatment may take longer to manifest.
Do I need a prescription for HGH therapy?
Absolutely! HGH is not a hormone that you can purchase over the counter or online. You must be prescribed HGH therapy by a certified HGH doctor. Any false advertising you see online or on T.V. is illegal and more importantly unsafe. Unregulated or improper doses of HGH can lead to serious side-effects. If you are an athlete looking to "get big" by using illegitimate forms of HGH, you are putting yourself at serious risk for body altering and organ damaging side effects.
Join the Hundreds of HGH Deficient Patients That Our Miami HGH Clinics Have Treated
Don't let your declining levels of growth hormones keep your body from feeling complete and healthy. Reclaim your strength, vitality and mental edge with safe and effective HGH therapy. Contact HealthGAINS at (866) 540-3555 to start your treatment process today.
Miami Hormone Clinic Locations
Prescribing HGH Treatments in Miami for Locals with Declining Levels of Growth Hormones in These Florida Locations: Fort Lauderdale, Aventura, Pembroke Pines, North Miami Beach, Sunny Isle, North Miami, Bal Harbour, Coconut Grove, South Beach, Miami Beach, Deerfield Beach, Pompano Beach, Boca Raton and West Palm Beach
951 Sw Le Jeune Rd-Ste 302 Miami, FL 33134
400 Arthur Godfrey Road 510 Miami, FL 33140
7000 Sw 62 Avenue Suite 570 Miami, FL 33143
2720 Sw 97 Ave Stes 204 205 Miami, FL 33165
100 Nw 170th St Ste 205 North Miami Beach, FL 33169
9950 Sw 107 Ave Ste 203 Miami, FL 33176
14713 Sw 42nd St Ste 101 Miami, FL 33185
Florida Hormone Clinic Locations
Call or text (305) 682-1818 or complete a Free Consultation Form