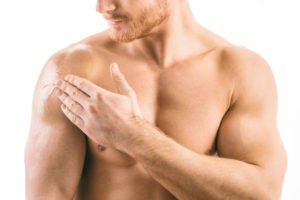 Doctors prescribe testosterone replacement therapy (TRT) to treat testosterone deficiency (TD). To qualify for TRT, a person needs to get diagnosed with TD. The doctor can then prescribe injectable testosterone therapy.
The Functions That Testosterone Performs
According to Harvard Health Publishing, the hormone testosterone makes it possible for males to go through puberty and develop typical masculine features, like a deeper voice and facial and pubic hair. Testosterone also develops the male organs and supports the production of sperm. The male body needs sufficient levels of testosterone to help bones and muscles grow and become strong.
The brain tells the pituitary when the testes need to make more testosterone. A malfunction at any of these points can interfere with testosterone production. Because testosterone affects so many processes and tissues throughout the body, testosterone deficiency can affect a person's health and quality of life.
For a free consultation, call (305) 682-1818
Symptoms of Testosterone Deficiency
Harvard Health Publishing says that a man with testosterone deficiency can experience some or all of these symptoms:
Muscles can get smaller.
Bones can become brittle and prone to fracture because of decreased bone density.
Body hair can thin and become sparse.
Sexuality can suffer as the testicles become small, and a man develops erectile dysfunction, lower sperm count, infertility, and loss of interest in sexual activity.
The man's breasts can get larger.
Mood changes can happen, like depression, the inability to maintain concentration, and irritability.
A man with testosterone deficiency can even experience hot flashes. Thankfully, testosterone replacement therapy can reverse some of these symptoms. A man can rebuild bone density and muscle mass with appropriate treatment.
What Can Cause Testosterone Deficiency
Many people assume that low testosterone levels happen to everyone as they age. It is true that testosterone production reduces gradually from the typical high point in a man's late teens and early twenties. Quite a few medical issues can cause a pronounced drop in testosterone levels in addition to the passage of time. For example, these factors can lead to testosterone deficiency:
Dysfunction of the pituitary or hypothalamus glands from an autoimmune disease, tumors, infection, or HIV/AIDS.
Damage to the testes from tumors, cancer treatment like radiation or chemotherapy, infection, or injury
Some medications can interfere with the body's ability to communicate its need to produce testosterone. Tranquilizers, steroids, morphine, and other opioids can cause low testosterone production.
Click to contact our specialist today
How to Treat Testosterone Deficiency
The only safe and effective treatment for testosterone deficiency is by injectable testosterone replacement. The only legal way to obtain these injections is by a prescription.
While it could be tempting to look for an inexpensive source of injectable testosterone without a prescription, buying a controlled substance that way is illegal. Also, TRT bought through the "underground" market could be fake, counterfeit, expired, stolen, or diluted with dangerous chemicals.
Complete a Free Consultation form now
What Can Happen When Testosterone Deficiency Goes Untreated
Testosterone deficiency does not get better on its own. The levels will continue to decrease. Harvard Health Publishing states that a man with markedly deficient levels of testosterone can develop:
Cognitive impairment
Frailty to the point of becoming disabled
Depression
Sexual dysfunction
Chronic exhaustion and weakness
Lack of energy
At this point, a man's quality of life suffers dramatically. Even in these cases, TRT can improve the symptoms.
Benefits of Testosterone Replacement Therapy
Mayo Clinic published a report on the results of an international conference of experts who explored the global health issues of testosterone deficiency and treatment. These experts found that multiple research protocols on thousands of patients say TRT effectively provides these benefits for men with testosterone deficiency:
Reduced weight and waist circumference
Lower body mass index (BMI)
Improved results of lifestyle changes like diet and exercise
Significant reduction of fat and increase of muscle mass
Substantial improvement of sexual desire (libido) and erectile function
The experts discussed and debated multiple controversies and areas of misinformation about testosterone deficiency and TRT. Doctors have been using testosterone replacement therapy and a standard treatment for testosterone deficiency for over 70 years. A multitude of scientific studies document the benefits and safety of TRT.
How to Get an Evaluation for Testosterone Deficiency
To find out if he qualifies for TRT, a person can get an assessment of their testosterone status by a doctor who treats testosterone deficiency. HealthGAINS does far more than merely look at the results of a simple blood test.
A HealthGAINS doctor will perform a thorough analysis of a man's condition, including a detailed medical history, examination, and lab tests. They will talk with the patient about their symptoms and how they affect the patient's life. After all of these steps, if the doctor diagnoses a patient with testosterone deficiency, they will design a customized treatment plan tailored to the person's individual needs, goals, and overall health.
Our physicians have many years of experience helping men with testosterone deficiency regain their health and quality of life. An interested person can call us today at (305) 682-1818 to get started. A trained medical advisor can provide an initial consultation at no charge.
Call or text (305) 682-1818 or complete a Free Consultation Form