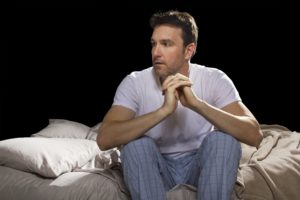 Many men experience night sweats due to a hormonal shift in the body. Hormonal imbalances happen in both men and women and can cause physical discomfort if left untreated. To treat unwanted night sweating in men, hormone therapy is often recommended.
What Are Night Sweats?
Night sweats are a recurring problem for both men and women. These episodes can happen several times a week and can be quite uncomfortable. Unlike day sweating, night sweating is rarely a form of overexertion.
Night sweats usually refer to heavy perspiration that occurs while an individual is asleep. This type of sweating can be so extreme that clothing or bedding may become damp. Too many blankets or having a high fever can cause sweating at night, but this is rarely considered "night sweats".
Night sweats can be a sign of an underlying medical condition and are frequently associated with a hormonal imbalance. Frequent night sweats may wake you or your partner up at night and can disturb a regular sleeping pattern. Sweating at night that is not caused by caffeine or environmental factors should be further examined.
For a free consultation, call (305) 682-1818
What Causes Night Sweats?
Night sweats are often caused by a hormonal imbalance. They can happen to both men and women and may require medical treatment. A shift in testosterone can cause a variety of difficulties, especially for men. Night sweats are one symptom that can be due to a particularly low level of testosterone in the endocrine system.
Night sweats can have several causes. Situational stress, certain fabrics, and alcohol are all examples of environmental issues that may impact the quality of sleep. In addition to external factors, there are several biological health conditions that can also play a role like a decline in a person's level of testosterone.
Testosterone levels will naturally decline with age for all, but you should be aware of the common symptoms of low testosterone levels, which include:
Low sex drive
Hair loss
Lethargy
Decreased muscle mass
Increased body fag
Depression
Trouble concentrating
Night sweats
When the body does not produce enough testosterone, men can experience insomnia and other sleeping difficulties due to night sweats. Since the production of sweat is higher than average, many men find it difficult to sleep for a full 8-hour stretch.
When To Be Concerned About Night Sweats
Night sweats are different than average sweating at night. Most men and women sweat during sleep. They may find themselves slightly warmer in the morning or grateful for a morning shower before work. While sweating at night can be common for most people, there are different degrees of nighttime perspiration.
Nightmares frequently cause sweating at night. If an individual suddenly wakes up in the middle of the night to find themselves drenched in sweat, they probably had a bad dream. Sweating is a natural reaction to anxiety and stress. This type of sweating is not caused for concern if it happens on rare occasions. If an individual finds themselves frequently anxious and sweating in the middle of the night, there may be a psychological reason that can be addressed with a mental health professional.
Excessive sweating on a regular basis may be a cause for concern. Excessive sweating may mean the body is fighting off infection, such as the flu. Excessive sweating that happens on a nightly basis, however, is not likely to be the common cold or flu. Nightly sweating that causes soaked sheets or night clothing may be related to low levels of testosterone.
Night sweats also often cause interruptions during sleep. The recommended amount of sleep per night is a full 8 hours with no breaks in between. If sleep is frequently interrupted from night sweats, men can have trouble resuming a healthy sleep pattern. Treating night sweats can help with sustained concentration and energy levels.
Click to contact our specialist today
Night Sweats In Men
Night sweats that specifically occur in men are frequently caused by low levels of testosterone. This is a common condition that can be easily tested using one of our comprehensive blood tests at one of our offices.
This will allow us to diagnose the actual issues you are facing and help determine if low levels of testosterone are affecting your quality of life.
Because of its role as the main sex hormone in men, this hormone can affect multiple areas of the mind and body. Low testosterone (sometimes called Low "T") can happen naturally with the aging process, although a dip or decline can sometimes also be attributed to other factors. Typically, after the age of 40, most men will see a drop in testosterone. Even men who are not over the age of 40 can have low testosterone levels depending on their fitness and health. The good news is that low testosterone levels can be checked and treated at any age.
Complete a Free Consultation form now
What Is Hormone Therapy?
If you are experiencing depression, fatigue, low libido, and night sweats, a comprehensive diagnosis and treatment plan is typically recommended.
As part of our process, the HealthGAINS medical staff will perform several key comprehensive tests, including a full blood screening. A blood test will be able to show the exact levels of testosterone in the body.
The results of testosterone may vary depending on age. A healthy male in his twenties compared to a healthy male in his sixties may have a completely different range of testosterone that is within the healthy range. Typically, the normal range for testosterone in men is 270-2070 ng/dL with an average of 679 ng/dL. Most men experience the peak of their testosterone levels when they are around age twenty. High testosterone levels in older men are usually rare.
Additional information may be required to complete this process including the consideration of any family history of hormonal imbalances that may be genetic. Knowledge about a patient's medication and body mass index may additionally help complete this picture for the medical team.
Hormone Therapy Benefits
Low testosterone is often the culprit for men who experience night sweats. While the cause may be easily identifiable, testosterone also affects many other areas in the body. Low testosterone can create a sense of fatigue, depression, decreased bone mass, trouble concentrating, erectile dysfunction and hair loss. Measuring testosterone levels is important for the overall function of a man's body.
If testosterone levels are low, treatment can begin with a specialized medical professional. There are several different options for testosterone treatment. Some include intramuscular injections, applying gel, and topical solutions. It can sometimes take 3 to 6 weeks before results begin to be noticed by a patient, but working with a certified Wellness Advisor during your treatment can help pinpoint milestones and tracking for the changes your body will undergo.
The benefits of raising low testosterone levels can impact multiple aspects of life. With a healthy amount of testosterone, men can not only sleep better but experience a healthy libido. They may find that their hair grows thicker. Men often experience more energy and less lethargy. Depression can also be relieved with the proper balance of hormones. Testosterone is a natural hormone found in the body and treatment is considered safe for most men. Those who experience heart or cardiac issues should convey this to their physician before treatment. Some men may be at an increased risk for prostate issues as they age. A medical professional will likely ask prospective patients to fill out a form detailing any previous medical health issues they've experienced.
Night sweats in men are a fairly common problem with easy and accessible treatment. Testing hormone levels for decreased testosterone can help overall health for both mental and physical issues. For more information, please call us at 305-681-1818.
References:
Call or text (305) 682-1818 or complete a Free Consultation Form