What is it? Why does it matter? What are the signs & symptoms of low levels?
Testosterone for men has been in the news as a remedy for treating the symptoms associated with low testosterone levels. The medical community is now prescribing testosterone supplements for men experiencing these symptoms, but it isn't recommended for men experiencing symptoms caused by the natural aging process.
At any rate, testosterone for men is something that your doctor may offer you if the symptoms that you are currently experiencing are particularly bothersome to you and aren't caused by natural aging.
For a free consultation, call (305) 682-1818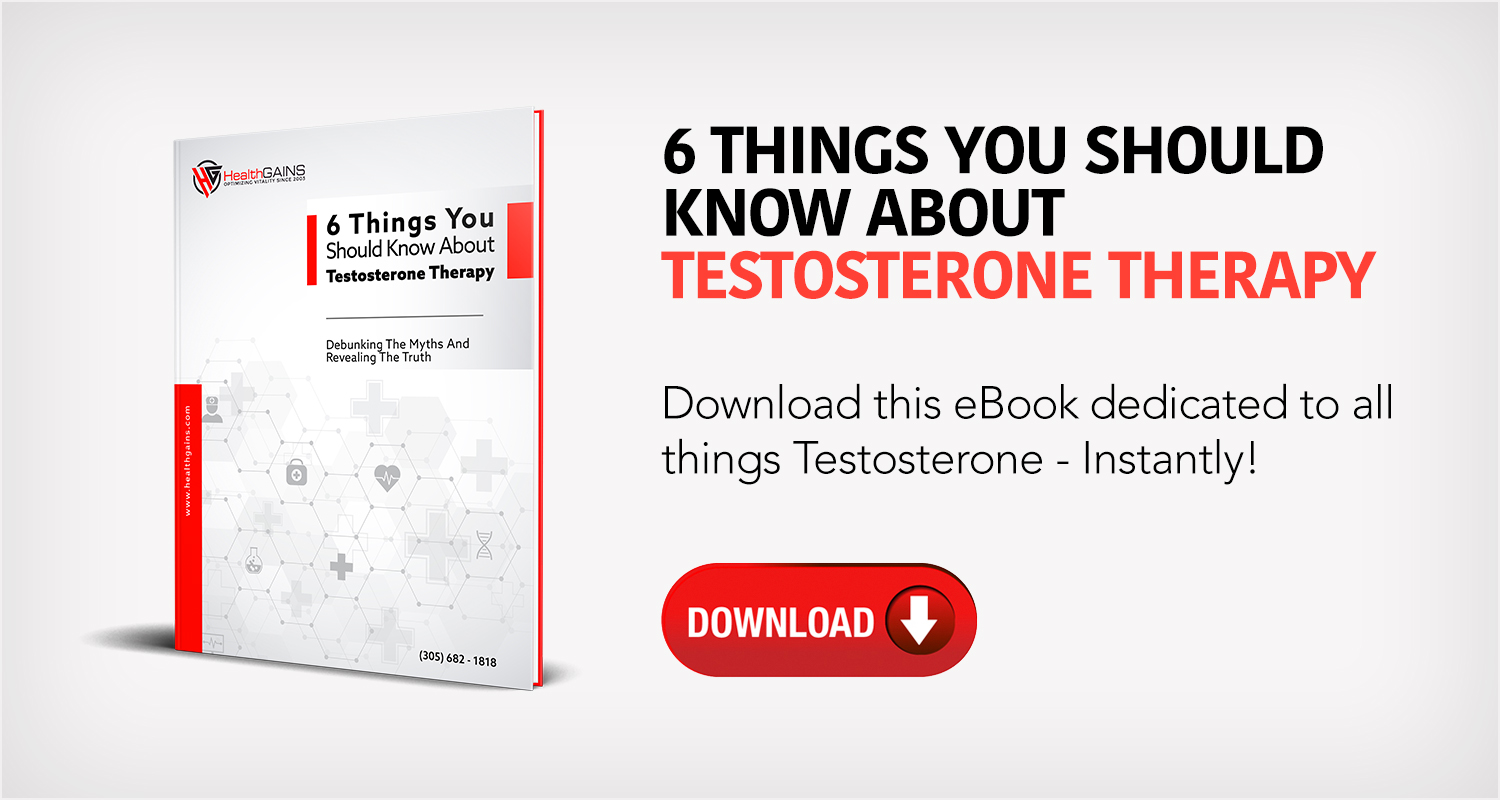 What Is It?
Testosterone is the male sex hormone, and it is classified as an "androgen." Androgens are a group of hormones that encourage the male reproductive system to develop and grow.
Testosterone is the most prominent androgen, but it is supported by the many other androgens that the body produces in smaller quantities. Several of these androgens can be converted into testosterone, including DHEA and DHEA sulfate.
Why Does It Matter?
Testosterone is very important to a man from the beginning until the end of his life. When it is secreted while the baby is in the womb, it differentiates the male sex organs. During puberty, it plays a role in producing sperm and makes it possible for a boy to begin to develop secondary sex characteristics. These include increased muscle mass, a deep voice, and a beard.
When testosterone levels are low, the hypothalamus secretes the luteinizing hormone-releasing hormone or LH-RH. This makes the pituitary gland release luteinizing hormone or LH that stimulates the testes. This causes the testes to produce more testosterone so that it can be secreted into the bloodstream. After the testosterone levels reach their peak again, the hypothalamus tells the pituitary gland to stop secreting LH.
When this is not happening as often as it did when you were younger, it results in low testosterone levels.
Click to contact our specialist today
What Are Your Levels?
The normal range for testosterone is approximately 270 to 1,070 ng/dL. When your level is above or below these numbers, your doctor may diagnose you with a hormone imbalance.
Complete a Free Consultation form now
What Are the Signs and Symptoms of Abnormal Levels?
Low levels of testosterone result in the following symptoms:
Osteoporosis.

An increase in weight.

A decrease in strength.

A lower sex drive.

A lack of energy.

Fewer erections.

Joint and bone pain.

Cognitive deficiencies.
Higher levels of testosterone result in several signs and symptoms, including the following:
Weight gain.

Mood swings.

Low sperm count.

Prostate enlargement.

Acne.

Infertility.

Insomnia.

Hypertension.

Headaches.

Excess body hair.

Aggressiveness.

Edema of the legs and feet.

High sex drive.
What Is Hypogonadism?
Hypogonadism is a condition that prevents the body from producing testosterone in sufficient amounts in the manner described above. Primary hypogonadism is the result when there is a problem within the testicles. Secondary hypogonadism is when the hypothalamus or the pituitary gland stops sending as many signals to the testicles to produce testosterone when the levels are low. In this instance, the testicles may be normal.
What's the Diagnosis?
A man will be diagnosed with hypogonadism after a blood test shows that his testosterone levels fall below 300 ng/dL.
What Is the Treatment for It?
The preferred method of treatment for hypogonadism is TRT or testosterone replacement therapy. This may entail daily injections of testosterone.
If hypogonadism is not treated, a man could experience other complications. For example, this condition may cause a man to develop osteoporosis and erectile dysfunction. His genitalia may begin to appear to be abnormal, and he may develop excess tissue in his breasts. He may be unable to conceive a child with his partner, and he may begin to think poorly of himself.
Testosterone for Men Over 40
The U.S. Food and Drug Administration approved some forms of testosterone therapy for the treatment of hypogonadism, but it has not been approved for men diagnosed with hypogonadism due to aging.
Is It Safe?
If you cannot get a prescription for testosterone supplements, you might be tempted to go to an illegal pharmacy. These institutions are not regulated by the federal government, so the testosterone that you purchase from these places may have dangerous ingredients in them that the pharmacy isn't listing on the bottle. This is dangerous because you may be allergic to these ingredients, and taking them could lead to life-threatening consequences.
Keep in mind that a physician must prescribe testosterone supplements for you. You will need to discuss the risks of testosterone supplements with your doctor so that you can decide together whether or not this therapy is a wise choice for you.
Are There Any Testosterone Therapy Side Effects?
Testosterone therapy does have side effects. In the beginning, some men notice that their ankles are swelling, their breasts are swollen or tender, they are experiencing difficulties while they are sleeping and that they have acne. They also need to be monitored for a high red blood cell count because an increased red blood cell count can increase the risk of developing blood clots.
If a man takes testosterone supplements for a longer period of time, other side effects may present themselves. For example, they have a higher risk of dying of heart disease. They are also at risk of having heart attacks or strokes.
In addition to cardiac issues, some physicians are also concerned about the risk of prostate cancer in men in this therapy. Prostate cancer is a very common disease, so doctors may resist prescribing testosterone for men if they are at risk of developing prostate cancer.
Can You Stop Taking Testosterone?
Some men are concerned about testosterone therapy. They might ask, "Once you start testosterone therapy can you stop?"
The fact is that TRT is a remedy that you must be on for the rest of your life if you want to continue to experience the benefits that you get from it. If you begin taking testosterone supplements and then stop taking them, your testosterone levels will fall again. Rather than begin this therapy, some men search for other ways to deal with their low testosterone symptoms.
What Are the Benefits of Testosterone Therapy?
The risks listed above are a reality, but physicians believe that the benefits of testosterone therapy outweigh the risks in most cases. Men diagnosed with hypogonadism enjoy the following benefits:
An improvement in red blood cell production.

An increase in bone density.

An increase in muscle mass.

An improvement in cognition.

An improvement in mood.

An improved sex drive.
How Long Will It Take Until I See the Results?
Men begin to see an improvement in bone density in about six months. They notice that they are gaining lean muscle mass and losing body fat after 12 weeks have passed. Depressive symptoms begin to disappear between three and six weeks, and improvements in the overall quality of life begin at around three or four weeks. Men notice that their sex drive is returning after about three weeks.
What Is Bioidentical Testosterone for Men?
Bioidentical testosterone is one form of testosterone that can treat hypogonadism. People misunderstand the word "bioidentical" because they believe that it means that the testosterone was not created in a lab, but bioidentical testosterone is created in a lab just like the synthetic version.
Scientists derive bioidentical testosterone from yams or soy. After they chemically engineer these substances, they are exactly like the testosterone molecule that the human body creates. Therefore, the bioidentical version acts upon the body in exactly the same manner as testosterone made by the body. If this were not the case, the substance created in the lab would have the ability to act very differently than testosterone made in the body.
Bioidentical testosterone can also be created by altering testosterone molecules. Scientists do this by adding something to the base molecule that changes the formula. This causes testosterone to act differently from the original testosterone. A pharmaceutical company may want to alter testosterone to cause it to be more bioavailable when it is made into a pill, patch, or injection.
What Does Testosterone Cost?
This question has several different answers because each type of testosterone replacement treatment has a different price. If you have a health insurance plan, it may cover the cost if your doctor prescribes testosterone replacement therapy to treat a specific medical condition. The cost of testosterone treatments also varies based on your location and how the medication will be administered. If there is a generic version, this can lower the price as well.
In general, the testosterone therapy cost will be between $20 and $1,000 per month.
How Can I Get Help?
If you suspect that your symptoms are related to lower levels of testosterone, contact us today at 305-682-1818. We will schedule an appointment for you to come into our office for a physical examination. If you aren't ready to make an appointment, you may call us at the same number to request additional information. We look forward to hearing from you.
Call or text (305) 682-1818 or complete a Free Consultation Form