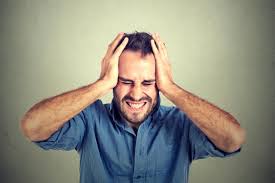 Can Low Testosterone Cause Irritable Male Syndrome?
You know your low testosterone levels can cause you to lose interest in sex, feel tired all the time, develop memory problems, and lose your hair. Now, scientists have discovered they can also affect your emotional health.
For a free consultation, call (305) 682-1818
Hormonal Imbalance Can Affect Your Mood
Medical researchers use the term "irritable male syndrome" to refer to the mood changes you experience, including anger, anxiety, and low levels of depression. Here's why testosterone replacement therapy is the best solution to improve your mood and your overall health.
The effect of low testosterone or low T on men's moods has drawn the attention of health professionals and mental health experts. There is increasing evidence that men experience many mood shifts linked to a drop in their hormone levels.
What Is Irritable Male Syndrome?
Have you noticed you're more impatient and quick to anger? If you feel you're turning into a stereotypical grumpy old man, it's probably not your imagination. Low levels of testosterone are related to depressive disorders.
The evidence shows that as men age and their testosterone drops, they:
Experience intense mood shifts.

Become unfriendly and unsociable.

Quickly lose their patience with others.

React with excessive anger to mild irritations.

Frequently feel confused and unable to focus.
The irritable male syndrome is a vicious cycle. Your lack of focus and your impatience make it difficult to get along with other people. When they avoid you, it increases your sense of loneliness and your anger.
Click to contact our specialist today
It's Been a Long, Slow Drop in Hormone Levels
Part of the problem is that men's hormone levels drop slowly once they reach the age of 35.
Unlike women, whose bodies suddenly stop producing hormones when they reach menopause, men experience a gradual change in hormone levels. It happens slowly, and you may not notice what's happening until your hormone levels have gone wildly out of balance.
Other people may have told you they dislike this angry person you've become. You probably don't enjoy it any more than they do. Fortunately, you don't have to live with this angry, irritable frame of mind.
Complete a Free Consultation form now
How Long Does Irritable Male Syndrome Last?
Without intervention, Irritable Male Syndrome will last until you reverse the hormone loss.
The most effective, clinically-proven method to reverse a drop in hormones is to supplement your normally low levels with hormone replacement therapy or HRT. At HealthGAINS, we only use bioidentical hormones, which are widely regarded as the most innovative, medically proven way to restore your hormonal balance.
Is HRT the Only Method That Works?
Many men wonder if there are natural ways to restore hormone levels. Although lifestyle changes can increase your overall health and make HRT work better, they will not completely turn off or reverse the negative effects your hormone imbalance has had on your body. Only hormone therapy can cure this condition.
Can You Boost Testosterone Without Hormone Replacement?
Are you looking for ways to boost your testosterone without HRT? There are several natural ways to boost your naturally occurring testosterone levels, including:
Supplementing with zinc and vitamin D:

These can help, and they are the primary ingredients in many oral hormonal supplements.

Get more sleep:

A well-rested body will be more efficient at regulating its hormones and staying in balance.

Exercise regularly:

Building muscle will help increase testosterone levels.
Although these methods can help boost your testosterone levels, often they cannot address the underlying issues causing the imbalance. Only hormone therapy for irritable male syndrome can do that.
How Is Irritable Male Syndrome Treated?
The best way to treat this condition is to supplement with hormone replacement therapy or HRT.
Some men worry that taking testosterone for men will increase their aggression and anger. In reality, men using medically supervised hormone therapy aren't typically in danger of these sometimes dangerous side effects of overuse.
Excess supplementation is a problem for athletes who use unnecessarily high amounts and administer the hormones improperly without proper guidance or supervision. As one study concluded,
"Testosterone supplementation only enhances the positive aspects of aggression such as vigor and energy. Current findings suggest that testosterone supplementation in hypogonadal men of all ages will enhance many aspects of mood and cognition."
Hormone Therapy for Irritable Male Syndrome
There is substantial evidence that hormone replacement therapy can help treat and alleviate irritable male syndrome. One study of men who used hormone supplementation over a six-month period found they experienced:
Significant drops in their levels of anger and irritability.

Increased energy.

Major improvements in sociability and friendliness.

Improved patience.

Better memory.

Greatly reduced anxiety.
How much would your life improve if you could have less irritability, more friendliness, and better memory? For millions of men and women around the world, the answer has been the use of safe, clinically proven bioidentical hormone therapies. 
We Use Safe, Clinically Proven Treatments To Reverse Hormonal Imbalance
If your low testosterone levels have caused you to feel irritated, angry, and impatient, we can help you improve your mood and your life. Our treatment uses 100% natural bioidentical hormones to restore your hormonal balance quickly.
HRT is:
Safe and 100% natural.

Clinically proven.

A quick, painless procedure.
If you're ready to restore your physical, sexual, and mental health to their former youthful levels, call us today at 305-682-1818 to get started.
References:
Call or text (305) 682-1818 or complete a Free Consultation Form