Do you want to feel your vigorous best at work and play? Your testosterone levels affect your strength and stamina. Here are some benefits you'll enjoy with testosterone replacement therapy.
Build Strong Muscle
One of the biggest benefits of testosterone is the way it builds muscle. The effects are especially strong if you combine a low T treatment with exercise and a healthy diet. Are you trying to regain the hard, muscular body you had when you were young? Testosterone replacement can help you achieve it.
For a free consultation, call (305) 682-1818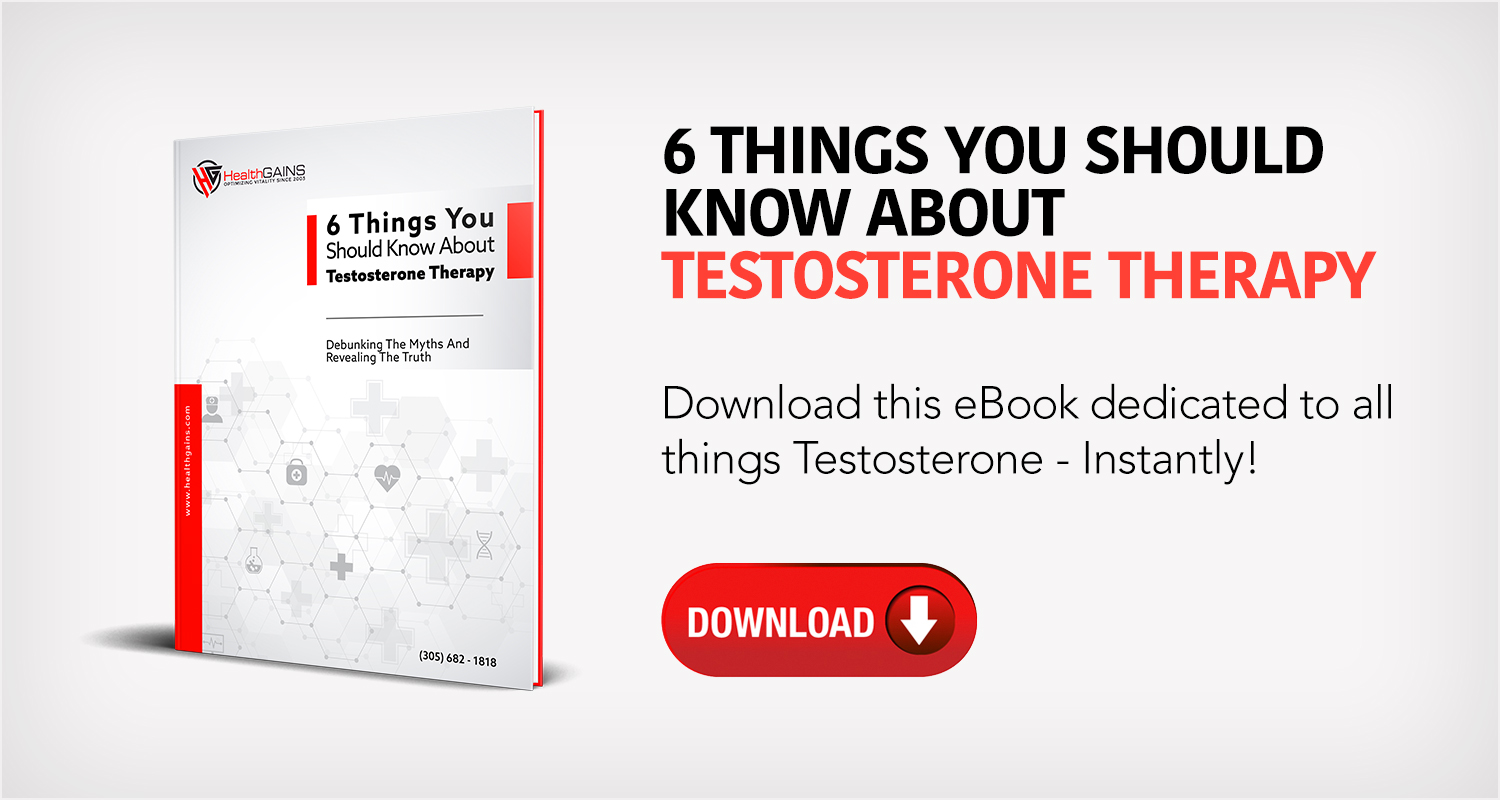 Strengthen Your Bones
As we age, we lose bone mineral density. Strong bones protect your organs and add power to your workouts. Fixing your low T can help rebuild your bone density.
Improve Sexual Performance
Fixing low T levels will restore your libido and improve your sexual performance. Age related low testosterone can damage your potency. Testosterone therapy will restore it.
Click to contact our specialist today
Enhance Mental Focus
A 2008 study by Harvard University found a strong link between testosterone and mental focus. Fixing your low T can improve your mental focus and memory.
As a lead researcher told the Harvard Health newsletter, "The data are far from conclusive, but studies have found some connections. For instance, higher testosterone levels in midlife have been linked to better preservation of tissue in some parts of the brain. In older men, higher testosterone levels have been associated with better performance on cognitive tests."
Complete a Free Consultation form now
Testosterone Therapy Will Increase Your Stamina
There are many good reasons to fix your low T levels. Imagine how your quality of life would improve if you could build muscle, have more stamina, improve your mental focus and enhance your sex life. All that is possible with safe, natural testosterone replacement therapy (TRT). If you're interested in this therapy, call  (305) 682-1818 to schedule a consultation.
Are There Natural Ways to Increase Your Testosterone and Stamina Levels?
Endurance and stamina are key to feeling your best. Your stamina affects your ability to exercise, work and achieve what you want every day.
When your stamina is low, you tire easily. You aren't able to sustain an exercise regimen at the intensity you need to build muscle. Feeling tired all the time makes it hard to concentrate on your work. It's difficult to focus on your family and personal relationships.
Low stamina can take you out of the game. What are the best ways to get you back in?
Foods That Increase Your Daily Energy Levels
Chia seeds: Chia seeds are high in the good carbohydrates your body needs to exercise, work and stay engaged in your life. Chia seeds act immediately when you eat them, which makes them ideal for breakfast or before a workout. They are one of the best plant-based protein sources. You can add chia seeds to your cereal, smoothies or salads.
Spinach: You probably remember Popeye, who got his strength from downing a whole can of his beloved spinach. Spinach is high in nitrates, which act directly on the mitochondria of your cells to give you a rush of natural energy.
Bananas: Bananas are tasty, filling and full of potassium, which helps prevent muscle cramps. They're also high in good carbs that give you steady energy. You can eat bananas whole or add them to your favorite recipes.
Nuts: Nuts are high in protein, carbs and healthy fats. Their low glycemic index means they release energy slowly and steadily. Although they're high in calorie, you don't need to eat many to feel full.
Oolong tea: It contains polyphenols and antioxidants. Both will help you fight the effects of aging. Oolong tea contains caffeine, which is a natural energy booster. If you crave coffee every morning, consider switching to oolong tea.
Can Supplements Fix Your Low Testosterone and Increase Daily Energy Levels?
There are thousands of supplements that claim to raise your testosterone levels, boost your energy and restore your sexual health.
Many of these so-called testosterone boosters are just multivitamin formulas. Some, however, contain questionable ingredients that can harm your health.
Testosterone Supplements Can Be Dangerous
A 2014 study found a link between heart attacks and otherwise healthy men who were taking testosterone boosters.
Supplements contain unproven ingredients from questionable sources. They're not the answer.
The best answer is safe, natural TRT that uses biodentical hormones. These are just like the hormones your body produces naturally.
Safe Testosterone Therapy Will Fix Your Low Testosterone and Improve Your Stamina
You can change your diet and get more sleep, but only replacement therapy gives you natural, permanent and fast-acting results.
With medically supervised, clinically proven TRT, you get: :
No dangerous side effects.
Pure bioidentical hormones.
A 100% natural solution.
Customized treatment.
Guaranteed results.
Restore Your Energy and Libido
If you're ready to feel vibrant, energetic and youthful, talk to us about safe testosterone therapy. You deserve to experience the youthful energy you once had. You deserve to live life to the fullest. Get started today by calling us at (305) 682-1818.
Call or text (305) 682-1818 or complete a Free Consultation Form