Average Testosterone Levels Chart
Testosterone is the main sex hormone in males and is responsible for the growth of muscles, body hair, testes, and the penis. Testosterone is produced in higher amounts when males start going through puberty. In women, testosterone helps facilitate the growth of reproductive tissue and bone mass, although it is produced in far smaller amounts than in males.
Low levels of testosterone in males and females can lead to a range of serious health problems. Having your testosterone levels checked regularly can empower you to seek treatment for hormone replacement therapy if needed and make healthy lifestyle changes that naturally increase or balance your testosterone levels.
Below is a testosterone level chart by age, along with information about how testosterone therapy in Aventura can help you stay healthy as you continue to age.
For a free consultation, call (305) 682-1818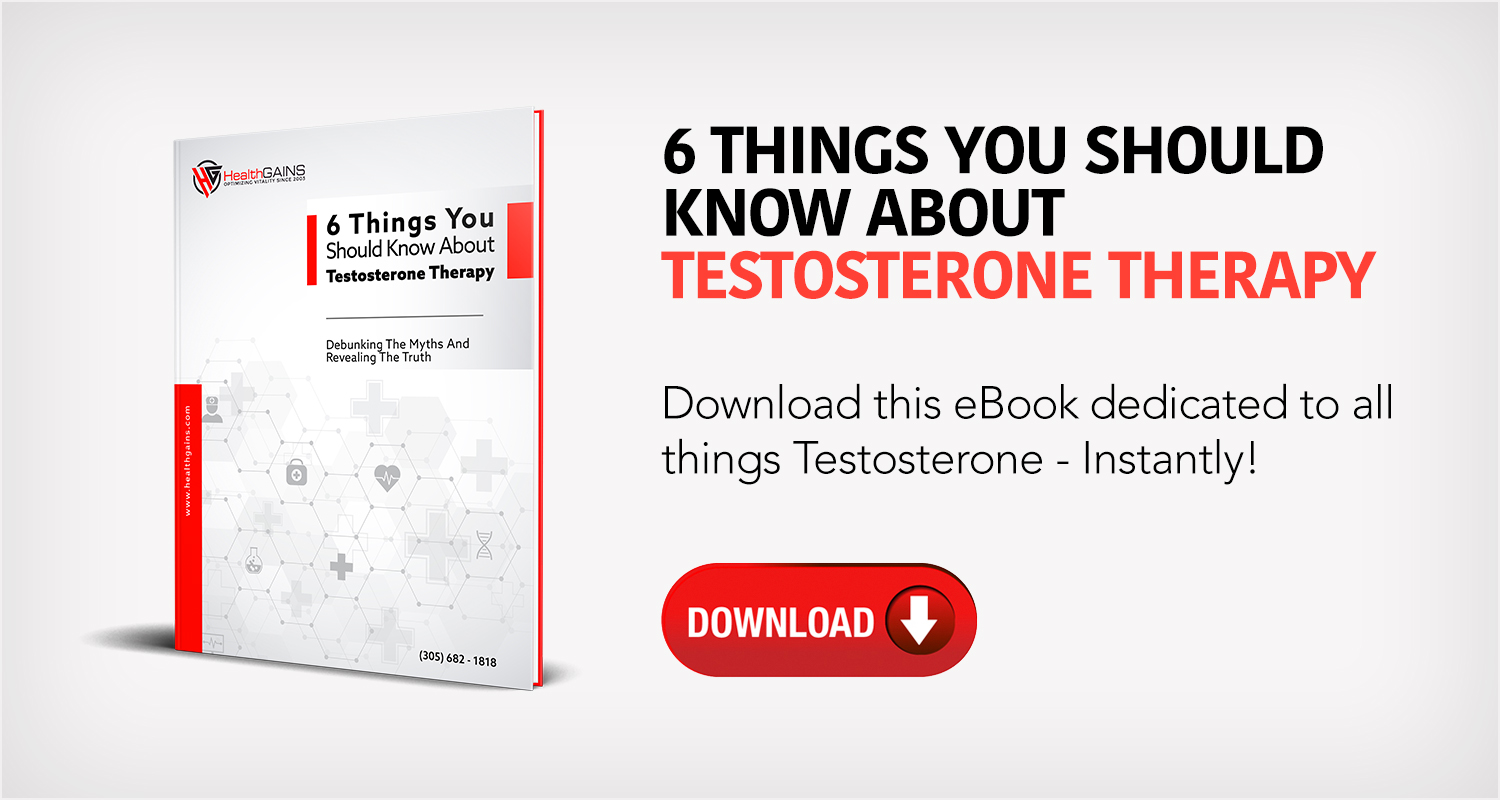 What is the Average Testosterone Level by Age?
Males and females are born with testosterone. Males start generating higher amounts of testosterone during puberty, which is when their voices begin to deepen and they start experiencing changes in muscle mass, body hair growth, and sex drive.
Between the ages of six months and nine years, males and females each have less than between 7 to 20 nanograms per deciliter (ng/dL) of testosterone
Between the ages of 10 and 11 years, males have less than seven to 130 ng/dL and females have less than seven to 44 ng/dL
Between the ages of 12 and 16, females have less than 75 ng/dl
Between the ages of 12 and 13, males have less than 7 to 800 ng/dl and less than 7 to 1,200 ng/dL at the age of 14
Between the ages of 15 and 16, males have between 100 to 1,200 ng/dL of testosterone
Between the ages of 17 and 18, males have between 300 to 1,200 ng/dL of testosterone, while females have between 20 to 75 ng/dL of testosterone.
Normal testosterone levels in males aged 19 years and older are between 240 to 950 ng/dL, while normal testosterone levels in females aged 19 years and older are between 8 to 60 ng/dL.
What is the Normal Testosterone Level for a 50-Year-Old Man?
In men, testosterone levels normally start to decline after the age of 30. Average testosterone levels for men between the ages of 40 and 49 are 252 to 916 ng/dL. Between the ages of 50 and 59, testosterone levels decrease even more to between 215 to 878 ng/dL.
Men who have low testosterone levels will usually experience a range of symptoms that affect their sex drive and overall health and well-being. Depression, fatigue, and weight gain are just some issues men can experience when their testosterone levels start to dip below average.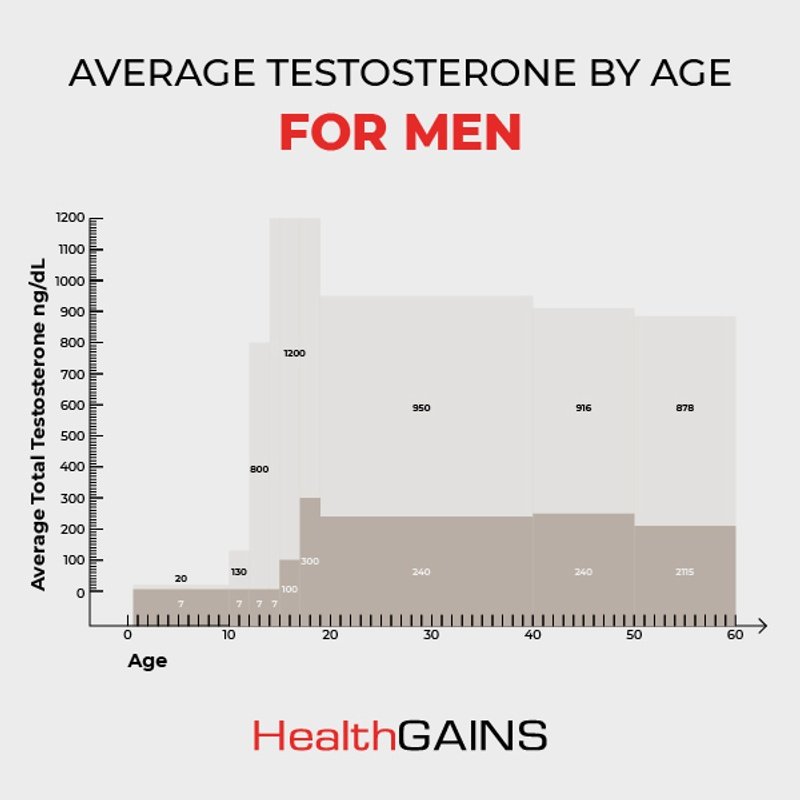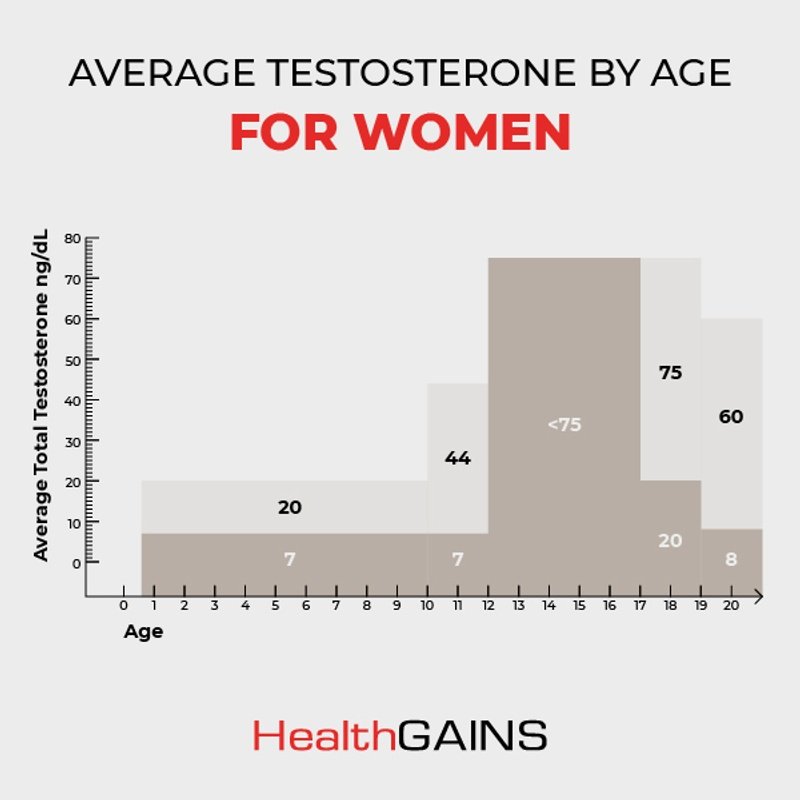 Click to contact our specialist today
What Level of Testosterone is Considered Low?
Low testosterone levels in men are identified as 300 ng/dL or less. Low testosterone levels in women are identified as 25 ng/dL or less in those under 50 years old, and 20 ng/dL or less in those aged 50 and older.
In men, low testosterone may be characterized by the following symptoms:
Low sex drive
Erectile dysfunction
Low sperm count
Fatigue
Insomnia
Bone loss
Reduced muscle mass
Increased body fat
Hair loss
Development of breast tissue
Irritability
Depression
Cognitive problems
In women, low testosterone may include the following symptoms:
Fatigue
Muscle weakness
Loss of bone density
Osteoporosis
Low sex drive
Vaginal dryness
Reduced sexual satisfaction
Weight gain
Menstrual irregularities
Fertility issues
Complete a Free Consultation form now
How Can I Tell If My Testosterone Levels are Normal?
Some men and women with low testosterone may not experience any symptoms at all. Getting a testosterone levels test is the best way to determine whether you have a normal level of testosterone, or whether you could benefit from testosterone replacement therapy.
What is a Testosterone Levels Test?
A testosterone levels test is a blood test that reveals the amount of testosterone you currently have in your body. The majority of testosterone in the blood is attached to proteins, but testosterone that is not attached to protein is known as free testosterone. A testosterone levels test can measure the amount of attached and free testosterone, or just the amount of free testosterone. Tests that measure just free testosterone can often reveal whether you may be suffering from certain medical conditions related to testosterone imbalances.
During testosterone levels tests, a sample of blood is drawn from a vein in your arm using a tiny needle. The blood is collected in a test tube or vial that is then taken to the lab and evaluated. The test itself usually takes less than five minutes.
What Do the Results Mean from a Testosterone Levels Test?
Men who have testosterone levels that are higher than normal may have a tumor in their testicles or adrenal glands. Low testosterone in men may be a result of chronic disease, metabolic dysfunction, exposure to different toxins, certain pharmaceutical drugs, pituitary gland disturbances, or genetic variability.
Women who have high testosterone levels may have cancer of the adrenal glands or ovaries, or polycystic ovarian syndrome, which is when the egg doesn't develop as it should or isn't released during ovulation. Women who have extremely low testosterone levels may have Addison disease, which is a disorder of the pituitary gland.
If test results reveal that you do not have a normal level of testosterone, you may not necessarily have a medical condition that requires treatment. Factors that commonly affect test results include the use of certain medications, substance use disorders, and exposure to heavy metals and other toxins.
Which Therapy is Best for Treating Low Testosterone?
Men who have low testosterone levels can greatly benefit from testosterone replacement therapy. This therapy increases the body's testosterone levels so men can benefit from increased sex drive and sperm count, improved erectile dysfunction, and a reduction in other unpleasant symptoms such as fatigue, insomnia, and depression. Testosterone replacement therapy doesn't stimulate the body's production of testosterone, however, therapy does increase testosterone allowing men to turn back the clock and feel stronger, more energetic, and more youthful.
Women who have a testosterone imbalance may receive one or more other treatments that address the root cause of the health problem contributing to high or low testosterone. These may include the use of certain medications or lifestyle changes that help improve hormonal imbalances causing medical conditions like polycystic ovarian syndrome. Regardless of whether you're a male or female with testosterone imbalances, your doctor will work with you one-on-one to develop an individualized treatment plan.
Where Can I Find Quality Testosterone Replacement Therapy?
The best testosterone replacement therapies are prescribed and overseen by doctors who specialize in hormones. These doctors can evaluate the levels of all your hormones and customize a treatment plan based on the exact amount and type of hormones you need to achieve hormonal balance and improved overall health.
For instance, bioidentical hormone replacement therapy delivers the exact needed amount of hormones and is derived from natural sources that mimic hormones in the human body. Thyroid hormone therapy may also be used to increase levels of thyroid hormones that may be causing hair loss, weight gain, fatigue, and many other symptoms similar to those associated with having low testosterone levels.
HealthGAINS in Miami offers testosterone replacement therapy, bioidentical hormone replacement therapy, and many other hormone therapies that can help you feel more youthful and improve age-related medical conditions. Request a free consultation with one of our Wellness Advisors or call us at (305) 912-8828 to learn more about testosterone replacement therapy.
References:
https://www.urmc.rochester.edu/encyclopedia/content.aspx?contenttypeid=167&contentid=testosterone_totalhttps://www.mayocliniclabs.com/test-catalog/Clinical+and+Interpretive/83686https://www.health.harvard.edu/newsletter_article/Testosterone_aging_and_the_mindhttp://www.urologyhealth.org/urologic-conditions/low-testosteronehttp://www.bumc.bu.edu/sexualmedicine/publications/testosterone-insufficiency-in-women-fact-or-fiction/https://medlineplus.gov/ency/patientinstructions/000722.htm
Call or text (305) 682-1818 or complete a Free Consultation Form