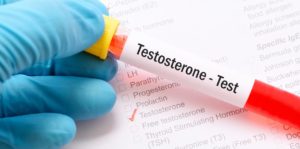 It is hard to determine a definitive "normal" testosterone level for men.
Testosterone is the most critical male hormone. However, testosterone levels decline as you age. As a practitioner who provides testosterone replacement therapy, I am often asked, "What is the normal testosterone level for men?"
That is not such an easy question to answer. Yes, there is a text book "normal" but even that represents a range based on what is "normal" over the course of a man's adult life. Furthermore, even at the exact same age, what is "normal" for one man, could be a sub optimal testosterone level for another.
Your particular "normal" testosterone level, is based more on your individual needs and lifestyle, than what is written in the medical charts!
However, that all having been said, we do use certain thresholds and guidelines to determine if you may have low testosterone, also known as "Low-T."
Depending on the lab and the type of testing your doctor uses, male testosterone levels usually range between 250ng/dl and 850 ng/dl. However, as stated earlier, that range of "normal" has been developed using a cross-section of men aged 20 to 80. It does not account for the "normal" decline with age or the many men who may have a decline due to a lifetime of unhealthy "testosterone-lowering" habits.
That is why, for the most part, while we will always test your testosterone level to get a snapshot of where you are, it is more important to really evaluate how you feel at a given age, to determine if you are producing an adequate amount of testosterone.
So, just what should you look for? There are many indications that you could be producing "less than normal," testosterone. The most common signs of "Low-T" include:
Weight gain
Fatigue
Loss of muscle tone
Depression
Loss of libido, erectile dysfunction or other sexual wellness issues
---
For many years, the signs and symptoms of Low-T, were just thought to be the normal signs of aging. We now know that the symptoms usually associated with "growing old" – fatigue, depression, mood swings, and sexual issues – are more likely related to low testosterone.
However, determining what is the "normal" testosterone level for you, all starts with having your testosterone levels checked.
If you are exhibiting the above symptoms, and if your testosterone level does appear to be below the so-called "normal" level for your age, you may be a candidate for testosterone replacement therapy. But, again, even if you are above the "normal" spectrum for your age, if you feel the above symptoms, you still may not be producing the amount of testosterone that is optimal for your specific needs. In that case, we may recommend lifestyle changes to help boost your testosterone production, and may still recommend testosterone replacement therapy.
Is Testosterone Replacement Therapy Right For You?
After your lab work, if you are found to have low testosterone, one of our hormone replacement specialists will design a testosterone therapy regimen to fit your needs and lifestyle. That is one of the things that distinguishes us from other facilities.
We do not take a cookie cutter approach to testosterone therapy. We treat every man who needs testosterone therapy as an individual and customizes your program for your unique needs. It is all part of our holistic approach to making aging irrelevant, so you can continue to do all of the things you love!
Call or text (305) 682-1818 or complete a Free Consultation Form