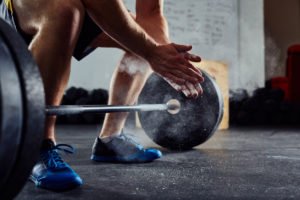 Testosterone can help you get more out of your workouts. But did you know that how you workout, can also boost your testosterone?
That means that if you are a man experiencing the fatigue and lack of energy typical of low testosterone, exercise may help. However, it has to be the right kind of workout to boost testosterone. Doctors and fitness professionals still have a lot to learn about exercise and its effects on testosterone. But one thing we do know for sure is that testosterone levels increase after intense workout such as weightlifting and strength training.
Strength training builds lean muscle and burns fat. More muscle and less fat boosts your metabolism, which has all sorts of positive impacts on quality of life. However, what may be one of the most important advantages of strength training, is that it also can increase your production of critical hormone such as growth hormone and testosterone.
Strength training pushes your body to its limits, and the more you "stress" your body the more testosterone will be released. During weightlifting or resistance training, you put your muscle fibers under stress. The more fibers you stress during an exercise the more testosterone that will be released into your bloodstream. So, exercises that "stress" multiple muscle groups, are particularly good for an after workout testosterone increase.
Resistance Training and Increased Testosterone Production
If you want a very effective workout method that can help you lose weight effectively, as well as raise your testosterone levels, you really should consider adding resistance training and weightlifting to your routines.
Strength training is probably the single most effective exercise you can do to improve health and general fitness. Strength training raises your metabolism. Strength training, particularly weightlifting, builds strength and self-confidence. Strength training can improve your game no matter what sport you are active in. Strength training improves cardio function and heart health. Strength training can even strengthen bones and lessen or prevent the symptoms associated with osteoporosis. Most, if not all, of these effects can be directly linked to increased levels of testosterone.
Big or small, short or tall, anyone can benefit greatly from weightlifting or resistance training.
As we age our metabolism slows down and we lose lean muscle mass and bone density. Loss of lean muscle mass leads to even slower metabolism, and this becomes a vicious cycle leading to an overweight and sedentary lifestyle which brings with it a whole host of other life-shortening health problems.
The Benefits Of Increased Testosterone After Working Out
Since we know that your testosterone levels vary throughout the day, is there a "best" time of day for a post workout testosterone boost?
Yes, there is, researchers have found that strength-training workouts may have a bigger effect on testosterone in the evening. As a result, the testosterone increase you get from your workout, might be even bigger, if you hit the gym after work instead of early in the morning.
Besides boosting your testosterone, another advantage of weight training is that you will see observable results very soon. One of the hardest parts of any exercise program is motivation to keep going. It is easier to stay motivated with weightlifting and strength training than most other exercises, because you can see and feel the results in a short time. Weightlift for only a few weeks and you will start to see an immediate increase in your strength and stamina by 20 to 40%. This is largely due to the increase in testosterone level that results from strength training.
The improvements you gain from strength training and the associated increased testosterone, will not only be seen in the gym. Suddenly, lifting your kids, or carrying all those grocery bags home from the store is going to feel much easier. Increased strength and power will improve any sport you are into. Stronger leg muscles will allow you to run faster. Strengthen your upper body, and you can hit a ball harder or throw further.
Weightlifting and strength training improves stamina overall, and stronger muscles and bones can take more of a pounding. Which means that lifting weights can help prevent other sports related injuries, and lessen the weakening of bones that makes fractures more common among older adults.
Call or text (305) 682-1818 or complete a Free Consultation Form