According to the International Society for Sexual Medicine (ISSM) shockwave therapy may be a major breakthrough in noninvasive treatments for men with Erectile Dysfunction.
Did you know that at least 1 in 4 men over 35 have issues with erectile dysfunction?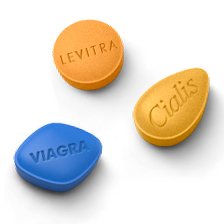 Viagra and similar ED drugs, such as Levitra and Cialis, have helped hundreds of thousands of men with ED overcome their erectile difficulties.
However, these medications are not indicated for all men, and like all drugs, they do have their share of side effects.
More importantly, drugs such as Viagra and related ED medications do nothing to address the root cause of ED, which is poor blood flow.
Shockwave therapy uses sound waves to stimulate a process called neovascularization. Neovascularization literally translates into "new blood vessels." Therefore, where it is applied, shockwave therapy actually causes your body to "grow" new blood vessels. This helps improve blood flow to the region.
The official medical term for this type of treatment is "extracorporeal shock wave therapy," or ESWT. Historically, ESWT has been used to treat patients with coronary artery disease, kidney stones, and certain orthopedics conditions. More recently, it has been discovered that ESWT can be a very safe, and effective alternative treatment for men with erectile dysfunction (ED).
How Can Shockwave Therapy Treat ED?
Blood flow is critical to having an effective erection. When a man is sexually aroused, the blood vessels within erectile tissue open and become engorged with blood, making the penis hard enough for penetration.
However, these same blood vessels can break down, or become otherwise blocked over time. The constriction of these blood vessels is the main cause of age-related erectile dysfunction.
According to the ISSM, clinical trials of shockwave therapy for ED have proven that it can have the dual-effect of repairing age worn arteries, as well as stimulate the creation of new blood vessels.
We have recently developed our own form of acoustical wave therapy for ED, called the GAINSWave®. The GAINSWave therapy uses the only FDA approved device for the ESWT for ED.
The GAINSWave therapy is similar to ESWT, in that it uses acoustical wave technology to stimulate the healing process.  However, unlike the shockwave therapy for ED used in Europe, which can be painful, the acoustical waves of the GAINSWave® are practically painless.
When used to treat vascular related erectile dysfunction, the mechanism of action for the GAINSWave procedure is induced angiogenesis and neovascularization. The resulting improvement in blood flow, achieved by the creation of new blood vessels and the rejuvenation of existing vessels, increases the patient's ability to obtain and sustain an erection.
Similar techniques and delivery devices to the GAINSWave have been used to produce successful revascularization in the treatment of chronic cardiac disease for more than a decade.
The Benefits of GAINSWave Therapy
As with any medical procedure, your individual results of GAINSWave ® Therapy will vary. In our practices nationwide, we have seen many men who have achieved more sustainable erections, as well as true "male enhancement," thanks to GAINSWave Therapy.