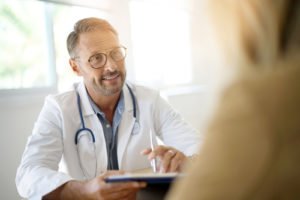 NAD+ nasal spray delivers essential coenzymes into the bloodstream that treat symptoms of aging from the inside out.
NAD+ nasal spray may be an effective treatment for several different conditions, including, but not limited to:
Huntington's disease
Alzheimer's disease
Parkinson's disease
Type 2 diabetes
Health concerns relating to metabolic syndrome
Mental health conditions, including depression, anxiety, and substance abuse disorder
Low energy levels
These are only a few of the conditions that can be treated with NAD+ nasal spray. Users will reap the benefits of this revolutionary treatment on a case by case basis.
NAD+ Is Critical to Human Health
NAD+ is the chemical compound at the heart of NAD+ nasal spray's effectiveness. The terms NAD+ and NAD+ are used interchangeably to refer to the same thing: a helper molecule that plays a critical role in the body's ability to combat the unfavorable effects of aging.
A study published in the journal Science found that NAD+ can ultimately improve the odds of living a long, healthy life by fueling efficiency at the cellular level. Current Opinion in Cell Biology
seconds this notion, reporting that NAD+ helps the body ward off disease, which becomes critical as one's immune system becomes compromised with age.
Low Levels of NAD+ May Impair One's Health
According to F1000 Research, as one's NDA+ levels fall, they may become susceptible to various adverse outcomes that can impact longevity.
NAD+ plays a critical role in many essential health aspects, including:
Regulating metabolism
Maintaining and repairing the integrity of DNA
Promoting the repair of brain cells
Improving the transmission of electrons
These benefits that occur at the microscopic level have effects that can impact daily life in virtually every capacity.
F1000 Research also reports that low levels of NAD+ coenzyme may cause:
Unhealthy levels of stress, which may trigger stress-related symptoms such as anxiety, chronic insomnia, and more serious health events such as heart attack or stroke
The exacerbation of undesirable symptoms associated with Type 2 diabetes
Mental fatigue, which may manifest as poor focus, memory, and a general lack of mental sharpness
Low energy
Weight gain
These are serious problems that, in each case, can lead to a domino effect of additional health problems. It is important to consider these symptoms and how vital NAD+ is to one's overall health.
For a free consultation, call (305) 682-1818
Boosting NAD+ Levels Could Provide Substantial Health Benefits
Depending on one's stage of life and health condition will determine the improvements one can see from using NAD+ nasal spray. At HealthGAINS, we recommend that using anywhere from two to four sprays a day can improve one's cognitive function, physical wellbeing, and provide protection against certain ailments. However, this may differ depending on one's individual circumstances.
One of the best elements to note about NAD+ nasal spray is that it features little adverse reactions. In a study conducted by Nature Communications, subjects reported side effects including indigestion, nausea, flushing, and headaches. Yet, these conditions did not deter subjects from seeking the treatment again. Additionally, NAD+ nasal spray is not known to interact negatively with any medications or preexisting health conditions, widening its breadth of possible candidates who can receive benefits from this treatment. That is why there are many conditions that can be treated with NAD+ nasal spray.
With no downtime or prolonged recovery period, NAD+ nasal spray can be administered in a matter of seconds without the supervision of a medical professional.
Contact HealthGAINS today to learn more.
Connect With a Wellness Advisor Today
There is no question that the NAD+ coenzyme is a critical catalyst in the body's ability to recover from illness, maintain internal balance, and counteract the natural decline that is part of aging. Some people may be wondering what they can do alongside NAD+ nasal spray to promote their health. While diet and exercise may work to improve one's cognitive function, these methods may not work for everyone. At HealthGAINS, we can create a custom-made treatment plan that employs the use of NAD+ nasal spray either by itself or in combination with other brain restoration options.
Our goal is to promote happier, healthier lifestyles in our members through the use of cutting-edge treatments based on science. In the modern era, aging no longer has to put an expiration date on life's many experiences. By using NAD+ nasal spray, one may be able to combat difficulties that inevitably come with aging in a simple, noninvasive treatment method. HealthGAINS provides this treatment—and many more—at their various clinics throughout the nation. Connecting with a Wellness Advisor can help you understand your candidacy for NAD+ nasal spray, among other beneficial supplements.
To get started, call HealthGAINS today at (305) 912-8828.
Call or text (305) 682-1818 or complete a Free Consultation Form